Whether you're a couple that finds romance in relaxation or in adventure, there's always going to be that place that sparks the flame and sets the mood.
For many, that means sand, sun and sparkling blue water. For others, a vibrant cityscape full of culture and history. Some may find it most idyllic in the remote sanctuaries of undeveloped nature, immersed in the wilderness and well beyond the reach of a cell signal.
Thinking of taking your sweetheart on a trip to remember? Looking to propose, honeymoon or just get away?  Here, our favorite romantic places to stay in the world, all of which have a mix of ambiance and amenities that are sure to up the romance factor on your next vacation.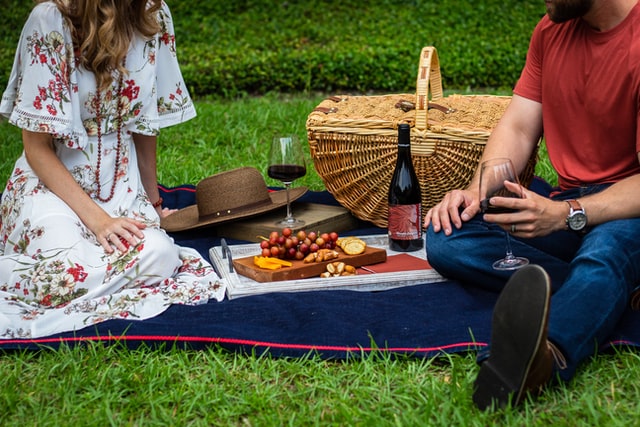 34 Couple Travel Destinations
1. Palm Springs, California
For a trip that feels like you are really getting away without actually having to go too far, check out Palm Springs for its hiking, gondola rides, golf, and warm desert air. Take the Palm Springs Aerial Tramway – the world's largest rotating tram car – to travel 2.5 miles up to the top of Chino Canyon, where you can wander around and explore. Relax together at Estrella Spa or Azure Spa Palm Springs, where you can get desert-inspired treatments.
2. Lake Tahoe
On the border of Reno, Nevada sits one of the country's most beautiful, cerulean freshwater lakes. Experience the Reno side of the Lake Tahoe area for outdoorsy activities and intimate restaurants and hotels.
Check out the Spa at Silver Legacy or the multitude of hot springs in the area for a relaxing day of romance. There's also the Riverwalk and Midtown District to explore.
Opt to stay in the Sunnyside Restaurant and Lodge, which sits lakeside with its own private beach, or the Ritz-Carlton Lake Tahoe, where the concierge service can arrange a day of adventure on the mountain, a round of golf, or a day of sailing on Lake Tahoe.
If you'd rather stay closer to the airport and nightlife, the luxury boutique Whitney Peak Hotel has sophisticated suites and the world's tallest rock climbing wall–for couple's after a little bit of additional adventure.
Reno also has plenty of couple's activities to offer, from craft beer tasting at the Depot, a renovated old train station, to rolling the dice at the Peppermill Resort Hotel casino.
3. St. James, Barbados
With platinum white beaches, rugged cliffs, and breathtaking sunsets, Barbados is a perfect spot for a romantic getaway. Be sure to check out the Mount Gay Rum Distillery, and go swimming or snorkeling at Carlisle Bay or Brandons Beach.
While you are there, why not stay at The House, which is often voted one of the most romantic hotels in the Carribean. Each of the 34 suites has ocean views, and the adults-only property has gardens, champagne breakfasts, and 24/7 service ambassadors.
4. Costa Rica
The amazing jungles on this island will give you plenty to explore as a couple. You can sign up for a group trip or take tours on your own, and then relax at Playa Cativo Lodge in the heart of Costa Rica's rainforest. Eight of the eco lodge's rooms have a private outdoor terrace and plunge pool, and guests can also enjoy a fresh-water outdoor swimming pool and complimentary snorkeling, kayaking, paddle boarding, and self-guided nature hikes.
5. Bequia, St. Vincent
Having your own private island is the epitome of a romantic getaway, and this tropical destination gets you very close. In order to get there, travelers must take a flight to Barbados (or St. Lucia), and then take an inter-island hopper flight from there. Once on the island, you can stay at Bequia Beach Hotel, a tucked-away, family-owned luxury resort or you can search from a variety of other couple accommodation choices.
6. Santorini, Greece
This magical island is known as the most romantic in Greece, with turquoise waters, whitewashed houses sitting on cliffs, and beautiful beaches.
There are plenty of hotels on Santorini with giddying views – the most desirable places to stay teeter on the rim of a 300-meter cliff that plunges into the flooded volcanic caldera. You can stay at Grace Hotel Santorini, with 20 all-white accommodations that feature Greek marble, custom fragrance, pillow menus, and a private plunge pool.
Another great place is the Perivolas, a family dream that materialized in the early 1980s and is still run with great passion and precision by the Psychas clan. Rooms are sculpted from brushed concrete, pressed into arched doorways and barreled ceilings with the builders' bare hands.
While you're here, go for a hike the on the Fira trail for beautiful views, take in the sunset in Oia, and explore the black sand beach.
7. Maui, Hawaii
Maui is the perfect destination for couples in search of a beach vacation filled with unique activities. Check out snorkeling at Black Rock on Kaanapali Beach, view hidden parts of the island on a helicopter tour with Blue Hawaiian Helicopters, and tour local farms on the slopes of Haleakala like Ocean Organic Vodka, Surfing Goat Dairy, and the Alii Lavender Farm.
8. New Mexico
New Mexico is perfect for couples looking for natural beauty and cute towns. Check out Chaco Canyon, or wander the historic streets of Santa Fe, stopping to dine at Geronimo, a restaurant built into an old-fashioned adobe home.
Also try Ojo Caliente Mineral Springs Resort & Spa, which has mineral hot springs and a mountain backdrop, plus a private, clothing-optional soaking pool with fire pit.
9. The Galapagos Islands
Take a cruise around the Galapagos Islands for a more adventurous take on a couples getaway. The main attraction here is the wildlife, so pack a pair of binoculars and prepare to explore a nearly undisturbed corner of the world, packed with birds, turtles, sea lions, and more.
10. St. Bart's
Book a room at Le Sereno St. Barth's, one of the only properties on the island with a private beach. While there, check out toes-in-the-sand dining at Plage, a new spa with views of the water and outdoor bathtubs. The signature beaches and crystal blue waters perfectly blend the sophistication of St. Tropez with the laissez-fare Caribbean lifestyle.
11. Malibu, California
Experience gorgeous ocean views from high above on picturesque cliffs, or visit pretty beaches and great local restaurants in Malibu. Dine at Nobu Malibu, a beachfront spot that combines Japanese and Californian cuisines, or eat at Moonshadows, which has a tiki-themed patio and ocean views. Also stop by Malibu Yogurt and Ice Cream Cafe, which has some of the best peanut butter frozen yogurt you will ever taste.
While in Malibu, try staying at Malibu Beach Inn, a five-star boutique hotel located on the sands of Carbon Beach. Each of the 47 rooms have full glass doors and private balconies.
12. Phuket, Thailand
This beach town in Thailand has delicious food, fun nightlife, and beautiful turquoise oceans. Enjoy tasty Thai food at Suay Restaurant, Raya Restaurant, or Blue Elephant Governor's Mansion Phuket Restaurant.
For a romantic place to stay, book a room at Trisara, an exclusive beach resort nestled on a secluded cove along Phuket's less-developed north-western coast. This hideaway is set in a protected nature preserve surrounded by a tropical forest, exotic gardens, and jaw-dropping ocean views.
13. Koh Samui, Thailand
Located in the Gulf of Thailand, the island is full of posh resorts like the Belmond Napasai Koh Samui, which welcomes you with fresh coconut ice cream upon arrival.
Embrace the culture as a couple – practice couples' Tai Chi on the beach, followed by a cooking class with your lifelong sous chef.
14. Belize
Belize is a tiny country, often overlooked because of its close proximity to Mexico and many Caribbean islands, but it is perfect for a romantic getaway. Belize is home to the world's second largest barrier reef, so be sure to go snorkeling to view the coral and marine life.
15. Marrakesh, Morocco
This city in western Morocco is filled with history, mosques, palaces and gardens. Take a romantic vacation and explore the medina, the walled medieval city with mazelike alleys filled with markets selling fabric, pottery, and jewelry.
Book a room at El Fenn, close to the main square of Jemaa el-Fnaa. Its 23 guest suites and rooms sit below a large roof terrace with sundecks, hanging gardens, shaded dining areas, a roof-top putting green, and a swimming pool.
16. Eilean Shona, Scotland
This private island, owned by Vanessa Branson, claims it's the inspiration for Neverland in "Peter Pan." While exploring the island's 2,000 acres of pristine moor, wild hills, secluded paths, and woodland, book a stay at Shepherd's Cottage, one of eight cottages available to rent. You can spend your time building camp fires, crabbing, swimming, painting, picnicing, kayaking, and walking the island's coastal and woodland paths.
17. Norway
Take your significant other on a trip to Norway in search of the northern lights, and explore the breathtaking scenery while you are there. Book a stay at Senja's Lighthouse, which has 360-degree views of mountain, fjord, and sky.
18. Tuscany, Italy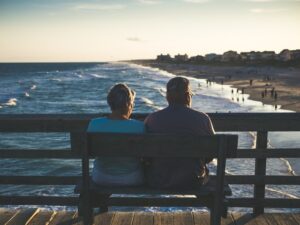 Tuscany is the perfect place for a romantic getaway – it's breathtakingly beautiful at every turn, with plenty of delicious food and wines to indulge in.
Be sure to dine at Enoteca Pinchiorri in Florence or La Cantinetta Di Rignana in Chianti, both of which have Italian cuisine you'll be dreaming about for years to come.
Stay at Castello di Ristonchi, a 1,000-year-old medieval castle, which sits high in the Tuscan hills overlooking quaint villages, vineyards, and olive groves. Couples can even book the former watchtower at the very top – you can open your window and look out on an Italian fairytale setting.
19. Nova Scotia, Canada
This stunning part of Canada has scenery that you and your significant other will never forget. Try staying at a bed and breakfast to get a true feel for the area. Be sure to check out the art galleries in Peggy's Cove and go for a sunrise sail on Halifax Harbour.
20. Buenos Aires, Argentina
Book a room at Bonito Buenos Aires or Palacio Duhau – Park Hyatt Buenos Aires, both former mansions transformed into hotels. Shop among the antiques markets and wander the cobblestoned streets, stopping to tango at Bar Sur.
21. Cayman Islands
The wealthiest island in the Caribbean, Grand Cayman has no shortage of celebrity restaurants, world-class shopping and incredible resorts to visit with your partner.
Spend the day sipping piña coladas from Coccoloba before taking a boat out to Stingray City for a different kind of romance. Legend has it, if you kiss one of their famously friendly stingrays you'll have seven years of good luck.
Then, spend sunset at The White House beach club. Finish the evening off with a couple's massage at the The Spa at Seafire.
22. Yaron Island, Japan
Known as the "Pearl Of The Orient," this coral-surrounded island is Japan's best kept romantic secret. Most people don't think of pristine sand and reefs when they think of Japan, but this place is not to be missed.
Take a ferry from Kagoshima or Okinawa to reach this Southern island paradise. Spend a few nights at the Imperial Hotel Tokyo before you make your way south to this secluded island.
Accommodation on the island is scarce, but you'll be spending all your time at Yurigahama Beach anyway. This famous spot is a sandbar that only appears when its low tide during the spring and summer. Choose from locally run resorts like Pricia Resort Yoron or Hoshizunaso. Ask the owners where to find Misaki's Shaved Ice and indulge in a big serving of it by the beach.
23. Languedoc Roussillon, France
As France's most underrated wine region, this laid back area has incredible chateaus to stay in and rosés to sip on. Book your own private chateau, owned by the region's premiere wine-maker Gerard Bertrand. 
Château la Sauvageonne is an isolated property perched high over Bertrand's rolling vineyards. Take a dip in the infinity pool while you sample some award-winning wines. Or, book a room with a wine tour at Château l'Hospitalet.
24. Bora Bora
This small South Pacific island is every couple's number one place for romance – and with good reason. Stand in your overwater bungalow at the Four Seasons Bora Bora, looking down at the colorful fish and crystal clear water. This is one of the island's most iconic properties with plenty to do besides lounging in a thatched roof cabana overlooking the lagoon.
Book a treatment at the spa using holistic treatments, rent a stand up paddleboard or a waterbike, or simply lay out and enjoy the sun and sand. You can visit stunning Matira Beach, rent jet skis and create his and her scents at the Coqui Coqui perfumery.
25. Maldives
Another bucket-list destination for lovers young and old, the Maldives tops the charts for honeymoons and romantic respites alike. There is no shortage of high-end private overwater bungalows and secluded beaches to visit on over 1,000 coral islands that make up the Maldives. Let the kind people at Moodhu Holidays Maldives arrange flights and any special surprise moments.
26. Bathe Under the African Sky in Botswana
Bathing alfresco on your private deck at Sanctuary Baines' Camp is an experience not to be missed if you ever find yourself in Botswana. The luxurious suites on the edge of the Moremi Game Reserve have sprawling wooden decks complete with sky beds and lavish bathtubs – perfect for an indulgent soak under the stars.
27. Rustic Romance in Hungary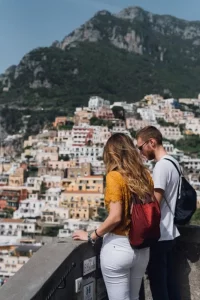 Hungary may not be the first destination that comes to mind when looking for the perfect love nest for two, but Józsi's Cottage – a delightfully romantic vineyard retreat on the edge of Vértes National Park, proves the contrary. Expect cozy, rustic interiors, flickering fireplaces, picturesque countryside views, and relaxed alfresco meals on your private terrace.
28. Switzerland
If your other half has a passion for mountains and adventurous expeditions, surprise him/her with an amazing eco-luxury getaway in the Swiss Alps. Whitepod offers 7 km of ski slopes, spa facilities, refined local cuisine, and comfortable accommodation in lovely, hi-tech domes equipped with king-size beds, private bathrooms, and mezzanines.
29. Bruges, Belgium
Very little has changed over the years in this Flemish city and that's precisely the attraction. Roam the narrow streets and take in the gorgeous chocolate displays in shop windows. Go for a climb up the Belfort for a bird's eye view of town or go for a bike ride along the Bruges Art Route, past galleries, shops, breweries, and the city's top landmarks.
The Hotel de Tuilerieen is the perfect home base, housed in a converted 15th-century patrician house with views of the Den Dijver canal, an indoor pool, and an intimate bar that serves a wide range of Trappist beers. For a memorable dinner, the tiny but stellar De Stove just off Market Square is the spot for freshly caught fish and seasonal Belgian dishes like guinea fowl with gratin dauphinois.
30. Amsterdam, Netherlands
If you don't fall in love strolling hand-in-hand along the canals of this city, then there may be no hope for you. The city's waterways are lined with colorful row houses and are illuminated at night by the glow of moored houseboats.
Trips here are all about getting lost and stumbling across great galleries and shops; spending afternoons whiling away time at waterside cafés; drinking beer and eating regional cheeses. Make like a local and rent a bike to pedal through Vondelpark, stopping at the Rijksmuseum, home to famous works by Dutch masters Rembrandt and Vermeer, and to the nearby Van Gogh Museum.
The Dylan is a great spot for a post-retail pick me up; "High Wine," between 3 and 6 p.m. pairs four bottles with small plates for about $50 per person. Saturday mornings are for visiting the Noordermarkt, in the Jordaan neighborhood. The fresh stroopwafels—two skinny waffles stuck together with a thin layer of caramel—are a must-try.
31. Bali, Indonesia
This Indonesian idyll has something for everyone. The town of Ubud plays host to food and music festivals, galleries and museums; the bustling beaches around Seminyak are full of young party-goers; and more than 1,000 Hindu temples and emerald rice terraces dot the island.
Oh, and the hotels are hands down some of the most romantic in the world. Choose a beach-front suite or boutique sleep nestled in the wilds of the national park. One of our favorites is Alila Villas Uluwatu, on a dramatic cliff overlooking the Indian Ocean. The villas have private pools and personal butlers, and the hotel is a short distance from one of the island's most memorable cultural experiences: the Kecak Fire Dance, performed at an ancient seaside temple at sunset.
32. Explore Iceland
Few places can match the natural beauty of Iceland. With glaciers, volcanoes, and the famous Northern Lights, Iceland will take your breath away at every turn.
Gazing up at the Northern Lights is a once in a lifetime experience for most. Doing that while relaxing in your private Blue Lagoon Retreat is a game changer.
A destination in and of itself, you have got to experience the Ion Hotel in Iceland. Known for its incredible views of the Northern Lights, this eco-friendly hotel has an otherworldly beauty and is the perfect place to base yourself for a romantic adventure in Iceland!
Once you're both rejuvenated, rent a car and make your way around the Ring Road to pass active volcanoes, the Seljalandsfoss Waterfall, crystal ice caves and glaciers you can climb.
33. Sintra, Portugal
Sintra is full of stunning and unique castles, ivy-covered walls, ponds full of swans, and enchanting forests. Be sure to visit Pena Palace, the most colorful castle possibly ever, and Quinta da Regaleira, which is full of secret passageways and you'll feel like you've been transported into your very own fairytale.
34. Lake Bled, Slovenia
It is much more developed in terms of tourism than Lake Como, but it is equally gorgeous. Avoid the tourist traps and rent bikes to ride around the lake, to the nearby countryside, and to see the turquoise waters of Vintgar Gorge. There is just something so smooth and calming about lakes that make us feel so relaxed and even more in love.