Mykonos is one of the most popular tourist destinations in the Greek Islands. It is well-known for beautiful beaches, luxurious resorts, summer party atmosphere and wild nightlife.
One of the main tourist destinations in Greece, Mykonos attracts cruises, families, and honeymooning couples. It is the most expensive island in the Cyclades, but it's tough to resist with its quiet winding streets, small alleys lined with whitewashed houses overlooking a beautiful harbor, beautiful beaches, amazing restaurants, and out of control nightlife.
This Mykonos travel guide is filled with travel tips to help you plan an incredible trip!
Language
The official language is Greek, but English is widely spoken.
Currency
Euro
Climate and Recommended Time to Visit
The best time to visit Mykonos is September and October. Sitting in the Aegean Sea, this island's weather permits a year-round flow of tourists, but in September and October you'll see that the large crowds have left, the water remains warm and the hotel rates descend back into a reasonable range.
Water temperature heats throughout the summer months and is warmest in August and early September. Since most people go to Mykonos for the beaches (and related nightlife) it's pretty quiet here in May and October though the weather is still very nice.
Hotels are much cheaper in the shoulder season (April, May, and October) than in the summer months but there's also a lot less going on so you need to weigh the pros and cons.
Transportation, food, and drink prices tend not to vary much by season. If you want good weather but cheap hotels then late May, early June, late September, or early October are great times. There are no guarantees but the first three weeks of October can often surprise visitors with great weather.
Top Attractions and Must-See Sights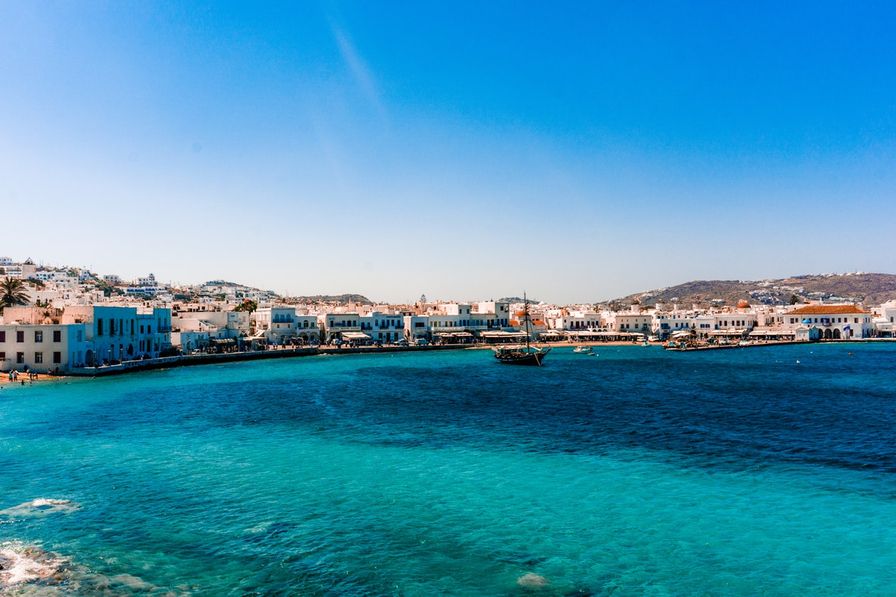 Petros the Pelican
Interestingly enough, the island of Mykonos has a beloved mascot – a real life Pelican. The original died in the late 80s, however, there are now 3 that inhabit the island. It's fun to try to spot them and capture them in a photo.
The Windmills
The windmills around Mykonos town are symbolic of the island, and also happen to be the most popular place to catch the sunset. Prepare for crowds if you plan to go; head over there early to get a good spot.
Try Kite Surfing
Korfos Bay has excellent conditions for kite surfers. While I still haven't tried it myself, it looks like a blast! Check out Kite Mykonos for more info.
Hit the Beaches
There are countless beautiful beaches in Mykonos, so be sure to check out at least a few. Party at the famous Tropicana Beach bar at Paradise Beach or work on your bronze at Paraga Beach. Check out my Mykonos Beach & Party Guide for more of my favorite places!
Armenistis Lighthouse
While the lighthouse itself isn't that remarkable, it's a fun day trip on a scooter. Plus, the panoramic view from the lighthouse is absolutely stunning!
Little Venice
This famous stretch of seaside restaurants and shops is a great spot for evening strolls at sunset. It might break the bank, but have dinner at one of the restaurants here for one of the most picturesque meals in Mykonos.
Elia Beach
This beautiful stretch of golden sand has craggy cliffs on both sides, and an excellent waterfront restaurant. It's backed by some large resorts and, consequently, rows of recliners line the sand. A rainbow flag down the western end marks the gay section. Just past here is the beginning of the nude area; most of the guys head to a tiny cove a little further along the path.
Agios Sostis Beach
This gorgeous, wide strip of golden sand receives far fewer visitors than the south coast. There's no shade and only limited parking but there's a popular taverna with a little sheltered cove directly below it.
Archaeological Museum of Mykonos
A headless, almost limbless 2nd-century BC statue of Hercules in Parian marble is the highlight of this small, well-presented collection. Otherwise it's very heavy on pottery and funerary stelae, much of it sourced from Delos and the neighbouring island of Rineia, which served as its cemetery. Periodic exhibitions incorporate contemporary art and design into the displays.
Air
Every major airport has direct flights to Athens. Then, there are around 18 flights from the Greek capital to Mykonos on a daily basis in the summertime. It won't take more than 35 minutes to get there, and the airfare usually ranges between 25 euros and 140 euros, depending on which airline you fly with and what seat.
Both Olympic Air and Aegean Airlines have around 7 flights from Athens to Mykonos every day during high season. If you choose Olympic Air, expect to fly with a Dash 8 prop plane of no more than 70 passengers while Aegean Air provides bigger planes (Airbus 320) for nearly 170 passengers. Other air carriers with direct flights to Mykonos are Volotea, EasyJet, and Ryanair.
You will also find direct flights from large European capitals, such as Rome, Paris, Dublin, London, and Amsterdam to Mykonos. To see available flights, you can visit Kayak
Bus
The KTEL Mykonos bus network has two main terminals in Hora. The Old Port Bus Station has services to the northwest and east of the island, including the New Port/Tourlos, Agios Stefanos, Ano Mera, Elia and Kalafatis. The Fabrika Bus Station has services to the southwest, including Mykonos Airport, Ornos, Agios Ioannis, Platys Gialos, Paraga and Paradise Beach. The shuttle bus to Super Paradise also departs from here.
Low-season services are much reduced, but buses in high season run frequently; the fare is from €1.80 to €2.30, depending on the distance traveled; timetables are on the website. In July and August, some buses run until 2 am or later from the beaches.
Car
A regular 2WD car will get you most places on the island, but some of the more isolated beaches (notably Mersini and Fokos) are better with a 4WD or ATV.
Avis, Hertz and Sixt are among the rental agencies at the airport, and there are dozens of hire places all over the island, particularly near the ports and bus stations. Local options include OK Mykonos, Apollon and Anemos, which has the advantage of a large free car park for customers, just above Hora's pedestrian-only town center.
Taxi & Ridesharing
Taxis queue near the bus stations and ports, but waits can be long in high season. All have meters but beware: they can be fiendishly expensive.
Boat
Mykonos Sea Transfer – An association of sea-taxi operators offering services to the island's best beaches; see the timetables online. The main departure point is Platys Gialos, with drop-offs and pickups at Ornos, Paraga, Paradise, Super Paradise, Agrari and Elia beaches. Cruises and personalised itineraries can also be arranged.
Sea Bus – This water-taxi service connects the New Port to Hora in eight minutes, running at least hourly from 7.30am to 10.30pm (every 30 minutes from 10.30am to 6.30pm).
In the summer months, Mykonos is served by four ferries daily that depart from Piraeus port or Rafina port, and fares cost from 20 to 40 euros (Blue Star ferry is the cheapest). It is a journey that can take between 2 and 5 hours, depending on which passenger/car ferry line you choose (SeaJets is the fastest ferry).
Blue Star Ferry – It leaves Athens at 7:30am year round and reaches Mykonos some 5 hours later (at around 12:45pm) after it stops in Syros and Tinos islands. There are also ferries that depart from Rafina port (closer to the Athens Airport than Piraeus port) at 7:40am and arrive at Mykonos within 3 hours. This applies to the summertime only, though. If you miss the morning ferries, there is an evening ferry that departs from Rafina port at 5:30pm (with FastFerries) and will get you there by 10:10pm. As for the return trip to Athens, a ferry departs at 3:30pm and arrives in the Greek capital 3 hours later.
Hellenic Seaways – The shipping company has a Highspeed car ferry that departs Piraeus port at 7:35am from late March to early September. There is also a Highspeed passenger ferry that leaves Rafina port at around the same time and arrives in Mykonos slightly over 2 hours later at 9:25am.
SeaJets – From late March to late October, a catamaran will take you to Mykonos in 2½ hours with stops in the islands of Naxos and Santorini – it departs at 7:00 or 7:30 in the morning and arrives at 9:30am. Their fastest ferry is the SeaJet2; however, it is also the smallest of the line and could give you a bumpy journey if the sea is rough. Nevertheless, the ferry line sends its larger ships to take passengers from Athens to Mykonos during July and August.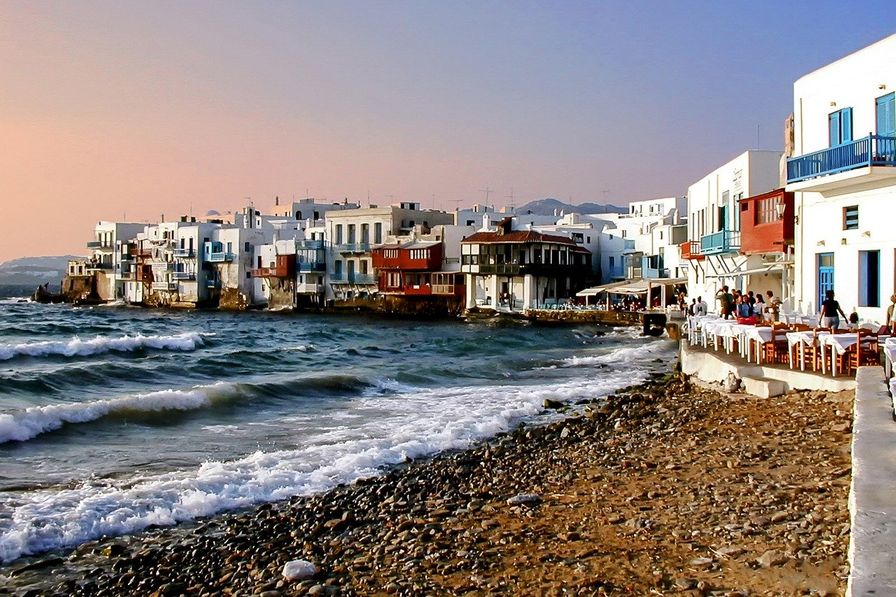 Step into Anax Resort in Mykonos and you'll immediately sense: This isn't Mykonos as you know it. Immerse yourself in the pristine beauty of a private oasis within a cosmopolitan destination. Embracing the best that Mykonos has to offer the resort will showcase an unconventional "made in Greece "concept of luxury. 
A luxury five-star hotel in one of the most world famous islands, Palladium -comprises 50 elegant rooms and suites, designed in a chic, modern style.  For well over 25 years, Palladium has continuously stood proud among the top 5 Greek and Myconian hotels thanks to its excellent service, depicting how much guests' overall satisfaction is important. The hotel exudes the cosmopolitan character and charm of Mykonos, while offering travelers a haven of tranquil delight. 
Looking above Psarou Beach one discovers among the most beautiful Boutique hotels in Mykonos, Greece. Nissaki boutique hotel is an amazing site. Overlooking the Psarou Beach and only a few steps away from the renowned Platis Gialos Beach, this magnificent 5 star hotel, is bound to steal your heart. Discover the true beauty of Mykonos in Cyclades, Greece with this breathtaking 5 star boutique hotel in Mykonos and enjoy genuine luxurious holidays. 
Poseidon 4 Star Hotel Suites, is the best sea view accommodation, Mykonos has to offer, for guests seeking a warm, cozy bed and breakfast, in the midst of the cosmopolitan Mykonos town (Chora). The renovated side sea view rooms are decorated with taste and traditional details, making this affordable accommodation in Mykonos Town, a favorite amongst visitors of Cyclades Greece.
LYO Boutique Hotel is privileged to be located above the heavenly and famous Super Paradise beach of Mykonos. Overlooking the infinite blue of the calming Aegean sea, the contemporary and elegant 18 rooms & suites offer a scenic setting that truly encapsulates the essence of a Greek summer.
Designed to satisfy the highest standard and in complete harmony with the Cycladic colour palette, each of the spacious rooms & suites leads to offering you the ideal atmosphere, sea or pool view balcony to unwind and enjoy all the beauty of the natural surroundings, in a playful panorama of blissful visuals. 
Best Restaurants In Mykonos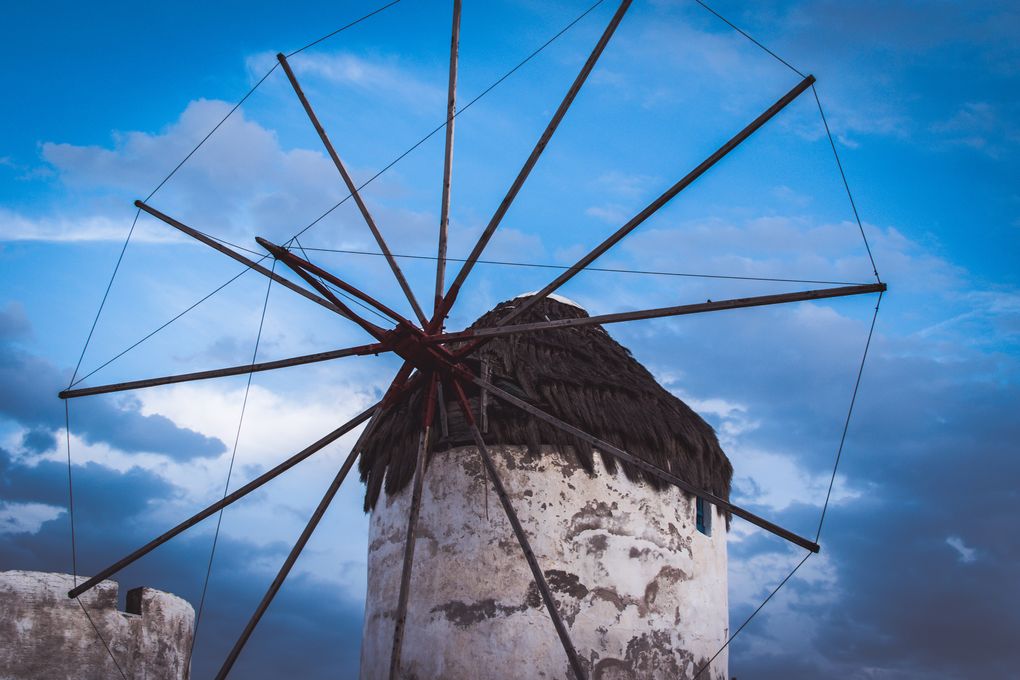 Reeza (meaning "root" in Greek), as a concept, refers to images, memories and emotions, playing a key role in the overall philosophy of our restaurant. Offering an experience that will initiate you to pure Greek tastes that honor tradition through a contemporary perspective. Indulge in creative Greek cuisine flavors every evening, while relaxing with the breath-taking views of Chora, the nearby Delos and Rineia. 
The restaurant is located in a magnificent and famous area of Mykonos, Paradise Beach near Cavo Paradiso. Enjoy your meal in a magical atmosphere, as you will be encircled by exotic colors and shapes while sweet aromas of spices fly in the air. 
Avli tou Thodori is located in Platis Gialos beach, one of the most popular beaches of Mykonos. In Avli tou Thodori you can swim and relax on the sun loungers while drinking your coffee or a refreshing cocktail and then dine in the restaurant by selecting Greek cuisine recipes from our extensive menu which includes fresh seafood and fish, meat, pasta, pizzas, salads and delicious appetizers. 
Start your day with coffee overlooking Delos and the blue sea and sky, continue for a tasty sail through lunch or your evening meal and enjoy a drink or cocktail with one of the finest sunsets on Mykonos. 
Blue Myth is a restaurant serving simple, unpretentious, healthy food using the freshest ingredients in a welcoming atmosphere being surrounded by a happy team and amazing people. At Blue Myth they incorporate the old and the new, breathing life into a cuisine rich in unique Greek heritage and always with a dose of warm, genuine, Mediterranean hospitality. 
How to Stay Safe in Mykonos
Mykonos is a fairly safe place to visit.  Having said this, there are certain precautions that should be taken in order to ensure a smooth trip to the island.  Like always, the most important tool used for staying safe is common sense. 
One of the things to keep an eye out for is drunk and intoxicated people roaming about. Mykonos is a place where many young people go to party.
 Although street crime is not very common on Mykonos, taking certain precautions can avoid these rare situations.  Don't carry around large amounts of money, and avoid wearing expensive jewelry or looking flashy.  Drawing un-needed attention is never a good idea, so try blending into the crown instead of sticking out. 
This is a general recommendation for any unfamiliar area, but should be followed in Mykonos as well:  Avoid traveling alone at night.  If staying with a group is not an option, make sure to remain in lighted areas and take safe modes of transportation (car or taxi).  Walking alone at night is never a good idea, especially for women.
There are many beach activities available on the island, and with these come certain inherent dangers.  Valuables should never be left unattended at the beach.  Doing so is asking for trouble. 
Although it's not dangerous, be aware that July and August are the windy months on Mykonos, when the so-called "meltemi" winds come in. The winds are great when you're lying on the beach and it's sweltering hot, because it really does cool things down, but keep in mind that if you plan to take a day trip to Delos Island, the boats only go if it's not too windy.
Mopeds are a convenient way to get around and also quite cheap, but if you rent one, pay attention, and don't drink too much before you drive.
Our articles may contain affiliate links. We may get paid a small commission when you use our links with no additional cost of your part! See our Privacy Policy page for more details.