Only a short two-hour flight from the continental U.S, Puerto Rico is a place where the historic world meets the new, offering visitors an immersive, one-of-a-kind travel experience. With a blend of Spanish, Indian, and African influences, this island is filled with tropical forests, sandy beaches, superb dining options, and a thriving nightclub scene, making this the perfect destination for all types of travelers.
Puerto Rico will satisfy all beach fantasies, whether that be relaxing at a resort getting a tan, exploring historic sites, or catching the waves on pristine beaches. When visiting Puerto Rico this whole island is able to be explored by car, with countless day trips being offered. Visiting Old San Juan, the posh area of Condado, or the quaint towns of Ponce, can all be done during your stay.
This Puerto Rico travel guide will help every traveler uncover the best tourist attractions around the country, top accommodation options, and unique restaurant experiences. Safety tips and transportation routes will also be included, to ensure all travels to Puerto Rico are seamless and spectacular. 
Language
Even though English is listed as the official language of Puerto Rico, Spanish still continues to be widely spoken by most locals.
Currency
The currency used here is the United States Dollar.
Climate and Recommended Time to Visit
Puerto Rico is considered a country with a tropical climate and offers travelers average temperatures of around 80°F year-round. Filled with hot and sunny weather, the peak travel season is from December to April. July and August are the hottest months in Puerto Rico but are also considered the rainiest. Typically, rainfall will usually pick up between the months of May and October, with the high possibility of hurricanes between June and November.
For those looking for dry weather, the most prominent travel times will be between January and April. It is important to note that light showers are possible all year round, especially on the north coast where rainfall is almost doubled.
The island has also been an increasingly popular Spring Break destination in recent years, with thousands of college students overrunning the main resorts between February and March. If you are looking for a tranquil vacation experience, holding off booking between these times will be ideal.
Top Attractions and Must-See Sights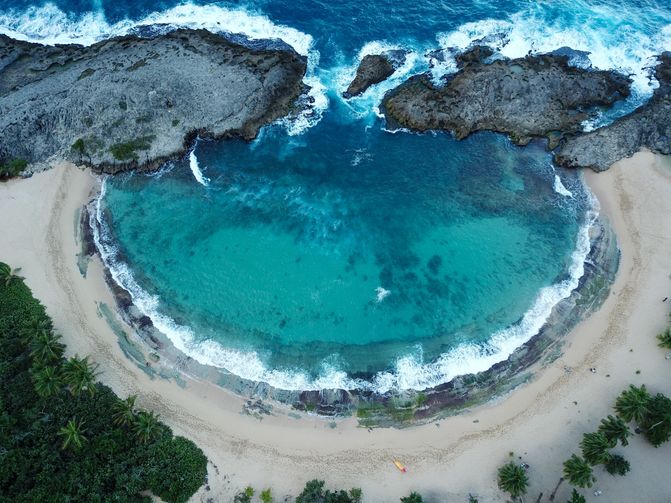 Old San Juan
Even if you find yourself just quickly passing through this country, falling under the enticing spell of San Juan's cobblestone streets, pastel-painted buildings, and grand fortresses, will be effortless.  Visiting this historic city is the closest thing to traveling back in time to the 16th and 17th centuries, surrounded by old Spanish culture.      
During the day, visitors can lose themselves in countless historical stories of blood and drama and spend their evenings hopping in and out of the condensed cluster of bars and clubs located around the neighborhood. When visiting Old San Juan be sure to stop by the 16th-century El Morro Fort, the neoclassical San Juan Cathedral, and, while you're at it, the whole city – because as a whole, San Juan is listed as a UNESCO World Heritage Site, so you really can't go wrong taking it all in.
Puerto Mosquito Bioluminescent Bay
In general, there are only a handful of unique travel experiences that give visitors the chance to float on inky waves, under a canopy of stars, while witnessing one of nature's most tactile magic tricks. Settling aside the time to experience the otherworldly sparkle of bioluminescent waters is an absolute must.
This magnificent bay and designated wildlife preserve is located about 2 miles east of Esperanza and is home to the highest concentration of phosphorescent dinoflagellates in the world.
There are plenty of trips through the lagoon that can be arranged. Whether you choose to kayak, paddle, electric boat, or even fish, whipping up fluorescent-blue sparkles below the surface is a given. Due to the high demand of yours during peak travel season, requires you to book well in advance.  
Ponce
Ponce, which is commonly called the 'Pearl of the South,' provides visitors with numerous museums and diversity to satisfy the most intellectual of history buffs.
By simply taking a walk through this city's historic town center to see fantastic examples of colonial architecture and well-preserved mansions, as well as about a dozen great museums, shows just how Puerto Rican this city truly is. Additionally, just about three miles south of the city center, you can find countless restaurants and bars.
El Yunque Tropical Rainforest
Known as being the US National Forest System's only rainforest, El Yunque is one of Puerto Rico's most popular highlights.
This rainforest spans 43 miles and offers 25 miles of trails, allowing travelers to pass waterfalls, dive into crossing rivers, and enjoy the view from El Yunque 3,500 peak, all while experiencing the atmosphere of a real jungle. Make sure you pack a raincoat and binoculars too because there are 26 species found here that are located nowhere else on Earth. (Keep a sharp eye out for the Puerto Rican parrot, which is one of the world's 10 most endangered birds).
Rincón
This famous surfing town is widely popular with visitors and foreigners living abroad, earning its nickname of 'Gringo Paradise' by the locals. During the winter months, colder weather brings righteous swells to this surfing capital of Rincón. In this city, you can find the most consistent, varied, and exciting surf locations in the Caribbean.
The best part about visiting this town is that around sunset, crowds of locals gather around laid-back beach bars and bonfires, enjoying the inexpensive eats and ice-cold beers.
Playa Flamenco
This horseshoe bay, which stretches for miles, is not only one of Culebra's best beaches, but constantly ranks on lists of the world's best beaches lists. This beach gets its name from the countless flamingos that rest in a nearby lagoon in the winter.
The low scrub palm trees make this beach very popular and is incredibly crowded on weekends and holidays. Try enjoying this beach during the week when the beach is at its least crowded.
Hiram Bithorn Stadium
This 18,000-seat stadium is home to the Cangrejeros de Santurce, which was named after the first Puerto Rican to play in the Major Leagues. Today, this stadium is also home to large events and concerts.  
Rio Camuy Caves
Known as the largest cave system in the world, the Rio Camuy Caves cover 268 acres. Made out of limestone, different styles of cave and waterways have been carved into this system over time, making it among the world's top largest caves with underground rivers.
All who visit are invited to ride on a trolley bus 200 feet deep, reaching the lowest depths of this cave system. Although this well-known cave system wasn't rediscovered until around 1958, there is some evidence that points to Puerto Rico's first inhabitants exploring them.
La Parguera Natural Reserve
Located close to La Parguera village is a beautiful area of preserved natural beauty, which is home to some of the most extraordinary natural sights that Puerto Rico offers. These sites include mangroves, salt marshes, and coral reefs. Among this natural reserve, there are hiking trails, boat rides, snorkeling, and windsurfing opportunities for visitors to enjoy. 
Fajardo
This area is highly popular among native Puerto Ricans and tourists alike thanks to its excellent seafood options, luxury hotels, and its location to the Palomino, Icacos, and Palomino islands. These three islands are known as popular areas to take day trips.
El Morro Castle
Originally built by the Spaniards for military and security purposes, Castillo San Felipe del Morro is now utilized by the U.S. government. This change happened shortly after Puerto Rico became a U.S. territory. The centuries-old fort is now an entertainment venue allowing all visitors the chance to explore different areas of the attraction.
Puerto Rico Museum of Art
Open for almost 20 years, the Puerto Rico Museum of Art is where the paintings and pictures of many Puerto Rican celebrated artists are displayed. On top of viewing all the gorgeous art, this museum also offers educational activities for museum visitors to participate in, including guided tours and even special workshops.
Toro Verde Zip Line
Toro Verde Adventure Park, located in central Puerto Rico, runs multiple tour options and zipline experiences for all to enjoy. One attraction, in particular, called "The Monster" claims to be the longest zip line in the world, with an 8,300-foot long cable, which is the equivalent to the length of 28 football fields.
Caguana Indigenous Center
The Caguana Indigenous Center preserves some of the most notable aspects of the Taino people's history. The Taino people were Puerto Rico's past indigenous community and played an important role in shaping the current culture.
Icacos Island
As previously talked about, Icacos Island located just off of the eastern town of Fajardo is a great location for sunbathing and snorkeling. In order to reach this island, visitors must take a water taxi or ferry making it a 20-minute journey from the mainland. Remember to bring your own food to snack on while having fun in the sun because this island offers no additional amenities.
Serralles Castle
The Serralles Castle is located atop a hill in the city of Ponce and was constructed by the Serralles family. This family, who called Puerto Rico their home, gained much success in the alcohol business through their brands such as Don Quilo rum. Visitors can take a guided tour of the castle, see the spectacular views from the roof, stroll around the vast gardens, or stop by its museum.
Air
With an unlimited number of direct and non-stop flights arriving and departing daily from many locations around the world, Puerto Rico has become the international airport hub of the Caribbean.
There are no main airports that offer trips leaving out of major cities in the United States, international destinations, and other Caribbean islands. These two airports are called the San Juan Airport and Aguadilla Airport, but with the majority of flights leaving from San Juans LMM airport.
Metro
San Juan is known for having an efficient bus system and a high-end metro called the Tren Urbano. This metro system will one day expand to cover places such as Caguas, but now only operate around the city.
Bus
Públicos, which is another name for Puerto Rico's busses, are essentially public minibusses that run predetermined routes from morning into the early evening. Traveling by this type of minibus offers tourists a great local experience, but keep in mind that traveling this way requires a lot of patience and time, sometimes making for unhappy holidays.
It's worth noting that some públicos make relatively long hauls between larger cities such as San Juan and Ponce or even out to Mayagüez. Most of the time, the primary function of these busses is for much shorter trips, ultimately providing a link within and between communities.
Car
One of the comforts and conveniences of traveling to Puerto Rico is how easy it is to get from place to place. Around the San Juan area and neighboring districts, ridesharing and walking seem like a good idea, but keep in mind that if you're planning to be on-island for more than a few days and want to venture outside the metropolitan area, renting a car is the most practical option.
Every major car rental company providers great services in this country, so you have plenty of options based on the specific needs for your trip.
Arrangements for renting a car can be made well before your trip or even on arrival. If you chose to book a car on arrival during peak travel times or holidays, then you may have to venture out of the main city to do so. Most of the companies have offices located both at the airport and in nearby districts, making it easy to find what you are looking for.
For United States travelers, renting a car in Puerto Rico will be the same as renting in the contiguous US. The only requirements are that you need to be 25 years or older, have a valid driver's license and credit card for payment. Additionally, when renting a car liability insurance is required in Puerto Rico, just like in most US states. Some credit card companies will cover car rentals, so extra coverage may not be needed, but checking before arriving in Puerto Rico is your best option.
Taxi & Ridesharing
Taxis are available in most medium-sized and large cities on the island. Often, waving down a taxi in a public plaza is sometimes faster than calling for one. Keep in mind that drivers almost never use meters, so it's best to establish the cost before beginning your journey so that there are no surprises when you arrive at your destination.
Within areas designated as "tourist zones", especially in the San Juan area, rates are fixed and posted. There is sometimes an additional fee for luggage, late-night, and airport drop-offs. All fares are paid by cash to the drivers and the expense of tolls or trips will not be included.
Rideshare
Ridesharing, which is similar to using a taxi, is relatively new in Puerto Rico. The only major company that has made its way to the island is Uber, which debuted first in the San Juan region.
Even though Uber is commonly used in the contiguous US and thought to be an effective app with accessible rates, it's still defining its regulations on the island. As of now, Uber is not allowed to have drivers picking up or dropping off at the airport.
A service exclusively made for women in Puerto Rico gives the option of choosing Pink Car. This is an all-women-driver company that focuses on transporting females and children safely between destinations and in the city.
Boat
Chartering a Yacht
All of the island's major and most luxurious resorts have marinas, allowing guests to charter yachts or powerboats. In doing so, guests can find a crew, hire a crew, or do things themselves.
If you chose the option of crewed boats, they will come with a skipper and full crew. With this option, you don't need any prior sailing experience. With bareboat charters, you can rent the entire boat and be your own skipper, captain, and crew. Some of the most well-known charter companies are Sail Caribe and Erin Go Bragh
Ferry
Public ferries only link Fajardo with Culebra and Vieques.
Cruises
If Puerto Rico hasn't been on your list of cruise itineraries, then you're missing out. The San Juan Cruise Port is ranked among the top 20 ports in the world, and other ports located around the island offer easy access to sightseeing, dining, local culture, and more for all on board.
Best Hotels In Puerto Rico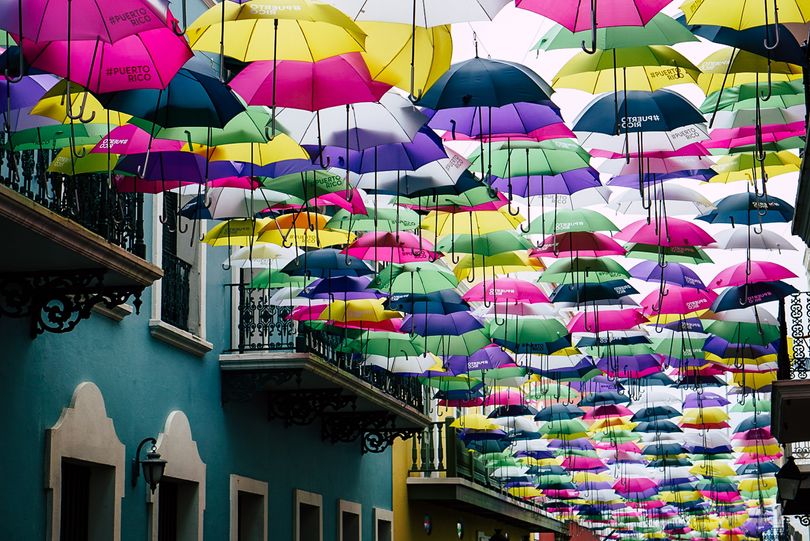 Located on two miles of secluded beach joined with stunning views of the Atlantic Ocean, this luxury hotel is close to the El Yunque National Forest. Here, you can view the picturesque landscape on horseback or ATV, and then enjoy the hiking trails before soaking up the sun at the beach.
If you choose to be lulled to a peaceful rest by the sound of gentle waves in the comfort of luxurious bedding, then book your stay here. In the mornings, guests get to enjoy a hearty breakfast at one of the numerous restaurants the hotel has to offer. 
The Ritz-Carlton Reserve feels removed and remote from the hustle and bustle of Puerto Rico's busy cities yet is actually more plugged-in than it appears. With wood-planked walkways, a lily pond, and curated greenery, guests are greeted upon arrival, seeing ocean views and a stunning two-mile stretch of sand. From the very start of your stay, you will have an instilled sense of tranquility.
Located in San Juan, the Condado Vanderbilt hotel has been renovated piece-by-piece into the now rich, Spanish Revival architectural hotspot. For luxury resort hotels in San Juan, and even throughout the Caribbean as a whole, the Condado Vanderbilt Hotel is the benchmark of excellence.
This unique beach resort was originally built in 1919 and then restored to its now distinguished and luxurious form. It offers guests quality cuisine, cozy rooms, and grand suites, and provides highly professional services.
In 2014 this hotel was voted the Best Hotel in Old San Juan, and for many reasons. In the heart of Old San Juan, on the popular Calle Fortaleza, this quaint hotel is conveniently situated. Additionally, this hotel just steps away from the city's cruise ship terminal. When you stay at the San Juan Puerto Rico hotel, you will find yourself near popular attractions such as shops, restaurants, and historic sites.
Best Restaurants In Puerto Rico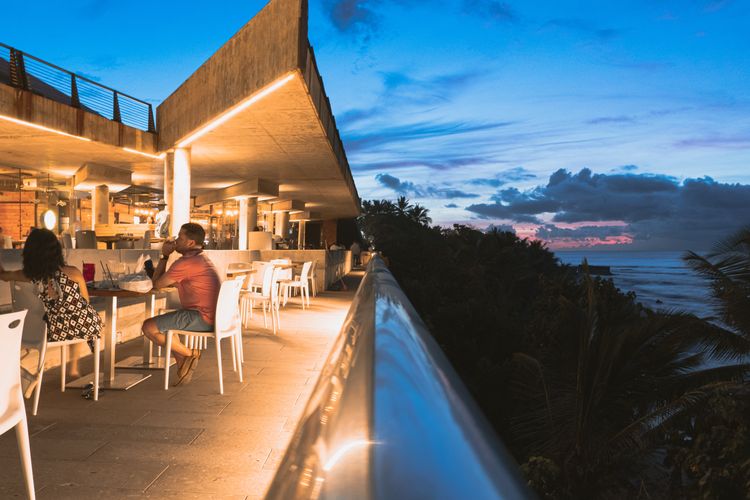 La Alcapurria Quemá is considered a casual spot found near the La Placita de Santurce. Here, guests can enjoy traditional Puerto Rican fritters made with mashed plantains or yucca and stuffed with all types of meat. This restaurant offers several varieties at Quemá, but the most well-known options are beef and crab. These two dishes are both perfectly spiced and intensely flavorful. Be sure to also order some of the pastelillos, which are smaller versions of empanadas, and are gloriously crisp outside and packed with moist meat inside.
This restaurant is located on the breezy oceanfront, offering grand views. Their outdoor terrace is framed perfectly by swaying palms, light up with delicate fairy lights, and overlooking every evening's sunset. Here, tapas-style appetizers are offered but are said to pack a punch. The main courses consist of seafood-centric options, dancing with global and local flavors. Most of the ingredients are sourced locally causing the menu to change every so often.
Que PezCa'o is a casual and local eatery, snuggled up near the harbor, spills out onto a covered seating area, where guests are welcome to relax and enjoy mellow live music. This tiny restaurant can get crowded and slightly wild on the weekends, mostly due to all the younger children and dogs wandering around. Many who have eaten here recommend the bacalao croquettes, ceviche nachos, mahi-mahi mofongo, and the whole grilled red snapper. These dishes are some of the most flavorful, fresh-off-the-boat fish tacos you'll find on this island.
Cosi Come Sei is a small place, making it incredibly welcoming to travelers and locals alike. Everything, including pasta, bread, cakes, and cookies are strictly homemade, providing a healthy cuisine, made with high-quality products. By first walking in the entrance, guests will be welcomed by the soft Jazz music notes, accompanied by a glass of sparkling wine from Puerto Rico, and even some complimentary snacks.
This greek restaurant called Rhodos Palace is beautifully situated on the second floor of the Pasarella shopping center. Here, guests can enjoy a spectacular view over Puerto Rico's main beach and yacht marina, making the atmosphere really special.
How to Stay Safe in Puerto Rico
As far as tourism goes, the Caribbean is said to be one of the safest destinations to travel to on the planet. As expected, most crime in Puerto Rico is largely driven by the drug trade, and will sometimes function as a pit stop between South America and the United States. Naturally, drugs find their way onto the island, and even though both the FBI and the DEA have large offices in Puerto Rico, drugs still remain a serious problem.
While there are incidents of violent crime, the most common violence that affects tourism here is theft and mugging. As long as you know that 911 can still be used in case of emergency, you will already be prepared.
Most of the clubs, bars, and lounges in San Juan are quite safe, but when making your way to Old San Juan in the evening, you'll want to avoid the La Perla neighborhood. As for the rest of Puerto Rico, let your common sense be your guide. This country really is a safe place to travel, but there is no need to cast common sense aside.
Another thing that is important to note is vaccinations. Travelers don't need to get any vaccinations or other kinds of shots to come to the island, and any stomach illness isn't something to worry about.
Our articles may contain affiliate links. We may get paid a small commission when you use our links with no additional cost of your part! See our Privacy Policy page for more details.