Home to a traumatic but rich history, stunning scenery and some of the continent's most welcoming and sophisticated people, Colombia is fast becoming the highlight of many people's visit to South America. Many people now spend weeks backpacking Colombia or vacationing here along the coast.
Improved security conditions have led to a sharp increase in tourism to Columbia. Foreigners and Colombians alike are now far more able to explore this thrilling paradise of cloud-forested mountains, palm-fringed beaches and gorgeous colonial cities.
From unbelievable scenery, salsa dancing, delicious food, the ancient sites of Tierradentro, Lost City, and San Agustín, hip cities like Medellín and Bogotá, Colombia has it all.
This comprehensive Colombia travel guide will help you plan your dream trip by providing ways to get around, best places to stay in Columbia, top restaurants, and more.
Language
More than 99.2% of Colombians speak the Spanish language. English has official status in the San Andrés, Providencia and Santa Catalina Islands.
Currency
The Colombian peso (COP$) is the currency in Colombia.
Climate and Recommended Time to Visit
Colombia's location near the equator keeps the climate pretty consistent throughout the year, with average daily temperatures being around 75°F (24°C) near the coast and 45–63°F (7–17°C) at higher elevations. However, rainfall does vary with the seasons.
In low-lying areas, especially southern Colombia, rainfall is more constant but showers never last very long. The Amazon climate is uniformly wet the entire year.
The peak season for tourism is from December to March, as well as the week before Easter (Semana Santa). If you're planning on doing a bit of everything in Colombia – from hiking in the mountains to lounging on beaches and visiting ruins – this is the perfect time of year for that if you want to take advantage of ideal conditions all across the country.
Top Attractions and Must-See Sights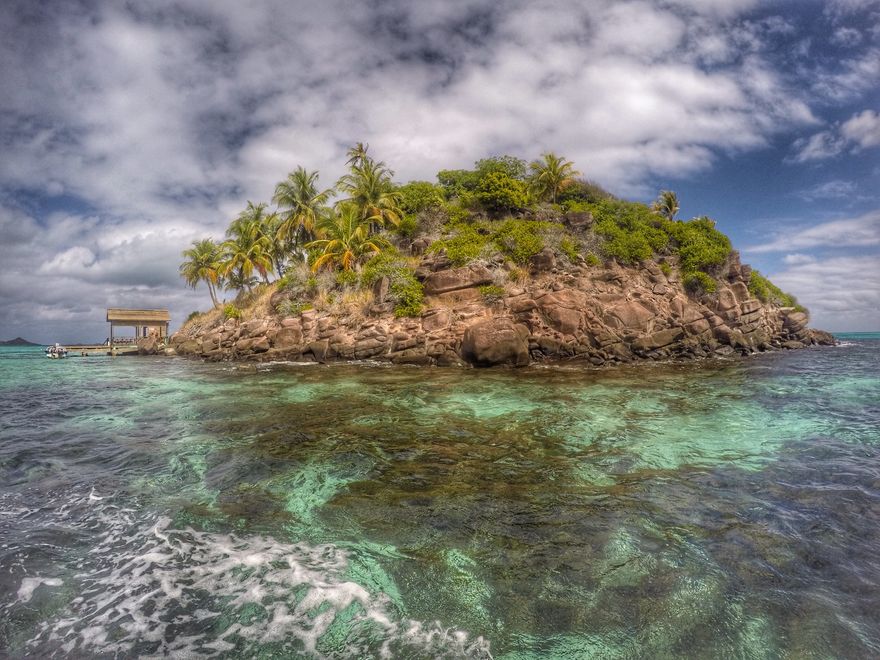 Cartagena's Old Town
Latin America's colonial jewel, a city of Baroque churches, elegant mansions, shady plazas and those giant Spanish walls. The hands of the clock on the Puerta del Reloj wind back 400 years in an instant as visitors enter the walled old town of Cartagena. A stroll down the streets here is a step into the pages of a Gabriel García Márquez novel.
The pastel-toned balconies overflow with bougainvillea and the streets are abuzz with food stalls around magnificent Spanish-built churches, squares and historic mansions. This is a living, working town that just happens to look a lot like it did centuries ago.
Visit Cartagena
Cartagena is one of the most visited destinations in. The city dates back to 1533, and is famed for its Old Town: a maze of cobbled alleys, flower-covered balconies, and large churches on spacious plazas. But despite the crowds , you will really enjoy Cartagena. While there aren't a lot of tourist activities, what makes it a wonderful place to visit is just that: it's somewhere you can slow down, relax, and gorge on the phenomenal gastronomy.
Journey to Ciudad Perdida
The trip to Ciudad Perdida is a thrilling jungle walk through some of the country's most majestic tropical scenery. It has become renowned as one of Colombia's best multiday hikes. Surging rivers pump faster than your pulse can keep pace as you ford them, waist deep, against the otherwise quiet beauty of the Sierra Nevada.  destination is awe inspiring – an ancient lost city 'discovered' by grave robbers and gold-digging bandits deep in the mountains, laid out in mysterious, silent terraces – but it's as much about the journey itself.
Exploring Medellín
Medellín is one of the fastest-growing cities in Colombia. It has enough activities and things to do to fill weeks on end. Get a bird's-eye view of life in the real Medellín as you soar in the city's award-winning metro-cable system above working-class neighborhoods clinging precariously to steep mountainsides. Elsewhere, explore Pablo Escobar's former stomping grounds, marvel at the chubby Botero sculptures and sample some of Colombia's best craft beer.
After dark, visit the chic restaurants – responsible for some of Colombia's most innovative cuisine – as well as the bars and clubs of El Poblado, the center of Medellín's legendary nightlife and popular with the city's well-heeled, fashionable crowd.
Ancient Statues of San Agustín
A UNESCO World Heritage Site, San Agustín is a small mountain town that's home to hundreds of pre-Columbian statues and burial mounds. Scattered throughout rolling green hills, the statues of San Agustín are a magnificent window into pre-Columbian culture some 5000 years ago, and one of the most important archaeological sights on the continent. More than 500 of these monuments, carved from volcanic rock and depicting sacred animals and anthropomorphic figures, have been unearthed.
Relax in Tayrona National Park
Located on Colombia's Caribbean coast, Tayrona has long stretches of golden beaches lined with coconut palms and a dense rainforest with lots of easy day hikes. I highly suggest you start early at the big entrance at El Zaino and exit the park through Calabazo. This underused route takes a whole day, and once you pass the Cabo San Juan campground, you'll get the last half of the trail to yourself.
Tayrona is also home to over 20 dive sites, including shipwrecks and coral reefs filled with colorful marine life, and two-tank dives are as little as 305,000 COP ($95 USD). For some beach time, head to picturesque Cabo San Juan. At the end of the sandy stretch of beach is a lookout point, topped with a hut of hammocks. Put up your feet and enjoy the view.
Cali
As Colombia's third largest city, Cali is the center of the sugar and coffee industry for the country, as well as being host to a terrific nightlife. This hardworking city has taken the salsa genre to its heart and made it its own. Going out in Cali is going out to dance salsa – it's how caleños express themselves. From the tiny barrio bars with oversized sound systems to the mega salsatecas (salsa dance clubs) of Juanchito, salsa helps to break down social barriers and unites this sprawling city. If you know how to dance, this is the place to show off your moves and, if not, there is nowhere better to learn.
Besides dancing, though, there are several parks, museums, and churches you can visit. Relax in the famous Plaza de los Poetas (Square of the Poets), a park filled with life-like statues of local poets. Visit the Iglesia de la Ermita (Ermita Church), one of the city's most striking pieces of architecture thanks to its 20th-century Gothic styling. Spend time at the Museum of Religious Art La Merced, a museum with different sections devoted to religious art and archaeology.
Bogotá
Bogotá is Colombia's vibrant capital. The historic downtown, La Candelaria, is filled with bright colonial buildings, museums, restaurants, bars, historic churches, and centuries-old houses. The north end of town is home to boutique hotels and entertainment areas like Zona Rosa and Zona G. The foodie scene in the city is incredible, with a lot of international options and cutting-edge gastronomy.
Bogotá's Museo del Oro, one of South America's most astonishing museums, will floor you with a sensation of Indiana Jones proportions – and it's merely one of countless museums in the city. Whether you dig pre-Columbian gold ornaments, portly Boteros, presidential helicopters, cocaine-kingpin firearms, Bolívarian swords, exquisitely tiled bathrooms or broken vases, Bogotá has a museum for you.
Colonial Barichara
There is something immediately transcendent about setting foot in stunning Barichara, arguably Colombia's most picturesque colonial village: its rust-orange rooftops, symmetrically cobbled streets, whitewashed walls and pot-plant-adorned balconies contrast with a backdrop of cinematic Andean green. Barichara's name means 'place of relaxation' in the regional Guane dialect – and finding oneself wandering its streets in a sleepwalker's daze, blinded by its beauty and drinking in the atmosphere for hours on end, wouldn't be unusual.
Wildlife Lodges on the Río Yavarí
The sheer size of the Amazon is nearly incomprehensible until you visit – Colombia's portion alone is bigger than Germany – so it goes without saying there are many places to bed down on a once-in-a-lifetime trip. Those along the Río Yavarí are among the best places to see a variety of wildlife and ecosystems. Here you can swim with dolphins, fish for piranha and see alligators, monkeys and frogs up close, before retiring for the night to the sounds of nocturnal chirping and rustling.
Walk the Corcora Valley
The Cocora Valley is home to Colombia's national tree, the wax palm, which grows to nearly 200 feet tall. This area has probably the most popular day hike in the country. You'll cross Jungle Rivers, visit a bird sanctuary, and enjoy some stellar views and forest scenery. The route is about five hours.
Minca
Minca is located in the foothills of the Sierra de Santa Marta Mountains. Once a sleepy backpacker town, it's now a hot spot for tourists escaping the oppressive heat on the Caribbean coast and hoping to do some quiet hikes. One of the best hikes is to Los Pinos, but it isn't easy: it takes about three hours from the center of town, and it's a steady climb into the mountains but, like all things like this, it's worth it.
Air
The easiest way to cover the huge distances between big cities in Colombia is by air travel which has become more accessible lately with the advent of budget airlines, and booking in advance can make it a very reasonable way to travel.
Nearly all cities have airports, as well as many smaller, remoter towns. Busy routes are operated with modern jet aircraft while flights in remote areas can be in anything from tiny single-propeller three-seaters to Soviet jets and even WWII-era DC-3s!
Satena, the commercial carrier of the FAC (Colombian Air Force) services flights to the vast areas of the Amazon, Los Llanos and the Pacific coast; it lands at numerous small towns and villages that would be otherwise virtually inaccessible.
Shop around among airlines as prices can vary greatly on the same route. Ticket prices to some destinations drop in the last week or two before the date; for some other destinations, they may rise significantly. Budget airlines are often cheaper than buses in Colombia, so make sure to search for flights first. VivaColombia is a Ryan Air equivalent, with super cheap online deals and strict luggage restrictions.
Some airlines offer packages to major tourist destinations (for example, Cartagena and San Andrés), which can cost not much more than you'd pay for air tickets only. If purchasing these package deals from overseas you are exempt from the 19% IVA (sales tax) – be sure to ask for this discount, as many Colombians are unaware of it.
Bus
The main way to get around Colombia, buses range from tightly packed colectivos (shared minibuses or taxis) to comfortable, air-conditioned, long-distance buses, and connect nearly every town in the country.
Buses are the principal means of intercity travel, and go just about everywhere. Most long-distance intercity buses are more comfortable than your average coach-class airplane seat, and the overnight buses sometimes have business-class-sized seats.
Companies like Bolivariano, Expreso Palmira, and Trejos are all good companies, and they make it easy to research schedules and fares on their websites.
It is common for buses to stop at requisas (military checkpoints), even in the dead of night. The soldiers at checkpoints will ask everyone to get off the bus, check everyone's identification, and then pat people down. They may look through your bags but often ignore foreigners altogether.
Long-distance buses stop for meals, but not necessarily at mealtimes; it depends on when the driver is hungry or when the bus gets to a restaurant that has an arrangement with the bus company.
All intercity buses depart from and arrive at a terminal de pasajeros (passenger terminal). Every city has such a terminal, usually outside the town center, but always linked to it by local transportation. Bogotá is the most important bus transportation hub in Colombia, handling buses to just about every area of the country.
Outside of peak holiday periods (like Christmas and Easter), reservations are not needed. Just rock up to the bus station an hour before you want to leave and grab the first bus going. On some minor routes, where there are only a few departures a day, it's worth considering buying your ticket several hours before the scheduled departure.
A common trick, especially with smaller buses, is to say they only need one passenger to leave, then they lock your bag in the back and you end up waiting an hour for the bus to leave, watching other buses leave before you do. Don't get into the bus or pay until you see the driver start the engine and prepare to leave.
Colectivo in Colombia can mean a midsized bus, a shared taxi, an overloaded Jeep Willy, and everything in between. They are most popular in short intercity hops of less than four hours.
Because they are smaller than regular buses, they can travel quicker, and charge around 30% more as a result. They often depart only when full.
Mass transit is growing increasingly popular in Colombia. Bogotá boasts the TransMilenio, and Cali and Bucaramanga have similar projects, called the MIO and Metrolínea, respectively. Medellín has its famous metro, the only commuter rail line in the country that links up with cable-car lines. Pereira, too, offers the MegaBús system.
Car
Useful for traveling at your own pace, or for visiting regions with minimal public transport. Cars can be hired in major cities, but they're generally not cheap.
What's more, the security situation remains dodgy in remote and rural parts of the country, increasing the risk of vehicle theft and pushing up insurance prices. Check government websites for warnings before setting out anywhere remote.
In the cities, on the other hand, traffic is heavy, chaotic and mad. It takes some time to get used to the local style of driving. This goes without saying for motorcycle travel as well.
Colombians drive on the right-hand side of the road and there are seatbelt requirements, so buckle up or risk a fine. The speed limit is 60km/h in the city and 80km/h on the highway.
If you do plan to drive in Colombia, bring your driver's license. The driver's license from your country will normally do unless it's one of non-Latin-alphabet origin, in which case, you'll need an International Driving Permit as well.
Several international car-rental companies, Avis and Hertz for example, operate in Colombia. You'll get better deals, as always, by booking online.
Carefully check clauses pertaining to insurance and liability before you sign a rental contract. Pay close attention to any theft clause as it may load a large percentage of any loss onto the hirer. If you rent a car with tinted windows, you'll need a special document from the rental agency that police at checkpoints will ask for. Agencies don't generally volunteer the info so be sure to inquire.
Hitchhiking in Colombia is uncommon and difficult. Given the complex internal situation, drivers don't want to take risks and simply don't stop on the road. Travelers who hitch should understand that they are taking a small but potentially serious risk.
Taxi & Ridesharing
Taxis within the cities in Colombia are widely available and are an economical way of getting around. Licensed vehicles are bright yellow in color and are generally easy to hail from the street as they pass.
Apps like like Tappsi (www.tappsi.co), Easy Taxi (www.easytaxi.com) and Uber (www.uber.com) have drastically improved taxi security and should be used by all with a smartphone. They operate in most of Colombia's major cities.
Taxi fares are always per taxi, never per number of passengers. Many taxis have somewhat flimsy doors – be kind, do not slam doors when getting into or out of vehicles.
A taxi may also be chartered for longer distances. This is convenient if you want to visit places near major cities that are outside local transportation areas but too near to be covered by long-distance bus networks. You can also rent a taxi by the hour in the major cities – a good way to make your own impromptu tour.
Many smaller towns, and some cities, especially in the north, plus Leticia in the Amazon, use motorcycle-taxis, which are a quick way of getting around if you're on your own. These, however, are not the safest method of transportation and are even illegal in somacee pls, including Cartagena.
Helmet laws are enforced in built-up areas throughout the country – your driver will have an extra one for you, although it may have a busted strap or other defect that renders it useless in a serious accident.
Chinese-made tuk-tuks are increasingly popular in smaller tourist towns. Moto-taxis seat three and have a covered roof, plus a tarp that can be lowered around the sides in case of rain. You'll see these in Barichara, Darién, Mompós, Santa Fe de Antioquia, the Desierto de la Tatacoa and in some of the small towns on the Pacific coast.
Boat
The main ports are Cartagena, Barranquilla, Santa Marta and Turnaco (Caribbean coast); and Buenaventura (Pacific coast). Many ships and cruise lines visit these ports from the USA, Mexico, Venezuela, Central America and the Caribbean islands. If you're travelling by boat from Panama to Colombia, you're most likely to go to Cartagena.
Cruise ships bound for Colombia always stop at Cartagena. Most cruises in this region are touring the Caribbean islands and make a stop along the way in Colombia.
The most popular river routes in an out of Colombia are at the border between Colombia, Peru and Brazil. You can travel by riverboat into the Colombian town of Leticia from Iquitos via Santa Rosa in Peru, or from Tabatinga in Brazil. However, once in Leticia you need to catch a flight onwards.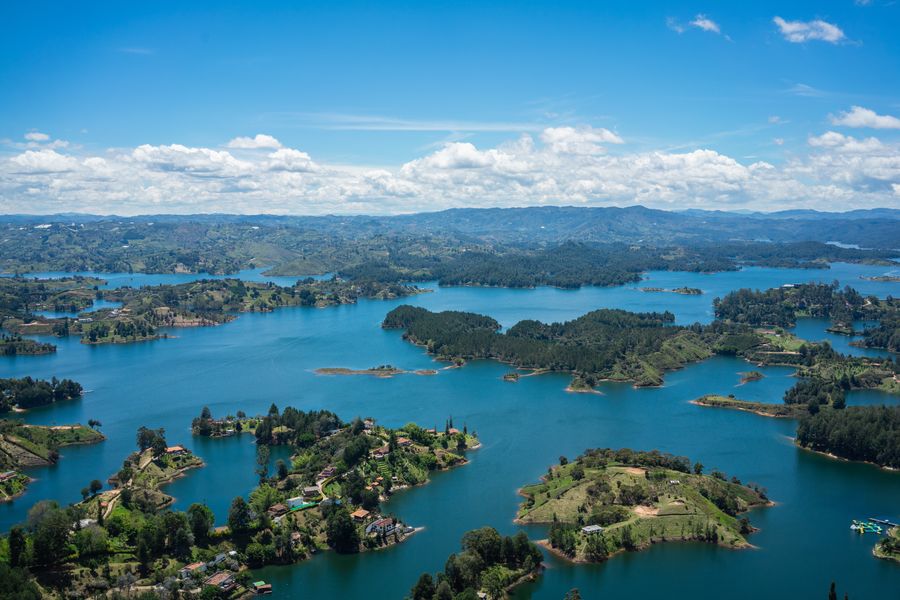 Start your morning with a cup of the world famous coffee and explore centuries of history in this world famous destination. After a day of discovering recharge at Aqoral Spa, dine in one of the two fabulous restaurants and take a dip in our infinity pools with expansive Caribbean and city views found only at one of the Cartagena Colombia luxury hotels, the Hyatt Regency Cartagena.
The InterContinental® Cali hotel offers the best experience for both business and lesiure travelers. With spectacular views of the Cali River, the hotel offers as well several meeting rooms, an outdoor terrace with a pool and relaxing full-service spa.
This accommodation is 3 minutes walk from the beach. Oz Hotel is located less than 15 minutes by car from San Felipe Castle, in Cartagena de Indias, and offers free Wi-Fi access in all rooms and areas. Bocagrande Beach is just 130 meters away.
Located in the historical center of Bogota' where you will enjoy the charm of the republican period in a very comfortable way.
All the rooms are very comfortable and decorated in good taste. Rooms are fully equipped with free wifi and some have heaters.
Best Restaurants In Colombia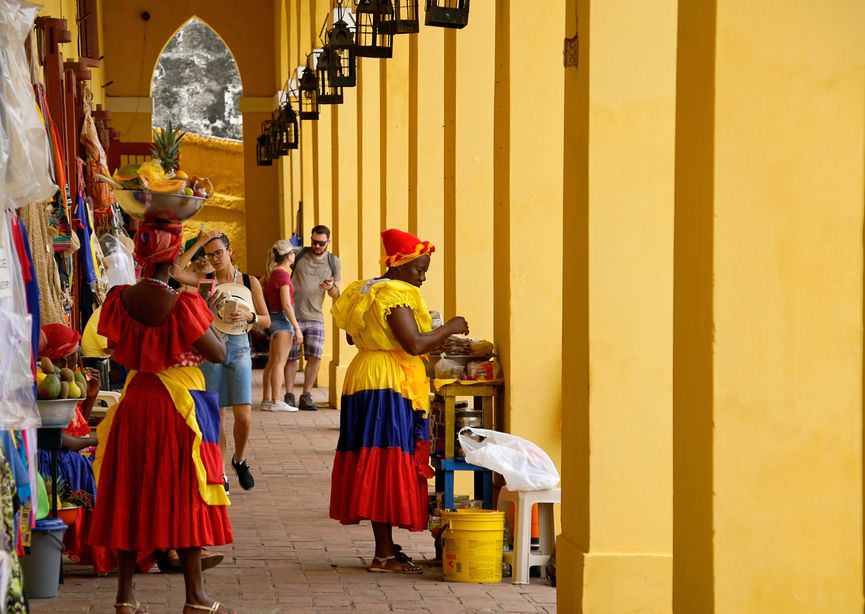 It specializes in grilled meats and typical Colombian dishes: Order with sharing in mind so that you can sample the arepas de choclo (sweet corn cakes), papas criolla (Colombian potatoes), chicharrones (fried pork rinds), and plátano maduro relleno de queso y bocadillo (baked plantains stuffed with cheese and guava).
If you want to party, Saturday is the best night. A very Colombian experience in one of Colombia's most unique restaurants.
Arepas, circular corn cakes, are a Colombian diet staple found throughout the city. Abasto's original location in Usaquén — a welcoming neighborhood that hosts an outdoor flea market on Sundays — is the ideal breakfast spot to sample different types of arepas made with ingredients from local farmers markets.
Thirty minutes outside central Bogotá, El Tambor is sort of an upscale piqueteadero, casual roadside restaurants specializing in grilled meats consumed by the platterful. Al fresco seating is large wooden stumps and acres of grass for reclining while you nibble on a feast of morcilla, chorizo, grilled beef and pork, smoky grilled corn, guacamole, sweet plantains, yuca, potatoes, arepas, chicharrones, chunchullo (fried beef small intestine), longaniza, and lots of beer to help plow through it all.
How to Stay Safe in Colombia
Colombia requires a lot of caution. It's generally safe and you're not going to get kidnapped or anything.
Petty crime is common. Don't flash around your valuables. There's even a local expression about it in Colombia: "No dar papaya" (Don't give papaya). Essentially, it means that you shouldn't have something "sweet" out in the open (a phone, computer, watch, etc.) that would make you a target. Keep your valuables hidden, don't wander around places you shouldn't at night, don't flash money around, avoid coming out of nightlife spots alone at night, etc. Simply put: Don't put yourself in a position where people can take advantage of you.
Because of the current situation in Venezuela, it's a good idea to avoid the border towns of Cúcuta and Maicao.
Do not do drugs here. You're going to get a lot of offers but don't be one of those people. First, it's a huge insult to Colombians, who are trying to shed their drug-related past and don't want to be associated with the drug. Second, it's still illegal although small amounts of cocaine and marijuana are decriminalized. Third, there's a lot of violence associated with it, and you can end up in some bad situations. Don't do drugs here.
Our articles may contain affiliate links. We may get paid a small commission when you use our links with no additional cost of your part! See our Privacy Policy page for more details.