Santorini, or Thera, is a Greek island in the southern Aegean Sea and part of a group of islands which are called Cyclades (220 Islands). Beautiful, historic, and filled with things to see and do, Santorini is a destination that every visitor to Greece must experience.
Santorini is famous for its cliff-side homes which are painted blazing white with deep blue roofs. They are symbolic of Greece.
Its major feature is the volcano that played an important role as it formed the island and offered it its unique terrain morphology. The volcanic caldera, which covers the west side of the island, constitutes a big part of its natural beauty and makes it a special place. The wild beauty is completed with the view of the volcanic islands opposite of Santorini, which you can visit as well.
There are plenty of things to do and explore in Santorini. No one should miss the chance to visit as many beaches and landmarks as possible. Don't miss watching the sunset at Oia, visiting the many historical sites, or exploring the vineyards.
Santorini is a perfect destination whether you travel with family, friends or seek a romantic haven. It is a traditional island that combines placidity and liveliness. There are all kinds of facilities and amenities, a big variety of lovely accommodation options, many shops and entertaining activities but peaceful villages as well. The striking natural beauty is undeniable in every corner.
Santorini is easily among the top travel destinations worldwide for its unique characteristics and unrivaled images and this Santorini travel guide will show you exactly why.
Language
The official language of Santorini is Greek.
Currency
Euro
Climate and Recommended Time to Visit
Pick season in Santorini begins in early April and ends in October. The best time to visit Santorini is late September or early October!
While the island is generally far more crowded and expensive during July, August and September, a visit to Santorini during the island's off-season is not recommended, as the temperature drops, and the weather turns rainy and windy.
In addition, a large percentage of local restaurants and hotels close their doors, making it difficult to fully enjoy the vacation spot.
June is also a very good month to visit Santorini because it's still early summer, the weather is amazing and the big masses of tourists haven't arrived yet.
Top Attractions and Must-See Sights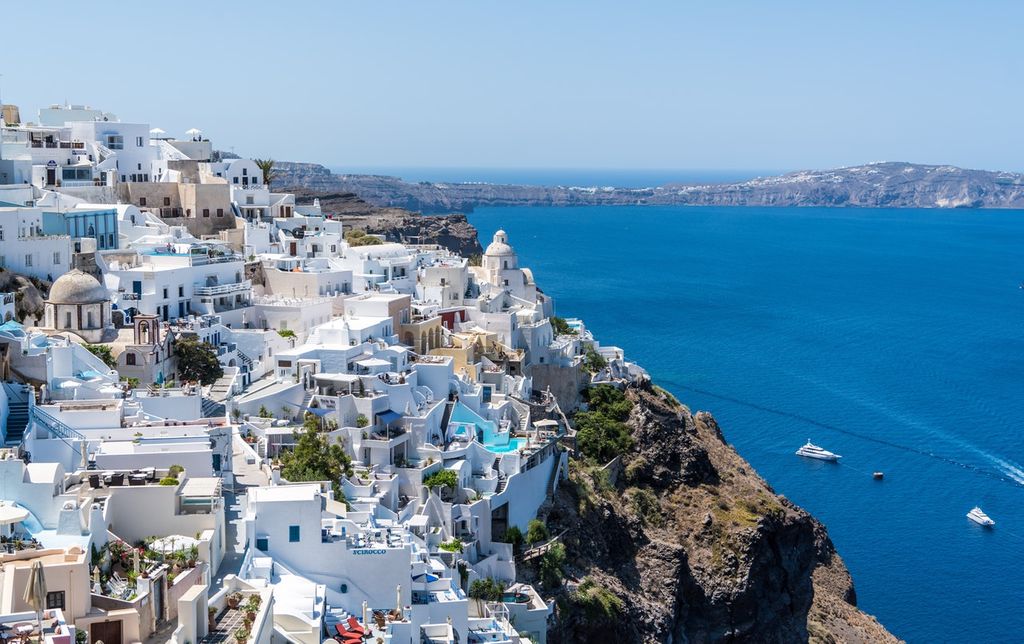 Visit the Red Beach
Located in Akrotiri Village, Red Beach is one of the most popular beaches in Santorini due to its black sand beach and the red rock cliffs that surround it. Parking can be tough to find during high season so be sure to get there early. If you're worried about finding a spot, do yourself a favor and rent an ATV instead of a car.
Pair your visit to Red Beach with a visit to Perissa (Black Sand Beach) and get both of the most popular beaches in Santorini checked off of your list in a single day.
Perissa Black Sand Beach
The black sand beach in Perissa is so unique thanks to volcanic eruptions, and it's a type of sand that is always warm to the touch.
The Caldera Hike (Fira to Oia)
Fira and Oia are connected by the most famous hiking trail on the island. It's a historical path, one that's been traversed by merchants, peasants, and explorers alike, and it also happens to run along the edge of the most scenic part of the island.
You'll get to witness jaw-dropping scenery, learn about local myths and legends, and see just how stunning Santorini is firsthand from high atop its cliffs.
Museums
Santorini has been inhabited for thousands of years; a place of many legends and myths, early civilizations, and deep history.
Santorini has a few museums which catalogue and record all of this wonderful history, including:
The Archaeological Museum in Fira
The Museum of Prehistoric Thira
The Megaro Gyzi Cultural Center
Here, you'll find ancient pottery, items, and stories, but also artistic and social events that range from painting exhibitions to theatrical performances and even traditional dances.
Akrotiri of Thera
The ancient Minoan city of Akrotiri of Thera – Santorini's Pompeii – has the most famous ruins in the Cyclades. Unearthed in 1967 after being shrouded in ash for 3,000-plus years, the town, full of paved streets with dozens of homes, some three stories high and with intact staircases, has been remarkably preserved.
First settled by the Dorians in the 9th century BC, Ancient Thira consists of Hellenistic, Roman and Byzantine ruins and is an atmospheric and rewarding site to visit.
If you're driving, take the narrow, switchbacked road from Kamari for 3km. From Perissa, a hike up a dusty path takes a bit over an hour to reach the site.
Museum of Prehistoric Thera
Opposite the bus station, this well-presented museum houses extraordinary finds excavated from Akrotiri, which has been settled since neolithic times. Check out the wealth of wall paintings, ceramics with a heavy Minoan influence and the glowing gold ibex figurine, dating from the 17th century BC and in mint condition. Also look for fossilised olive tree leaves from within the caldera, which date back to 60,000 BC.
The Volcan Winery
With all that volcanic rock, not much grows on Santorini—except for grapes. Locally produced dry white and dessert wines are renowned throughout the country. You can get a taste of both and learn about Greece's winemaking history at Volcan, which is run by the fourth generation of the Koutsoynopoulos family.
Akrotiri Lighthouse
At the southern end of Santorini, close to Akrotiri, lies the lighthouse. If you want to watch the greatest free show on earth (the sunset!) in seclusion, well, you're out of luck. Word is out, and you will be joined at the tip of this promontory by dozens of sunset-gazers. Still, there's plenty of room for everybody and the lighthouse lacks Oia's crowds.
Vlihada Beach
Popular with those who like to bare all and backed by some spectacular rock formations, this southern beach is particularly beautiful at sunset. Go up above the fishing harbor to find a good restaurant.
Air
There are multiple, daily, direct flights from Athens to Santorini International Airport and the approximate flight time is 45-50 minutes.
The route from Athens to Santorini and vice versa is serviced year round but beware that the schedule could be limited during the late fall and winter months.
During the summer months, you can find flights to Santorini National Airport from other islands such as Crete, Rhodes, Mykonos, and Thessaloniki.
Our recommendation is to always begin by researching flights using price comparison sites like Skyscanner before looking into taking a ferry to the Greek Islands.
Budget Airlines in Greece:
While flying tends to be the more expensive option to get from mainland Greece to the islands, there are definitely deals to be found.
Boat
If flights to Santorini are too expensive, the next best thing would be to resort to a more budget friendly method of transportation; a ferry to Santorini.
A ferry from Athens to Santorini will take approximately 4.5 hours depending on the ferry company and the speed of the boat you choose.
When it comes to booking Greek ferries to Santorini, one of the most reliable and reasonably priced Greek ferry search engines is powered by a company called Ferries in Greece, a major Greek ferry booking hub that helps more than 35,000 passengers get to and from the Greek islands each year.
Ferry tickets to Santorini sell out quick during the high season. Be sure to book your tickets in advance to avoid running into issues. If you're planning on visiting Santorini during the low season, be sure to double check the ferry schedules as ferries that operate to and from Santorini will be running on a much more limited schedule outside of peak season.
The Athens ferry port (Port of Piraeus) can be quite hectic. Be sure to figure out which part of the port that your ferry is leaving from, in advance in order to avoid walking long distances with your luggage.
Perched on the cliff of the hill overlooking the Aegean Sea, Skyfall Suites is situated just 500 meters from the main square of Pyrgos village in Santorini, just below the medieval castle. With a privileged location within the island, just 6km away both from Santorini airport and Athinios port as well as from the centre of the island's capital, Fira.
On the caldera of Santorini, where the rock curves were shaped by tears of joy dropping from the skies; rooms and suites kissed by the sun in a landscape forged by man and nature; nestled in one of the world's most beautiful locations, we find the perfect accommodation for a genuine Santorini experience. Embraced by the eternal beauty of Santorini's uniqueness is exactly what you will sense stepping into the infinity pool or savoring the tastes of the Lilium Hotel Restaurant. Lilium Santorini Hotel is an accommodation proposal with rooms and suites that overlook the sea, the volcano and the sunset of Santorini.  
'ASTRO' means star, means shining light. Constructed in 2010 Astro Palace Suites & Spa is a synonym for a shining star combining the radiance of elegant design with the traditional Cycladic architecture using colors of the earth blending harmoniously with the surrounding natural habitat.
A room at Astro Palace impresses with the feeling of comfort and a liberating sense of space reflecting an elegant and sophisticated style. Unobstructed views from every aspect of the hotel give you the opportunity to gaze out at the horizon marveling the Aegean Sea. 
Antoperla luxury hotel & spa is located relatively near Perissa beach but at such a distance that ensures you the peace, quiet and privacy, you seek. Combined with the fact that it is the one and only hotel spa in Perissa and that it boasts 18 private pools, it offers complete relaxation, well-being and rejuvenation. 
Santorini Kastelli Resort, a five-star Santorini hotel at the foot of the hill of Ancient Thira.  Only a breath away from the black volcanic sands of the renowned Kamari beach, this exquisite Santorini luxury resort uniquely encapsulates the beach island experience, promising an unforgettable stay of fun, relaxation, privacy and comfort. 
In the nouveau-traditional Cycladic architectural style, with whitewashed walls and splashes of vivid color in a blissful contrast to the blue Aegean sky, lush lawns and fragrant gardens surround the resort. Guests will find an oasis of repose against the backdrop of the fabulous sea and the wondrous cliffs of Ancient Thira. 
Best Restaurants In Santorini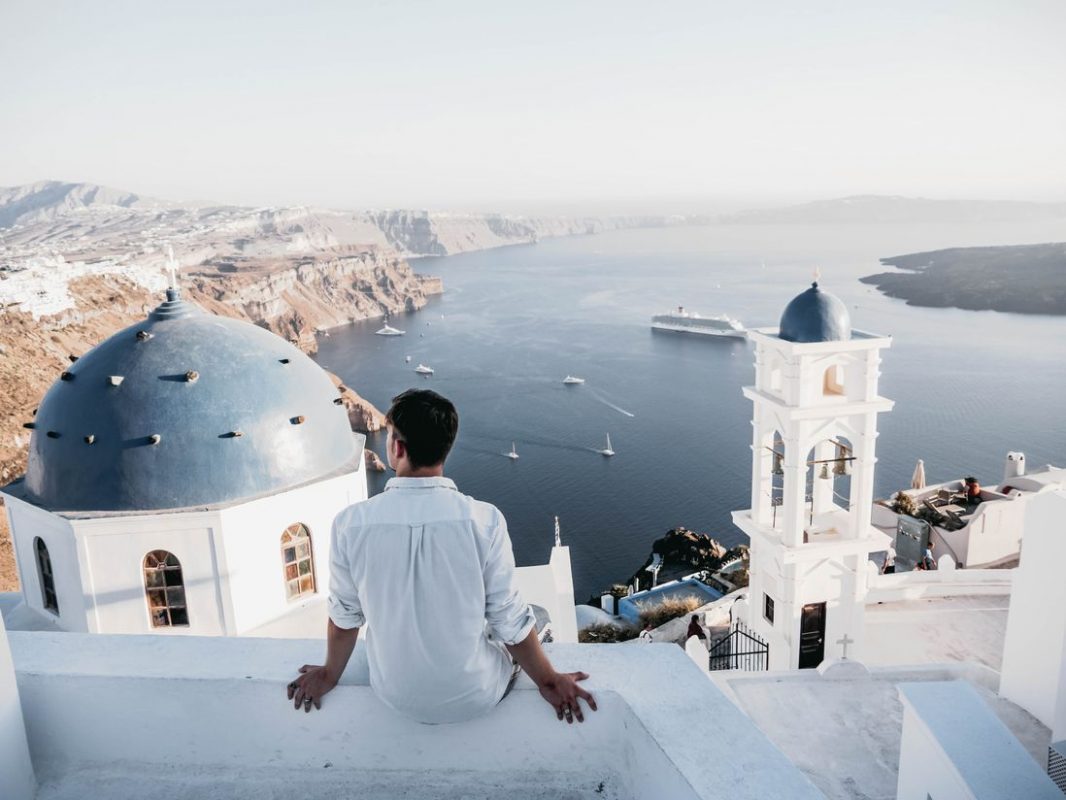 Jaipur Palace restaurant is located at the heart of Fira and presents Authentic Indian Food. A real tasting experience. Only highest quality ingredients are used to prepare our dishes. All chefs at Jaipur are highly experienced. Jaipur Palace is The Best Indian Food in Santorini you can find out!
Welcoming, cheerful, full of plants, flowers and the scent of herbs. The menu highlights local products from Santorini and the Cyclades. The specially trained staff are happy to help you select the perfect wine from our Winery to accompany your meal or diner.
It is the only place in Santorini where an excellent restaurant is combined with an award-winning winery, the Artemis Karamolegos Winery, with a wine tasting yard and wine shop.
The restaurant's terraces and courtyard are decorated in the traditional style, with barrels, baskets and vines and feature panoramic views to Monolithos and AVIS beaches -and even as far as Anafi island! Guests also have views of the vineyards and the fields where we plant seasonal vegetables, such as aubergines, pumpkins and Santorini cherry tomatoes.
Known for its creative Mediterranean cuisine, intriguing cocktails and a great selection of high quality local wines, the multiawarded Fino Restaurant & Cocktail Bar is located in the town of Oia, where the world's most breathtaking sunset can be seen. In a fresh and minimal, yet inviting and warm setting will surely capture your attention this summer! 
How to Stay Safe in Santorini
Santorini is a very safe destination. Of course, there are risks everywhere and Santorini has its share of freak accidents: falling rock, aggressive donkeys, and crazy young guys on ski jets.
And like everywhere, the biggest risk in Santorini is vehicle accidents. Always wear a seat belt, don't drive drunk, don't tour wineries while driving, give local buses a wide berth while walking, and don't rent a motorbike, ATV, or scooter if you don't regularly use or drive one at home.
Any place where there is alcohol, there is some risk. Usual precautions apply but Santorini has very few problems with fights, violence, drugs, or organized criminal activity.
While worth the effort, many of the hiking trails can be dangerous. Every year tourists are injured by falling rocks and crumbling trails. Talk to local guides before you decide where to go. Also, pay attention to road conditions and always carry a map.
Santorini is hot, especially in the summer. Pack plenty of sunscreen, hats, and flip flops. First-time visitors have found out the hard way that the pebbles, rocks, and sand on the beaches can be dangerous. Every year, more than a few people head home with serious burns and blisters on their feet. Santorini is also known for the "Meltemi Wind." This is the name given for the wind gusts that blow from north to south across the Aegan Sea. During the summer months, the wind is quite tolerable, and often a welcome distraction from the heat.
Our articles may contain affiliate links. We may get paid a small commission when you use our links with no additional cost of your part! See our Privacy Policy page for more details.