The capital of the Netherlands – Amsterdam – is one of the most popular tourist destinations in Europe. Amsterdam is famous for its red light district, houseboats and elaborate canal system, coffee shops, and historic architecture of iconic narrow houses.
Many travelers, especially backpackers, tend to focus on the coffee shops or wander the red light district but Amsterdam offers much more then only the "regular" stuff. You can go by foot or take a bike (a popular choice in Amsterdam) and visit the dozens of art museums, explore the Old Centre, explore the beautiful parks and outdoor, and much more.
Use the below Amsterdam travel guide and build your travel plan the way you want it to look like.
Language
The official language of the Netherlands is Dutch, but you will not have any problem to speak English as is it very common and almost everyone will be able to help you if you approach them with English.
Currency
Euro €
Climate and Recommended Time to Visit
July and August are the most popular months but also the most busy. Some attractions (especially the Van Gogh Museum and Anne Frank House) get very busy during these months so take this into you planning and order tickets in advance if you will be planning on going. August is also the hottest month, with an average high of 63°F (17°C), while January is the coldest with an average high of 37°F (2°C).
If you want to see the tulips, come mid-April to early May. You will find better deals and quieter crowds during October through March, with the exception of New Year's Eve.
Top Attractions and Must-See Sights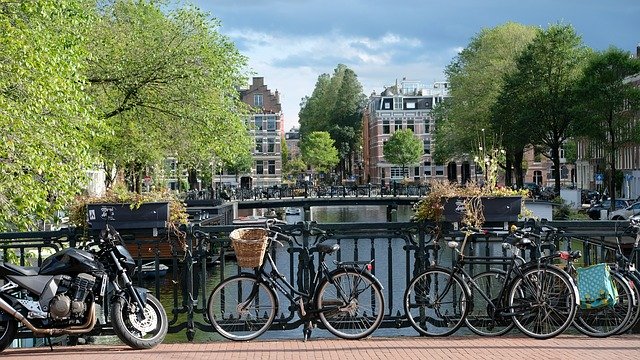 Canal Cruise
Get a feel for the history and layout of Amsterdam's canals by boat. Take a tour of the canals, and travel through the canals of the city.
Cycle Amsterdam-Noord
Rent a bike and take the free ferry across to Amsterdam-Noord to spend the day cycling. Follow Route 9 by the marked pathways and explore the dike villages, grassland landscape and the island of Marken (47 km/4-5 hours).
The Rijksmuseum is among the world's finest art museums, packing in works by local heroes Rembrandt, Vermeer and Van Gogh as well as other masterpieces in the 8000 works on display over 1.5km of galleries.
Due to its popularity, there are big crowds who swamp the museum, come before 10am or after 3pm to avoid them.
The sculpture-studded gardens around the exterior are free to visit and the Rijks restaurant has a Michelin star. There is also a cafe inside the museum serving light lunches.
*I Amsterdam and Museumkaart cardholders get in free with no need to queue at the ticket office. 
The Anne Frank Huis draws around 1¼ million visitors each year. With Anne's melancholy bedroom and her actual diary – sitting alone in its glass case, filled with sunnily optimistic writing tempered by quiet despair – it is a powerful experience.
It is compulsory to choose a timeslot and pre-purchase tickets online: 80% of tickets are released two months in advance, with the remaining 20% released on the day. An audio guide is included in the ticket price.
This museum traces Van Gogh's life and development though the world's largest collection of his work, both familiar paintings and wonderful little-known pieces.
It's fascinating to see how his work changed from tentative beginnings to giddily bright sunflowers, and on to his frenzy of creative brilliance towards the end of his life.
While you can try your luck for tickets at the entrance, it is highly recommended to book online and choose a time slot to avoid missing out, as tickets can sell out a few days in advance during the busy season.
*I Amsterdam cardholders must reserve online at www.iamsterdam.com. The museum can get full and the best times to visit are before 11 am and after 3 pm. 
A private park for the wealthy until 1953, Vondelpark now holds a special place in Amsterdam's heart. It's a magical escape, but also supplies a busy social scene, encompassing cycle ways, pristine lawns, ponds with swans, quaint cafes, footbridges and winding footpaths.
On a sunny day, an open-air party atmosphere ensues when tourists, lovers, cyclists, in-line skaters, families with cartwheeling children, all come out to play.
The Vondelpark receives over 12 million visitors per year, so there is never a "quite" time to visit, but it is always a lot of fun.
This evocative museum is housed in Rembrandt's former home, where the master painter spent his most successful years, working on major commissions such as The Night Watch and running the Netherlands' largest painting studio.
The inventory drawn up when he had to leave the house is the reason that curators have been able to refurnish the building so faithfully.
You can also watch an etching demonstration and visit Rembrandt's studio, which looks as if he's just popped out. Queues are not as extensive here as at some of Amsterdam's other attractions, but you may book ahead online or get free entry with the I Amsterdam City Card or Museumkaart. 
There have long been links between Russia and the Netherlands – Tsar Peter the Great learned shipbuilding here in 1697 – hence this branch of St Petersburg's State Hermitage Museum.
Blockbuster temporary exhibitions show works from the Hermitage's vast treasure trove, while the permanent Portrait Gallery of the Golden Age has formal group portraits of the 17th-century Dutch A-list; the Outsider Gallery also has temporary shows
Come before 11 am to avoid the long queues. There is a nice restaurant cafe inside the museum. The building was formerly a retirement home (for 'elderly' women aged over 50!). 
Amsterdam Travel Essentials
Depending on your type of trip, I'd recommend getting an I Amsterdam card. The card includes free admission into the most popular museums, free public transportation (unlimited use of the GVB public transport system for 24, 48 or 72 hours) and a free canal cruise. See if the I Amsterdam card can save you money on your trip by using their online savings chart before buying.
Train Berlin → Amsterdam train
Another part to add to your Amsterdam travel itinerary is a train trip from Amsterdam to Berlin.
The average travel time between Berlin and Amsterdam is 8h07 minutes. The quickest route is 6h08 minutes. There is an average of 12 trains a day between Berlin and Amsterdam, leaving approximately every 2h08m.
On board the high-speed international trains, you can travel stress free and in total comfort thanks to the large comfortable seats.
Amsterdam Centraal, is a train station located in Amsterdam. Being one of the major train stations in Amsterdam, it is served by buses and other public transportations. It is the largest train station in Amsterdam. Berlin HBF, is a train station located in Berlin. It is one of the most important train stations in Berlin. Berlin HBF connects to public transportations and is easily accessible.
For a single return trip from Berlin to Amsterdam, a train ticket is the best value for money. Best prices are available when buying the train ticket well in advance. For extensive train travel, a rail pass including Germany and the Netherlands is a better choice.
From Amsterdam, travelers can take the train to reach other cities and regions of Holland. See more information here: https://www.raileurope.co.il/train-tickets/journeys/article/berlin-amsterdam and here https://www.omio.com/trains/amsterdam/berlin
Amsterdam's Schiphol International Airport, located 18km southwest of the city center, is among Europe's busiest airports. It has ATMs, currency exchanges, tourist information, car hire, train ticket sales counters, luggage storage, food and free Wi-Fi.
It's linked to the city center by train which is also the cheapest and quickest way to get into the city center – the ride takes about 15 minutes and you can purchase a one-way ticket for just €3.70 Euro from the machines next to the trains, or go onto the rail website for more information.
A shuttle van runs by Connexxion, every 30 minutes from 6.30 am to 9 pm.  from the airport to many hotels. Look for the Connexxion desk by Arrival Hall 4.
Taxis take 30 to 45 minutes to the center and even longer in heavy traffic, costing around €39. The taxi stand is just outside the arrivals hall door.
Lelystad Airport, 50km east of Amsterdam, is undergoing a large expansion project due to be completed in 2020 that will see it take over many budget airline and freight flights from Schiphol International Airport, with newly created transport links to/from Amsterdam. Check the airport website for updates.
Bicycle
Most locals use bikes to get around. There are a LOT of bicycles in Amsterdam! Be prepared for bike traffic. You can easily rent a bicycle for about 10-12 Euros for your time there.
Car & Motorcycle
Amsterdam's narrow streets, unfenced canals and hundreds of thousands of cyclists mean driving is not recommended in any way. There are others way to get around the city that are safer and cheaper.
If you do decide to rent a car All the big multinational rental companies are here; many have offices on Overtoom, near the Vondelpark. Rentals at Central Station and at Schiphol International Airport incur a surcharge. Companies include the following:
Automobile Association
The ANWB is the Netherlands' auto association. Members of auto associations in their home countries (the AAA, CAA etc) can get assistance, free maps, discounts and more.
Taxi
Taxis are expensive and not very speedy given Amsterdam's maze of streets.
You do not hail taxis on the road, find them at stands at Centraal Station, Leidseplein and other busy spots around town. You can book a taxi by phone. Taxicentrale Amsterdam is a good company and there are others.
Taxi fares are meter-based. The meter starts at €3.19, then it's €2.35 per kilometer thereafter. A ride from Leidseplein to the Dam costs about €16. Ride-share service Uber operates in Amsterdam, the rates vary according to demand.
Public Transport
If you are in the city for a few days, the best way of getting around is to use the GVB daily transportation passes. Available for ranges of 1 to 7 days, with prices starting from €7.50 Euros, and are valid for use on all three types of transport – bus, metro and tram – these passes are your best and cheapest option of transport in the city.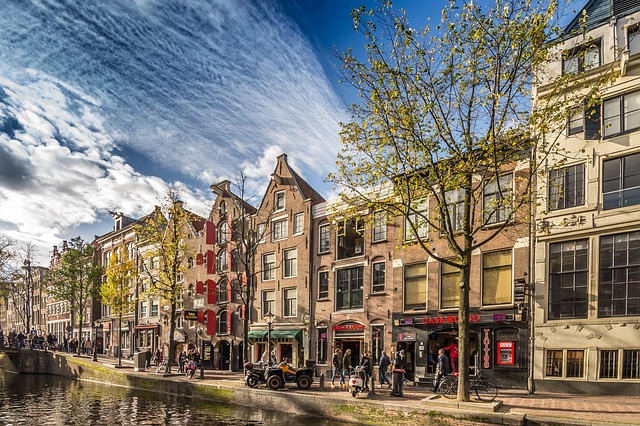 Hotel Okura Amsterdam, where Eastern and Western influences are uniquely entwined.The prestigious Japanese hotel chain Okura chose Amsterdam as the first location abroad of their international expansion.
From Ciel Bleu Restaurant, the Twenty Third Bar and The Imperial Suite as well as most rooms, spectacular sights of Amsterdam can be admired without any other tall buildings obstructing the beautiful view. The LED lights on the roof of the hotel – embodying a barometer – grant the tower an even more prominent place in the skyline of Amsterdam.
Pillows Hotels offers guests a home at exciting destinations in The Netherlands and Belgium.
The warmly designed rooms and suites feature a soft color palette and offer all the modern amenities today's discerning travelers expect. Guests can choose from the around the clock dining options.
Pillows Hotels are located in monumental properties and blend elegant design with a residential feel and personal service.
The hotel is quietly located between the Vondelpark and Museum Square, right in the middle of the cultural and green heart of Amsterdam with all the public services within walking distance.
All our rooms embrace a warm and comfortable feel and are equipped with identical facilities. We hope to welcome and surprise you in one of our comfortable, but above all clean rooms.
Hotel V Frederiksplein is located in the urban and modern design heart of Amsterdam. This 3-star hotel received the Golden Green Key certificate for sustainability. They offer elegant rooms and self-catering lofts, ideal for short and long stays.
An exclusive choice of room types and styles provide every imaginable comfort for the discerning traveler. Every room is refined and distinctly unique, just like our guests.
Please let us know, upon making a reservation, if you have any preferences for a specific Room Style.
Located in the heart of the "9-streets" area on the prestigious "Keizersgracht" canal, The Dylan Amsterdam is a good place to start you day from.
Spread over ten historic canal houses built in the 17th century, this boutique hotel combines modern baroque style (rich brocades and gilt) with impeccable service, In addition to the 56 uniquely decorated rooms.
An exceptional retreat in the heart of a storied and remarkable destination. Waldorf Astoria Amsterdam is a collection of six 17th century canal palaces on the Herengracht in Amsterdam.
Waldorf Astoria Amsterdam combines legendary service and timeless elegance for an unforgettable experience. A short walk from luxury shops, museums and theaters, this architectural masterpiece boasts breathtaking views of the canal or the courtyard garden from its guest rooms, suites and lofts. Delight your senses with world-class dining at Spectrum.
Best Restaurants In Amsterdam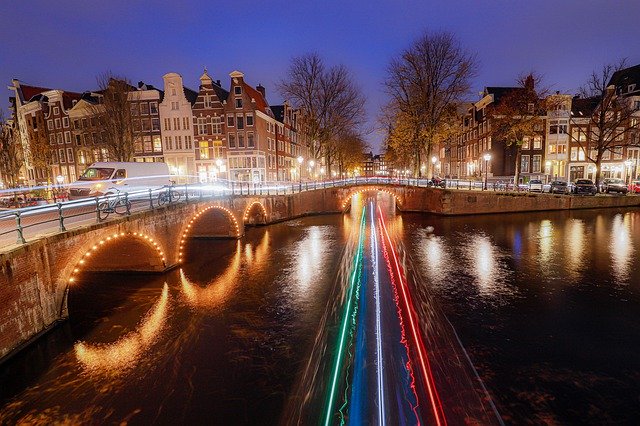 At PIQNIQ you'll find a variety of small tasty dishes and the charm of old Amsterdam.This serves breakfast, lunch, coffee and tea with sweet bites, fresh juices, smoothies, a quality glass of wine and cold beers. 
Café Loetje began about 40 years ago as a neighbourhood pub and billiards bar on the corner of the Johannes Vermeerstraat in Amsterdam South, near the Museumplein.
Over the years, Café Loetje has taken on a bigger and more modern look, keeping a number of characteristic elements of the past. 
Café Loetje is a cozy restaurant with a spacious seating area, a nice bar, and an outdoor terrace where you sit amidst the hustle and bustle of Amsterdam.
You can enjoy homemade sweet or savory cakes and pies. Coffee from Hesselink, tea from Mr. Jones and different soft drinks like the biological drinks from De drie wilgen. THE CAFE IS OPEN FROM WEDNESDAY THRU SUNDAY!
Specialized in omelettes, using fresh ingredients prepared on the spot, your day can't start any better.
Omelegg work with a walk-in only policy. Due to an eggceptionally high turnover of tables, waiting times are usually not that long. 
Restaurant Guts and Glory at the Utrechtsestraat 6 in Amsterdam has massively gained in popularity since its opening in 2015.
Guts and Glory offers 5, 6 and 7 course dinners, called 'Best of Chapter'. They also offer 3, 4 or 5 course lunches.
What always stays the same at Guts & Glory is a level of service you will seldom find in Amsterdam. On top of that, there is an easy ambiance and, of course, excellent food, well-loved by local foodies. 
Rijsel is the result of a passion for the French kitchen and an attempt to catch the lightheartedness of Flanders.
In a classic meets '60s interior with a modern industrial feel we serve no-nonsense food for a fair price. The relaxed atmosphere allows you to enjoy yourself, whatever mood you're in or celebration has brought you to us.
Rijsel is open Monday through Friday from 6pm on  and closed on Saturday and Sunday. 
Our articles may contain affiliate links. We may get paid a small commission when you use our links with no additional cost of your part! See our Privacy Policy page for more details.