The Indonesian archipelago spreads over 5200km between the Asian mainland and Australia. With over 17,000 islands that would take you a lifetime to explore, Indonesia is the world's largest island country and it is home to a vast range of fauna and flora as well as countless linguistic and ethnic groups which comprise its 261 million people.
With extremely inexpensive local food and reasonably-priced accommodation, it's no wonder Indonesia is a popular destination among so many travelers.
Hectic and chaotic cityscapes, cool white sand beaches, and violent volcanoes. Most backpackers spend two or three months traveling around Indonesia trying to see as much as possible.
While most travelers fly to island of Bali, visit the dragons of Komodo Island, visit the Gili Islands or head to Lombok, we encourage you to try to get to the less touristy destinations and off the beaten path more. Find dragons in Lombok, go hiking, see the historic ruins of on Java, go to Sumatra!
Use this Indonesia travel guide to plan an excellent trip there, learn what to see and do, where to stay and best restaurants to eat at, and everything you might need to know about visiting Indonesia!
Language
The official language in Indonesia is Indonesian.
Currency
The currency in Indonesia is the Indonesian Rupiah.
Climate and Recommended Time to Visit
Indonesia has just two seasons: wet and dry. Dry season lasts from May to September, while the rainy season occurs from October to April. The average daily temperature year-round is 80°F (28°C).
The best time to travel to Indonesia is during the dry season. From May to September the days are hot, dry, and there's not a rain cloud in sight! You'll have excellent weather for scuba diving, hiking and lazy days at the beach.
It's still pleasant to visit during the rainy season, however, as rainfall usually comes as fast and intense downpours that only last a few hours.
The Nusa Tenggara region is more affected by the wet season, which may sometimes result in flooding. In Bali and Kalimantan, the extremes between seasons are not drastic.
Dry season is the best time to climb the volcanoes, and the best time for diving is from April to September.
If you don't mind the less than perfect weather, you'll find cheaper hotel rates, airlines drop their prices, and there are fewer crowds at the top attractions.
Top Attractions and Must-See Sights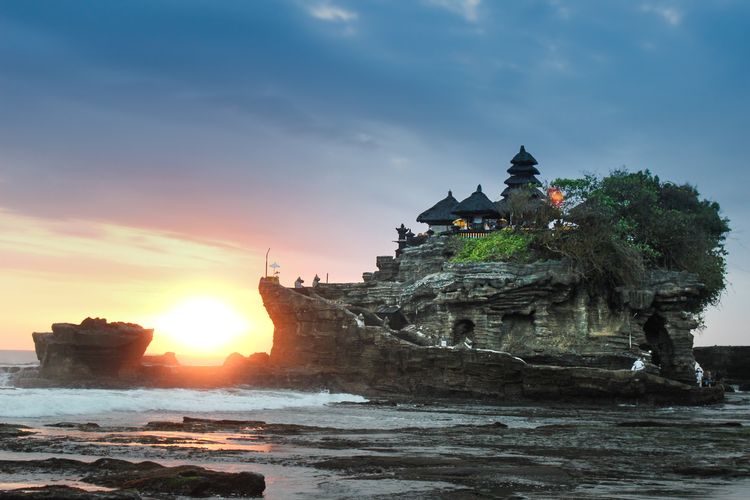 Hindi Prambanan
There are 244 temples at this World Heritage site, with the central compound being the main attraction. There are eight minor temples and eight major temples here, with the tallest being 150 feet — this is actually taller than Borobudur. There's a lot to see, so schedule a full day here. Admission is around 350,000 IDR ($24 USD) for foreign adults, and 210,000 IDR ($15 USD) for children.
Jakarta
Indonesia's capital is a large, bustling city with a population of over 10 million. Here are some noteworthy things to do in Jakarta: admire Istana Merdeka, the presidential palace, from the outside (visitors are not allowed inside); see the Monas Tower, a symbol of Indonesia's independence; check out Ancol Beach; visit the National Museum; and go shopping at the Jalan Surabaya Flea Market. For a moment of calm, people-watch from one of the cafes overlooking Fatahillah Square in the Old Batavia, the Dutch Quarter, where you can take in the historic architecture.
Bunaken
The Bunaken National Marine Park is located in the Bay of Manado, and it's where you'll want to go if diving or snorkeling is your thing. These deep waters offer fantastic visibility and some of the world's most biodiverse marine life. Keep an eye out for tuna, sharks, rays, turtles, and sea snakes. Entry to the marine park is 50,000 IDR ($4 USD) per person, though children under 10 enter free.
Visit Yogyakarta
Yogyakarta is Indonesia's cultural hub and is a much less industrial city compared to Jakarta. There is an interesting blend of old customs with modern living here, and there is actually still a sultan. It's a hip place filled with street art, galleries, cafes, great nightlife, and a strong arts community. Yogyakarta is also a good jumping off point for exploring Borobudur and Prambanan.
Sumatra
A mysterious and very human creature, the orangutan finds its habitat on the Indonesian island of Sumatra. A visit to see these primates is a moving experience. And, given the rapid deforestation and fires in the area, you probably want to do this sooner rather than later as these animals are gravely endangered. If you go, make sure you're traveling with an eco-friendly tour company. Do your research. A reputable company will not let you get in close contact with the animals, as the risk of disease is too high. Even a common cold can knock out a baby orangutan.
Kalibaru
Kalibaru is a small village on the southeastern side of Java. It's quiet, secluded, and a great place to tour a local cacao plantation or one of the many other types of plantations in the area on your way to or from Bali.
Bogor Botanical Gardens
Located 40 miles (65 kilometers) outside of Jakarta, the Bogor Botanical Gardens have over 200 acres of land and 15,000 species of plants and trees. The gardens are a lovely spot in which to lose yourself for a couple of hours. Admission is around 14,000 IDR ($1 USD). There is a commuter train between Bogor and Jakarta with a stop right next to the gardens.
Banyu Wana Amertha Waterfalls
These are some of the most beautiful waterfalls in Bali, and yet not too many people make the trek here. They're located about 90 minutes from Ubud, and then you have to hike through a banana plantation to reach the falls. It's worth it – bring your swimsuit!
Bada Valley
Near Lore Lindu National Park are 400 ancient stone megaliths scattered around the hills. No one really knows the origins of these structures, but they're thought to be over 5,000 years old. No settlement remains or tools were ever found in the area. It's best to hire a local guide here as the megaliths are not easy to find.
House of Danar Hadi
The House of Danar Hadi in Surakarta (Central Java) is considered one of the world's best batik museums, with a handpicked selection of favorites from the owner's collection of 11,000 pieces. You have to take a tour to see it all, but it's worth it. There are lots of antique and royal examples on display. You will also see a batik demonstration. Admission is 15,000 IDR ($1 USD).
Kelimutu National Park
Kelimutu National Park, on the island on Flores, is renowned for its tri-colored crater lakes. The crater lakes have continuously changed color over the years, likely due to the mineral makeup in the water. Sometimes they're green, black, brown, red, blue etc. The lakes are very sacred among the locals, who believe that they're the final resting spots of departed souls. Moni is the closest town to the lakes; from there you can take public transportation to the park. Admission to the park is 150,000 IDR ($11 USD).
Weekuri Lake
Weekuri Lake is one of the most beautiful sites on Sumba island. It lies behind 10-15 meter-high cliffs and is fed by the waves from the Indian ocean crashing through holes in the rocks. The crystal clear waters and small coral areas make for excellent snorkeling. You can also rent inner-tubes and float around for a relaxing afternoon. Admission is 20,000 IDR ($1.40 USD).
Cultural Hub of Ubud, Bali
Ubud is full of vegan cafes, yoga retreats and lush green rice paddies. There are a million and one things to do in Bali, but if you want to slow down, a few days in cultural Ubud is a winner. Visit the famous water temples, enjoy traditional dance and explore the famous Monkey forest before taking in the lush green landscape.
Bali
Whilst many people will stick to the long sands of Seminyak and Kuta, Bali has some incredible, and empty beaches just waiting to be discovered. Find my favourite on the link above.
Batu Batong
Labuan Bajo, with its manta rays, dolphins and incredible underwater world is the ideal place to scuba dive or snorkel. The HMS Victory wreck in Bali is another popular dive site.
Ubud
Popularized by the famous film, Eat, Pray, and Love, Ubud has become a popular spot for travelers. Apart from doing the usual rice field and waterfall sightseeing, there are also heaps of adventurous things to do in Ubud. From whitewater rafting to mountain biking to Mt. Batur there are loads of options for those who like to stay active.
Komodo National Park
Established in 1980, this national park is one of Indonesia's greatest natural treasures. Within its 1817 sq km area are Komodo, Rinca and Padar Islands, as well as smaller islands and a rich marine ecosystem that affords divers unforgettable underwater adventures.
On Komodo treks range from flat 3km strolls to steep 10km hikes over peaks and into deep valleys. On Rinca the terrain is scarcely less impressive, and walks of between 500m and 4km are offered. Arrange your trek upon registration. All guides speak some English and are very knowledgeable about the islands' flora and fauna. You should be glad of the guide's company when you spot ora.
Gili Islands
One of Indonesia's greatest joys is hopping on a fast boat from busy Bali and arriving on one of the irresistible Gili Islands. Think sugar-white sand, bathtub-warm, turquoise waters and wonderful beach resorts and bungalows just begging you to extend your stay. Not to mention the coral reefs, which are teeming with sharks, rays and turtles. Savour the dining and nightlife on Gili Trawangan, the perfect balance of Gili Air and the pint-sized charms of Gili Meno. Or simply do nothing at all.
Kapuas Hulu
At the headwaters of the Sungai Kapuas, Indonesia's longest river, everything you need for a primal jungle adventure awaits. Step into the past at Kalimantan's oldest longhouse perched high on its gnarled ironwood pillars. Snake through Danau Sentarum's photogenic mudflats on narrow fish-packed waterways that are seasonally submerged. Soak up the port town of Putussibau. Tackle roiling rapids and leech-infested forests on the epic Cross-Borneo Trek. Or strike off into the darkest corner of the island in search of new rainforest species in Betung Kerihun National Park.
Banda Islands
The Banda Islands offer a rich and intoxicating cocktail of history, culture and raw natural beauty. This remote archipelago draped in jungle and clove and nutmeg trees, fringed with white sand and surrounded by clear blue seas and pristine reefs, kick-started European colonisation and helped shape the modern world. Fly to the capital – Bandaneira – from Ambon, stroll the shady streets, admire late-colonial relics, then charter a boat to the outer islands, where awesome beaches and jaw-dropping underwater drop-offs and coral await, and village life is warm and easy.
Raja Ampat Islands
The remote, still-being-discovered Raja Ampat Islands off Papua's northwest tip are a diver's dream. Raja Ampat is home to the greatest diversity of marine life on the planet, from giant manta rays and epaulette sharks that use their fins to 'walk' on the sea floor, to myriad multicoloured nudibranchs ('sea slugs'), fantastic pristine coral, and every size, shape and hue of fish you can imagine. The snorkelling is great too, while the above-water scenery – white-sand beaches, turquoise seas and jungle-covered islands – is almost as sublime as what is underwater.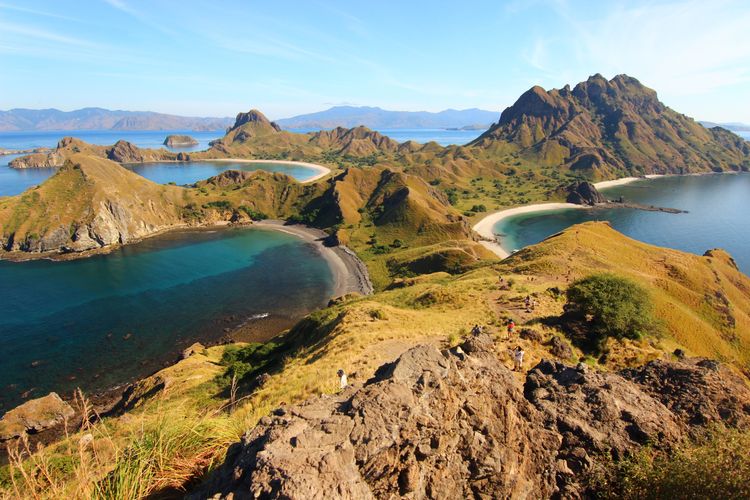 Komaneka at Tanggayuda, established in 2001, is a quiet resort of almost 2 hectares, beautifully situated amidst tropical forest at the edge of a neighboring village, with views to the sacred volcano, Mount Batukaru, and the Oos River. At a slightly higher elevation than Ubud, the air is fresh and invigorating. 
This five-hectare resort built in 2008 was the first luxury boutique resort in the up-and-coming area on Bisma Lane near the center of Ubud. Set on a slope overlooking the Campuhan river valley, the suites and villas have splendid views of a tropical forest valley and the resort's own rice fields. A sophisticated Ubud getaway near the center of town. 
Hotel Mulia Senayan, Jakarta features spacious rooms that radiate an elegant atmosphere, complete with warm hospitality that is unique to Indonesia. The Suites at Hotel Mulia Senayan, Jakarta boast opulent suites as well as your very own butler, ready to cater to your every need. The award-winning hotel boasts an array of premium amenities to satisfy every guest. Taste the finest of Indonesian, Asian and Continental cuisines at one of the nine restaurants and bars at the hotel. Pamper yourself to a blissful state at the Mulia Spa or boost your energy at the spacious Fitness Center overlooking Jakarta. 
Take in picturesque ocean views from every angle at The St. Regis Bali Resort, which overlooks a pristine beach considered the most beautiful in Nusa Dua, Bali. Indulge at this exclusive, yet subtly elegant, 5-star hotel featuring the only private villas with immediate beach access in Nusa Dua. Pamper yourself with a treatment at Iridium Spa while your children enjoy fun, supervised activities at the Children's Learning Center on-site here at our luxury resort.
At the end of another glorious day, watch an authentic Balinese Fire Dance Ritual from the resort's grand staircase. Savor an international range of dining delights at one of the hotel's restaurants before retiring to your exquisitely appointed villa, just steps from our lagoon-style swimming pool and the Bali surf.
The Legian Bali
Here on the Balinese shores of Seminyak Beach, home to sun, sea and serious surf, location is not everything. This prime stretch of golden sand adjacent to the island's chicest shops and Asia's most stylish nightlife is merely the irresistible beginning of what sets this iconic sanctuary in the sand apart from all the rest. Against a backdrop of enduring modern architecture and swaying coconut palms, stunning sunsets enhance memories made inside all 67 understated suites and The Beach House perched along the Indian Ocean. 
Like its Sanskrit namesake, Mandapa, a Ritz-Carlton Reserve offers hotel guests a "temple" of their own, a sanctuary for inner exploration and tranquility.
Set along the Ayung River in Bali's cultural heart of Ubud, the hotel offers luxury, butler-attended villas and suites; vintage VW convertible tours of villages, rice fields and temples; and dining including the signature Kubu, featuring Mediterranean-European cuisine and private cocoons. 
Hotel Indonesia Kempinski Jakarta features 289 rooms and suites, an array of gastronomic restaurants and shops, state-of-the-art meeting rooms, lavish ballrooms and a traditional spa. Whether you are in the mood for a refreshing swim on top of Jakarta or just want to enjoy your sophisticated and stylish room, Hotel Indonesia Kempinski Jakarta awaits you.
Best Restaurants In Indonesia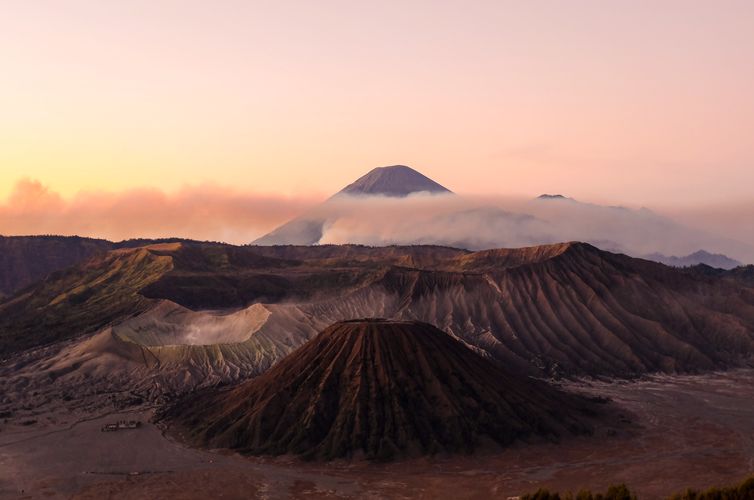 Local farmers and food artisans are the stars of the menu at PASOLA. The hotel's all-day dining restaurant offers exceptional buffets, Sunday brunch, private dining and a lounge hosting the signature Afternoon Tea. The experience is accentuated by a spectacular city view. 
Collage All Day Dining is a fusion of modern style, cutting-edge design with excellent views and natural daylight. From its location on the 12th floor, it presents unparalleled magnificence both day and night with the extensive selection of innovative cuisines of buffet, a la carte and the chef's specials. 
Bandar Djakarta Restaurant is a seafood restaurant with the concept of fish market, providing different varieties of seafood with assured quality due its live and fresh nature. 
The signature ribs are generously marinated in Balinese spices and glazed over charcoal with our famous bbq sauce. They have been perfecting their technique and flavor for years leaving the ribs tender and succulent. These sticky babies will have you licking your fingers and begging for more. 
This restaurant in Bali is known and loved for its innovative menu and fancy dishes made with premium ingredients, presented in an almost theatrical way. Visitors can learn about their meal's ingredients: where they came from and even their story. The cozy, intimate restaurant is located in Bali's cultural hub, Ubud.
How to Stay Safe in Indonesia
Indonesia is an incredibly safe place to backpack and travel — even if you're traveling solo. Violent crimes here are rare. Petty theft, including bag snatching, is the most common type of crime in Indonesia.
Theft is also very common on public transit in Indonesia. It's easy for thieves to grab your wallet or purse when you're distracted by all the chaos around you. Stay alert and secure your valuables. That will be the best way to prevent petty theft.
Credit card fraud is also common in Indonesia. To avoid this, it's always best to pay with cash when possible. To avoid getting your information stolen at an ATM, enter a reputable bank to withdraw.
When in doubt, always trust your gut instinct. If a taxi driver seems shady, stop the cab and get out. If your hotel is seedier than you thought, get out of there. Make copies of your personal documents, including your passport and ID. Forward your itinerary along to loved ones so they'll know where you are.
The most important piece of advice we can offer is to purchase good travel insurance. Travel insurance will protect you against illness, injury, theft, and cancellations. It's comprehensive protection in case anything goes wrong.
Our articles may contain affiliate links. We may get paid a small commission when you use our links with no additional cost of your part! See our Privacy Policy page for more details.