With 700 islands, 2,500 cays, and 500 miles of the clearest water in the world, the Bahamas, spangled between the depths of the North Atlantic and Florida's eastern coast, is spectacular.
The Bahamas is an inescapably pricey destination but glorious beaches, warm surf, fabulous coral reefs, and challenging golf courses are a only a fracture of what you can expect when you make this your next travel destination. Smart planning can help you get more bang for your buck as you indulge in everything the Bahamas has to offer.
Picture perfect beaches make the Bahamas a popular destination for millions of tourists every year, especially Americans and cruise ship visitors. There is a huge range of historical, cultural, and natural attractions in this country.
Whether you are interested in sunbathing or shark diving, there's no shortage of activities in the Bahamas, and the destination is guaranteed to appeal to every traveler – you just have to know where to look.
The Bahamian locals are a laid-back lot and a night spent at a fish fry with a rum punch in hand is not to be missed.
This travel guide to the Bahamas will help you plan your vacation by giving you tips on what to see, where to stay, where the best places to eat are, and how to stay safe.
Language
English, Bahamian Creole
Currency
Bahamian dollar; U.S. dollar widely accepted.
Climate and Recommended Time to Visit
The best time to visit the Bahamas is from mid-April to early July, after the Spring Breakers have flown north and before hurricane season arrives in early August.
The Bahamas is known for having sunshine most days of the year; though that does not mean the summer months become unbearably sweltering. Thanks to the trade winds that sweep through the island chain, you'd be surprised to discover it's breezier on a July afternoon in the Bahamas than an early June morning in New York City.
Unlike the tropical climate, which remains relatively temperate year-round, the cost of travel in the Bahamas spikes during the wintertime, with hotels charging rates up to 50 percent higher than in the summer months. Mid-December to mid-April is the country's peak season, and this is the best time to visit for hot temperatures that rarely dip below 60°F (15°C). The average daily high during this time is 80°F (27°C).
Although peak season is when room rates are the highest and tourist crowds are the thickest, we recommend going during this time to avoid hurricane season (between June to the end of November).
Late spring and early summer are more economical for travelers, as the cost of travel drops in the off-season — for outer islands, in particular.
Top Attractions and Must-See Sights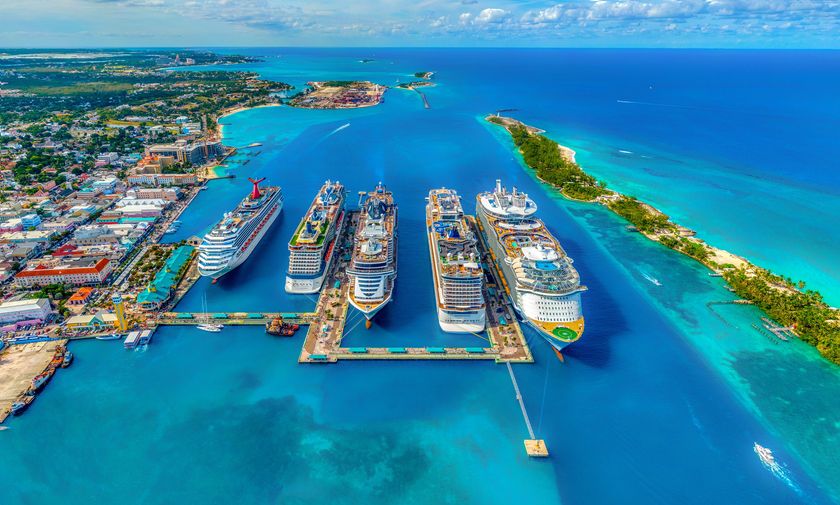 Exuma Cays Land and Sea Park
In the remote eastern edge of the Bahamas, the Exuma Cays Land & Sea Park is a "no take zone" and marine protected area, the first of its kind in the Caribbean.
The Exuma Cays is a chain of over 365 islands in the middle of the Bahamas, and it has been a land and sea park since 1959. The park boasts some of the most striking seascapes in the Bahamas, with luminous water in electric blues and bone-white sand.
Some of the Exuma Cays are home to movie stars, such as Johnny Depp and David Copperfield, while others are home to exclusive resorts. Great Exuma, the largest of the Exumas, Little Exuma, and Staniel Cay are popular with boaters, who come here to enjoy the convivial restaurants.
Garden of the Groves
Located on Grand Bahama Island, this 12-acre eco-tourist attraction is home to alligators, exotic birds, 10,000 different species of plants, four waterfalls, and dozens of lakes. It's a good way to learn about the ecology of the island chain.
Lucayan National Park
This forty-acre park is home to the world's largest underwater limestone cave system. There are various hiking trails that wind throughout the pine forest and along Gold Rock Beach. Definitely visit Ben's Cave and Burial Mound Cave.
Grand Bahama
The northernmost of the Bahamian islands, Grand Bahama is a popular destination for package tourists and cruise ships. The capital, Freeport, is the second biggest city in the Bahamas, though Port Lucaya has now replaced it as the tourist hub for shopping, dining, and entertainment.
Fort Charlotte
Fort Charlotte overlooks the harbor in Nassau and dates back to the 1780s. Constructed by the British, the fort has a large moat, cannons, hidden passageways, and dark dungeons to explore.
It was never actually used for defense as it was over-budget and poorly designed, and so the fort was nicknamed "Dunmore's Folly" and then abandoned entirely. It's free to visit.
Swim with the pigs
The Bahamas is the official home of the swimming pigs — the 20-something group of world-famous pigs and piglets living on Pig Beach. Nobody knows how they got there as Big Major Cay is uninhabited and the pigs are not native to the island.
You can only get there by boat, and tours aren't cheap. They start around 219 BSD ($219 USD) from Nassau or George Town for a full day trip, but you'll get lots of extras like snorkeling gear, lunch, and an open bar. If you're traveling with friends you can also charter a boat, but it'll be significantly more expensive.
Atlantis Paradise Island
Dominating the skyline on Paradise Island, this splashy, salmon-pink resort evocatively recreates the legend of Atlantis in a luxury hotel, entertainment complex, aquarium, and water park.
Guests at the hotel score free entry into the popular 141-acre Aquaventure, a waterscape packed with high-speed slides, more than 20 swimming areas, and a long Lazy River Ride. In the marine habitat, hammerhead sharks and swordfish swim through sparkling open-air pools.
Nassau
One of the most popular cruise ship ports in the Caribbean, Nassau still manages to charm visitors despite the crowds. Visitors come here to bask on the white sands of Cable Beach; explore the shops, restaurants, museums, and candy-colored colonial buildings of downtown and Bay Street; and shop for souvenirs at the Nassau Straw Market.
A short catamaran ride away from Nassau, animal lovers can cavort with dolphins on a day trip to Blue Lagoon Island, while Ardastra Gardens, Zoo, and Conservation Center also offers a slower pace, with its endangered and threatened species amid four acres of tropical gardens.
Andros Island
Andros, the largest landmass in the Bahamas, has the third largest barrier reef in the world, as well as many freshwater blue holes and underwater caves. It's no surprise then, that this is a popular destination for divers. The island's vast wetlands create channels, which are prime boating and fishing areas. Fly fishing is big here, and Andros is often called "the bonefishing capital of the world."
Green Turtle Cay
East of Great Abaco, this peaceful, five-kilometer-long Island is a much-loved hideaway for serenity seekers. Golf carts are the main mode of transport in the tiny settlement of New Plymouth, a sleepy village of picket-fenced pastel cottages, sprinkled with a few small shops and museums.
Fishing boats bob in the harbor, and visitors can watch the locals haul in their catch of crawfish and conch. The island's beautiful reef-fringed beaches and crystal-clear waters offer excellent swimming, diving, snorkeling, and boating opportunities.
Bimini
Known as the "Big Game Fishing Capital of The Bahamas," Bimini Island is the closest of the islands to the United States, lying approximately 88 kilometres east of Miami, Florida. The fishhook-shaped cluster of islands includes North Bimini, South Bimini, and numerous cays extending south from Pigeon Cay to South Cat Cay.
Bimini hosts popular deep-sea fishing tournaments from March to September, and diving and snorkeling opportunities abound. Besides the popular shark and dolphin dives, highlights include Rainbow Reef, Sapona Wreck, and Victory Reef.
Air
Interisland flights offer the only quick and convenient way to travel within the Bahamas; you can fly between islands quickly, especially to the more remote areas. Bahamasair, SkyBahamas, Pineapple Air, and Western Air all operate within the islands.
A flight from Nassau to Eleuthera takes 20 minutes, while Nassau to George Town (Exuma) is a 40-minute flight. The longest route is Nassau to Inagua, which is about 90 minutes.
Private charter flights can be an affordable option for those traveling in a group – or they might be the only option for some more remote destinations. Flamingo Air is one of the main charter companies, flying to South Andros, Cat island, Exuma Cays, Inagua and San Salvador, while Southern Air flies to Long Island and Eleuthera.
Bus
In Nassau, you can take private minibusses (also known as jitneys) licensed to operate on pre-established routes. It's a pretty casual service, and there's no real timetable or set route, so you'll have to ask the driver about your destination. You'll pay with exact change as you get off the bus.
Freeport also has jitneys between Port Lucaya and Freeport, but these services often do not run at night.
Out Islands have no public transport: taxi, rental car and hotel shuttle are your only options.
Car
Driving in busy downtown Nassau can be a pain due to narrow streets, heavy traffic and one-way street systems, but nothing citizens of busy cities aren't accustomed to. A danger in the Out Islands can be potholes. Stay vigilant.
Major international car-rental companies have outlets in Nassau, Freeport and other tourist centers, and there are a host of local firms and individuals to choose from.
Ask at your hotel or look for display boards at the airport. Renters must be 21 (some companies rent only to those 25 or older), and collision damage waiver insurance is around BS$15 per day.
Taxi & Ridesharing
There's no shortage of licensed taxis in Nassau and Freeport, where they can be hailed on the streets. Taxis in the Bahamas are safe and reliable, and readily available everywhere in Nassau and Freeport. In some places, you can use the Bahamas Ride app to request a taxi.
Taxis are also the main local transportation in the Out Islands, where they meet all incoming planes and ferries in the larger settlements.
Taxi fares are fixed by the government according to distance, and rates are usually for two people (each additional person is charged a flat rate of BS$3). Fixed rates have been established from airports and cruise terminals to specific hotels and major destinations, and should be displayed in the taxi or at the airport/ferry terminal.
Boat
The ferry service in the Bahamas is run by Bahamas Ferries, with frequent high-speed services between Nassau and Eleuthera, and less frequent services between Nassau and Andros, Long Island, and Grand Exuma.
Some of these routes take a long time — Nassau to Long Island is 19 hours, and only runs once a week!
Mail boats (www.mailboatbahamas.com) sail under government contract to most inhabited islands, delivering post, freight and passengers. They regularly depart Potter's Cay for Grand Bahama and all the Out Islands. You can hitch a ride overnight for between 30-45 BSD ($30-45 USD), but you won't find any comfortable services here.
Always call the Nassau Dockmaster and check with the Bahamas Ministry of Tourism for the latest schedules and prices.
In New Providence, water taxis zip back and forth between Prince George Wharf, Nassau and Paradise Island every half-hour between 9am and 6pm. Other offshore islands and their neighboring cays are served by private water taxis, such as the services between George Town and Stocking Island, Exuma.
Best Hotels In The Bahamas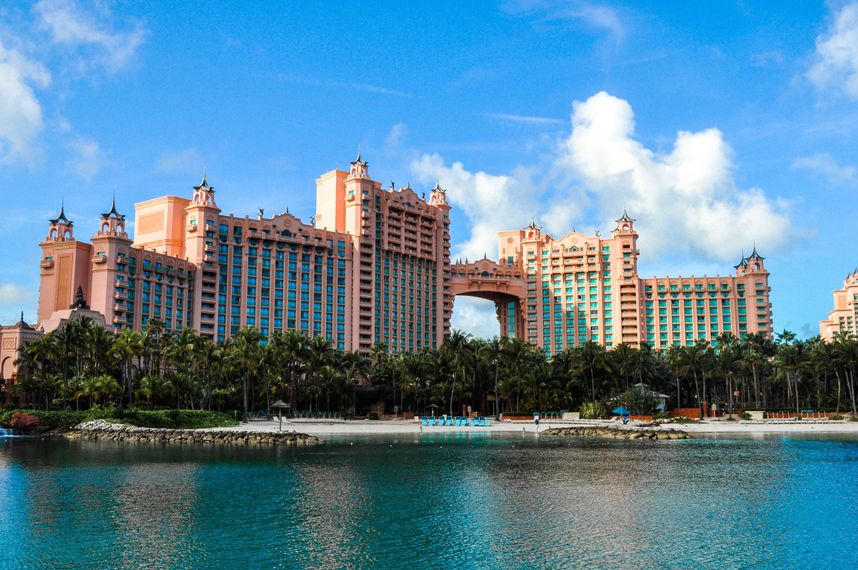 Get going with a great free full American buffet breakfast. Start your morning in the Crusoe's Restaurant with our free hot breakfast offering everything from eggs, waffles and meat to healthy options like yogurt and fresh fruit.
100% smoke-free guest rooms feature separate living areas, irons and ironing boards, sofa sleepers, refrigerators, safes, hair dryers and TVs, along with premium bedding and more. Keep your electronic devices charged with a recharge device including AC and USB outlets provided in all guest rooms.
Five minutes from Cable Beach but a world away. "A Stone's Throw Away" offers the best of The Bahamas' out islands in the heart of New Providence.
The property was built to echo the traditions of an old Bahamian home: wood floors and wood ceilings, louvered shutters and a large wrap around porch bring the visitors back to a quieter time long ago when the music of the islands could be heard in the whispers of the trade winds.
Island luxury and Caribbean life come together beautifully at Great Exuma's Grand Isle Resort & Spa. Experience footloose freedom on Emerald Bay's ivory sands and sparkling blue waters. Relax in pampered villa comfort with every resort amenity. Swim with Exuma's famous pigs or golf the Caribbean's longest course. Whether you are an adventure-seeker, looking for a quiet home away from home or want to mix them both, Grand Isle Resort & Spa will make all your Exuma vacation dreams come true.
The Cove is elegantly situated between Cove and Paradise Beaches creating the feeling of being cast away on a private, white-sand sanctuary. The luxury property was designed by architect Jeffrey Beers to bring high design together with the bluest ocean and mother of pearl hued sand. The result is an open air lobby that rises and sets with the day, an exclusive pool that sits between two private beaches, stunning and sensual rooms and suites, a collection of unparalleled dining and purposeful service delivered with Bahamian warmth.
Best Restaurants In The Bahamas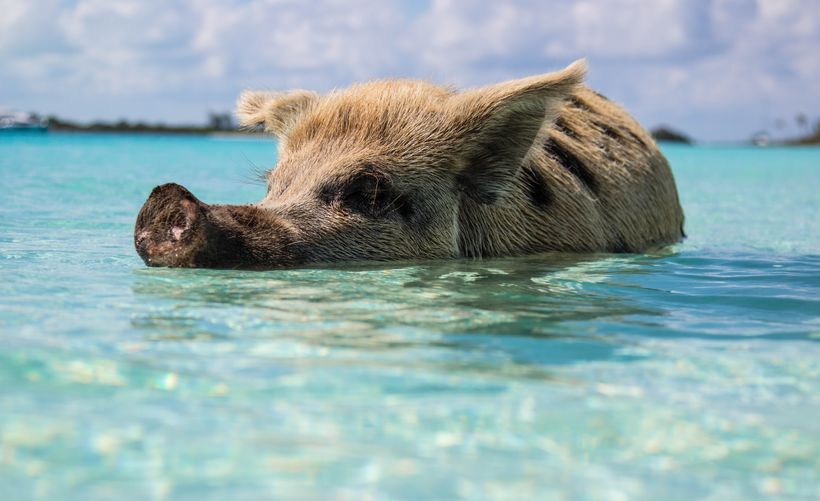 Lukka Kairi opened in January 2015 on Prince George Wharf. Since then it's serving both quality interpretations of classic Bahamian dishes and daring new ventures into the uncharted waters of Nouveau Bahamian Cuisine. 
Named in honor of the great Kamalame tree, the Kamalame Bar is one of the finer points of Sapodilla; the bar offers the luxury of fine dining in a more relaxed environment. Lush Foliage surrounds the highlight of our exquisite grounds, the kamalame tree, whose stories and secrets may be told over a glass of wine or one of our signature cocktails. 
Enjoy delectable island cuisine inspired by freshly caught Bahamian seafood and locally grown produce. Cocktails infused with tropical flavor. Unmatched sunsets over azure blue waters. Whether it is breakfast, lunch or dinner, 1648 lets you escape with an experience like no other. 
A collection of open-air gazebos that sit right on the beach, Tippy's eclectic decor includes tables made from old shutters and antique piano keyboards hanging from the ceiling. The chalkboard menu changes daily depending on the delivery of local produce and seafood. Tippy's has been featured in Food and Wine, Bon Appetit and the New York Times.
How to Stay Safe in The Bahamas
While the Bahamas are mostly considered safe, there are some areas of Nassau that experience more crime. Avoid the city's "over the hill" (south of Shirley Street) after dark, especially if you're alone. Unfortunately, the U.S. Department of State rates the criminal rate level at critical here, meaning you'll want to practice awareness. Most of this crime is targeted at other Bahamians.
Don't leave your valuables out in the open at the beach (or anywhere) to avoid petty crime, like theft. Armed robberies have become more prevalent in recent years.
Always trust your gut instinct. Make copies of your personal documents, including your passport and ID. If you feel uncomfortable in a hotel, leave!
Most importantly, purchase good travel insurance. Travel insurance will protect you against illness, injury, theft, and cancellations. It's comprehensive protection in case anything goes wrong.
Our articles may contain affiliate links. We may get paid a small commission when you use our links with no additional cost of your part! See our Privacy Policy page for more details.