Vivid nature, voluptuous landscapes and a vibrant culture collide with a painful past and optimistic future to make Laos an enigmatic experience for the adventurous.
Laos is a quiet and thinly populated country, best appreciated for its small-scale rural places and true wilderness. It's one of the highlights of Southeast Asia, and it's especially easy to recommend now that improving infrastructure makes it more accessible.
Laos is wrapped in a mountainous landscape, making it one of the most beautiful countries in Southeast Asia, even if it lacks the beaches of other countries. Adventure travel is big here. You can go zip-lining, kayaking, hiking, and cave tubing all in one day.
You won't find the sort of chaotic and buzzing cities that exist in Thailand or Vietnam. There's nothing quite like Bangkok or Hanoi in Laos. Even the capital of Laos is small and probably not so stimulating if you're all about urban exploration.
But that's also what's so wonderful about this country. Laos is all about exploring its gentle rural villages, enjoying its Buddhist calm and awe-inspiring nature, and sampling its delicious and underrated food.
It used to be a popular destination for partying but, since the wild tubing days have been curtailed, it's turned into a more relaxed, outdoor-oriented country.
This travel guide to Laos will give you the best places to visit, how to get around, where to stay and eat, and help you plan the best trip possible to this Southeast Asia gem!
Language
Lao is the official language of Laos, where it is spoken by 3 of the country's 5.6 million people. It serves as a lingua franca in this highly multilingual country with a population that speaks 86 languages that belong to Mon-Khmer, Hmong-Mien, and Sino-Tibetan language families besides other Tai-Kadai languages.
Currency
The official national currency in Laos is the Lao kip (K), but Thai baht (B) and US dollars (US$) are also commonly accepted.
Climate and Recommended Time to Visit
High Season is November –March. This is the best time to visit Laos. This is when the country's weather is consistently warm and dry. Pleasant temperatures in much of Laos, though it's cold in the mountains. It's also the high season, so you can expect bigger crowds and inflated prices.
Shoulder Season is July – August. Wet in most parts of Laos with high humidity, but the landscapes are emerald green. Popular time for European tourists to visit from Italy or Spain, plus backpacking students with a long summer break.
Low Season is April – June and September – October. April and May brings the hot season to Laos when the thermostat hits 40°C. September and October can be very wet, but some incredible cloud formations accompany the deluge.
Top Attractions and Must-See Sights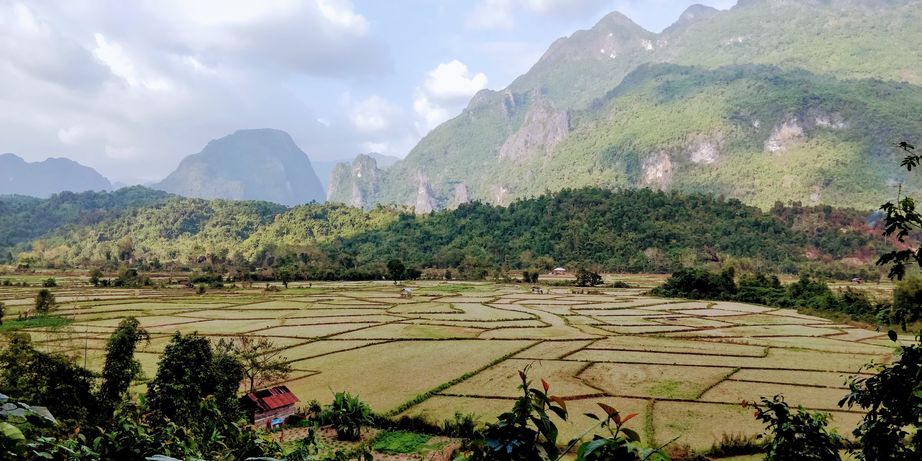 Vieng Xai Cave City
Located close to Sam Nua, Vieng Xai Cave City served as living quarters for Laotian soldiers during the 1960s. You can see the living quarters as they were — the Kaysone Phomvihane Cave even has a working air-circulation pump.
Beyond the breathtaking beauty of the natural caves, it is the superb audio tour that really brings the experience alive. When the bombers buzz overhead to a soundtrack of Jimi Hendrix you'll be ducking for cover in the Red Prince's lush garden.
Kuang Si Falls
This huge waterfall near Luang Prabang is breathtaking. Turquoise waters flow over rock ledges into dramatic pools perfect for swimming. Definitely do not miss this place. Be sure to find the secret pool for a swim too!
Great Stupa (Pha That Luang)
The Great Stupa in Vientiane is a 148-foot gold-covered stupa (a dome-shaped Buddhist shrine) and is considered the greatest monument in the country. Its exterior looks like a fortress with high walls, but the inside has many Buddhist, flower, and animal imagery throughout. You can admire the stupa from outside for free, which is what most people do.
Vientiane
Meandering along the banks of the Mekong, Vientiane is surely Southeast Asia's most languid capital. The wide streets are bordered by tamarind trees and the narrow alleys conceal French villas, Chinese shophouses and glittering wats.
The capital and largest city in Laos is full of important national monuments and temples, like the Great Stupa and the Sisaket Temple. While there, be sure to check out Buddha Park, a sculpture garden full of giant Buddha statues. It's the most cosmopolitan city in the country, and you'll find an up and coming foodie scene here.
See the waterfalls at the Bolaven Plateau
Located in Southern Laos close to the city of Pakse, the Bolaven Plateau is part of a crater that formed from an ancient volcano. Trek around the area and explore several of the waterfalls. The Bolaven Loop cuts through the entire crater and takes you close to all the falls. Each waterfall has its own entrance fee as well as a parking fee for your bike.
Elephant Conservation Center
Located in Sainyabuli, the ECC was launched in 2011 by a team of elephant specialists working towards protecting the elephant population in Laos. It's the best way to see elephants in a responsible way that doesn't harm them.
Slow boat on the Mekong
Drift down the Mekong River on a long, narrow boat with comfortable seating, home-cooked meals, and a unique view of the countryside. You can find a ride typically from the border at Huay-Xai that will drop you off in Luang Prabang. Slow boats take two to three days.
Phou Hin Poun Conservation Area
Mountains, a limestone forest, rivers full of rapids, and caves await you in the protected Phou Hin Poun area of Laos. The entire area is filled with unique species of flora and fauna, including macaques, tigers, and gibbons.
Nong Kiew (Muang Ngoi)
Life in this quaint village on the Nam Ou River is slow and peaceful, but Nong Kiew is a popular draw for outdoor lovers. The towering limestone cliffs are ideal for experienced climbers, and there are many hiking trails leading to nearby waterfalls and caves. To get there, you can take a bus from Luang Prabang to Pak Mong and then a tuk-tuk the rest of the way.
Vang Vieng
The riverine jewel in Laos' karst country, Vang Vieng sits under soaring cliffs beside the Nam Song (Song River) and is the undisputed adventure capital of Laos. Backpackers "discovered" this little town in the late 1990s. It didn't take long to develop into a crazy, hedonistic city. Nowadays, things have calmed down (a lot) and Vang Vieng has become a hub for outdoor adventure, jungle hikes, and lazy days on the river. There's still a party scene but now it's focused on a handful of bars.
Visit the 4,000 Islands
Located in Southern Laos, the 4,000 Islands are an area of tiny inhabited islands in the Mekong River near the Cambodian border. They are popular with backpackers and the vibe is laid-back and chill. Accommodation is cheap, and there's really not much to do here besides chill in the river and relax at night. You'll have to take a boat from Pakse to reach the islands.
Luang Prabang
Bordered by the Mekong River and the Nam Khan (Khan River), this timeless city of temples is the stuff of travel legends: rich in royal history, saffron-clad monks, stunning river views, world-class cuisine and some of the best boutique accommodation in the region.
Luang Prabang is a slow-paced city. There is not much to do here other than enjoy epic sunsets over the Mekong River, spend time at the incredible Kuang Si Waterfalls, and shop at the night market. Every morning at sunrise, the monks walk through the main streets receiving alms from the local residents.
Zipline Adventures
Laos has really emerged as the zipline capital of Asia with high wires criss-crossing the jungle and karst landscape from the far north to the deep south of Laos. The original zipline adventure is the Gibbon Experience which spans the forest valleys of the lush Nam Kan NPA. There are now many other world class ziplines in Laos, including the Nong Khiaw Jungle Fly, the Green Jungle Park in Luang Prabang, the Tad Fane Zipline on the Bolaven Plateau and the Mekong Fly over a Mekong waterfall. Adrenaline adventures await.
The Plain of Jars
The Plain of Jars has thousands of stone jars scattered around three different sites. Believed to be part of the burial practices from the Iron Age, this is one of the best prehistoric sites in Southeast Asia. Legend has it that the jars were made by a race of giants to store alcohol.
Si Phan Don
Laos' hammock-flopping mecca has been catering to weary travellers for years. While these tropical islands bounded by the waters of the Mekong are best known as a happy haven for catatonic sun worshippers, more active souls are spoilt for choice. Between tubing and cycling through paddy fields, grab a kayak, spot rare Irrawaddy dolphins, and then round off your day with a sunset boat trip. Don't miss a side trip to the largest falls in Laos, the mighty Khon Phapheng, often referred to as the Niagara Falls of Laos.
Tham Kong Lor
Puttering beneath the cathedral-high ceiling of stalactites in this extraordinary 7.5km-long underworld in remote Khammuan Province is an awesome experience. You'll be glad to see light at the end of the tunnel. The village of Ban Kong Lor is now the most convenient base for visiting the cave, after an explosion of guesthouses and small resorts in the last few years.
Wat Phu Champasak
Not as majestic as the temples of Angkor, but just as mysterious, this mountainside Khmer ruin has both the artistry and the setting to impress. Once part of an important city, it now sits forlorn on the side of Phu Pasak. You'll discover something special at each level as you walk up to the summit where the views are vast and the crowds are thin. Other related ruins can be found in the rice paddies and the forest down below.
Air
Domestic flights to smaller airports suffer fairly frequent cancellations due to fog and, in March, heavy smoke during the slash-and-burn season. But if you must, these are Laos' airlines:
Laos Airlines – The main airline in Laos handling domestic flights, including between Vientiane and Luang Prabang, Luang Nam Tha, Pakse, Phonsavan, Savannakhet and Udomxai.
Lao Skyway – A newer domestic airline with flights from Vientiane to Udomxai, Luang Prabang, Huay Xai, Phonsavan, Luang Namtha, Phongsali and Sam Neua.
During the holiday season it's best to book ahead as flights can fill fast. At other times, when flights are more likely to be cancelled, confirm your flight is still departing a day or two before.
With the exception of the Lao Airlines' offices in major cities, where credit cards are accepted for both international and domestic tickets, it is necessary to pay cash in US dollars if not booking online
Train
Currently Laos has just 3km of railway line connecting Nong Khai in Thailand to Vientiane Prefecture via the Friendship Bridge. Plans are underway to extend this line to central Vientiane, and eventually connect with a Chinese-funded railway line from Kunming to Vientiane via Luang Prabang.
This high-speed train service, with speeds exceeding 300km/h, is currently under construction and due to be completed around 2022.
Bus
Buses are the most common way to get between cities. Local buses are pretty uncomfortable, and many don't have air conditioning, but they'll get you from point A to point B around the country. In busier towns, you'll be able to purchase your ticket from just about any tour operator. This will include transit from your hotel/hostel to the station. Otherwise, you can show up at the city's bus station.
There are also plenty of air-conditioned "VIP" buses. For example, a trip from Vientiane to Luang Prabang is just 130,190 LAK. Overnight buses cost 150,000-200,000 LAK depending on the distance. You can usually buy tickets for these buses from your hostel/hotel. You can use 12go.asia to compare prices.
Many guesthouses can book tickets for a small fee. Vientiane is the only city with a network of local buses, though, with the exception of a few key recommended routes, they're not much use to travelers.
Taxi
Vientiane has a handful of taxis that are used by foreign business people and the occasional tourist, while in other cities a taxi of sorts can be arranged. They can be hired by the trip, by the hour or by the day.
Car
Driving in Laos is easier than it looks. The road infrastructure is pretty basic, but outside of the large centres there are so few vehicles that it's a doddle compared to Vietnam, China or Thailand.
Bringing a vehicle into Laos is easy enough if you have proof of ownership and a carnet. Simply get the carnet stamped at any international border and there is no extra charge or permit required.
As Thailand doesn't recognise the carnet system, an International Transport Permit, known in Thailand as the lêm sĕe môoang (purple book), is required. This is available at Nong Khai's Land Transport Office. Bring your vehicle's official registration book and tax receipts, passport and an international driving permit or Thai driver's licence.
On the Lao side you'll need all the documents mentioned above and will also need to arrange Lao vehicle insurance (about 300B for a week).
Motorcyclists planning to ride through Laos should check out the wealth of information at Golden Triangle Rider. Doing some sort of motorbike loop out of Vientiane, Vang Vieng or Tha Khaek is becoming increasingly popular among travelers.
Officially at least, to drive in Laos a valid international driving permit is required. If you're only renting motorbikes you'll never be asked for any sort of licence.
Chinese- and Japanese-made 100cc and 110cc step-through motorbikes can be hired for approximately 40,000K to 120,000K per day in most large centers and some smaller towns, although the state of the bikes can vary greatly. No licence is required, though you will have to leave your passport as collateral. Try to get a Japanese bike if travelling any distance out of town. In Vientiane, Luang Prabang, Vang Vieng, Tha Khaek and Pakse, 250cc dirt bikes are available from around US$25 to US$50 per day.
It's possible to hire a self-drive vehicle, but when you consider that a driver usually costs little more, takes responsibility for damage and knows where he's going, it seems less appealing.
Vientiane-based Avis-Budget is a reliable option for car hire.
When it comes to motorbikes, try Driven By Adventure or Fuark Motorbike Service in Vientiane.
Boat
More than 4600km of navigable rivers are the highways and byways of traditional Laos, the main thoroughfares being the Mekong, Nam Ou, Nam Khan, Nam Tha, Nam Ngum and Se Kong. The Mekong is the longest and most important route and is navigable year-round between Huay Xai in the north and Savannakhet in the south, though new dams make this increasingly difficult without changing boats.
Smaller rivers accommodate a range of smaller boats, from dugout canoes to 'bomb boats' made from war detritus.
Whether it's on a tourist boat from Huay Xai to Luang Prabang or on a local boat you've rustled up in some remote corner of the country, it's still worth doing at least one river excursion while in Laos.
The slowboat between Huay Xai and Luang Prabang is the most popular river trip in Laos. It is still a daily event and relatively cheap at about 250,000K per person for the two-day journey.
From Huay Xai, these basic boats are often packed, while travelling in the other direction from Luang Prabang there seems to be more room. Passengers sit, eat and sleep on the wooden decks. The toilet (if there is one) is an enclosed hole in the deck at the back of the boat.
For shorter river trips, such as Luang Prabang to the Pak Ou Caves, it's usually best to hire a river taxi. The héua hăhng nyáo (longtail boats) are the most common and cost around $10 an hour.
Along the upper Mekong River between Huay Xai and Vientiane, Thai-built héua wái (speedboats) are common.
With public boat routes becoming increasingly hard to find, tour companies are offering kayaking and rafting trips on some of the more scenic stretches of river. For something a bit more luxurious, Mekong Cruises and Mekong River Cruises offer multi day cruises along the Mekong on refurbished river barges.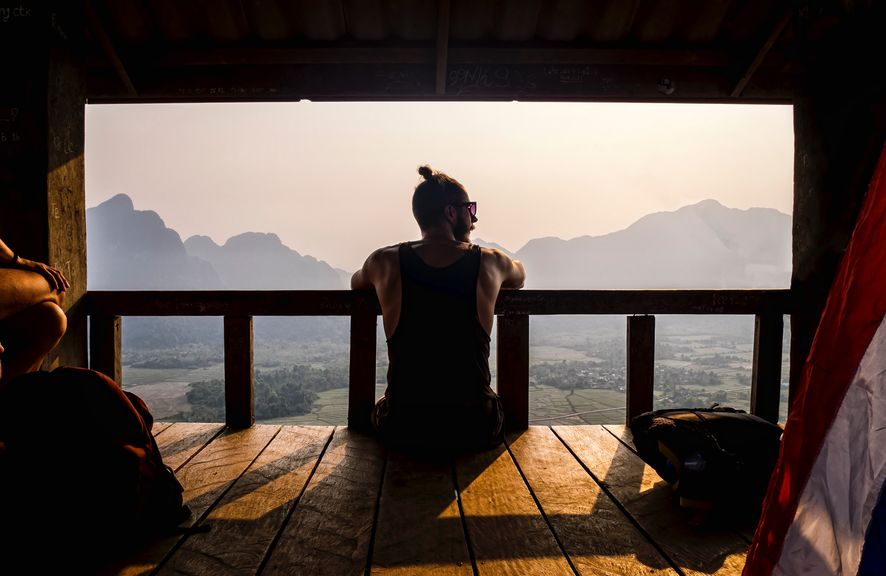 S Park design hotel is a brand new hotel built in 2015 located just 1 km to the center of Vientiane and just 2 km to Wattay International Airport. This hotel is suitable for business travelers and leisure guests as it has 65 rooms complied with individual air-conditioning, clean and comfortable bedding. 
A beautiful boutique hotel with a personal touch, located on the tip of the peninsula, in the historic center of this UNESCO World Heritage Town. The view you have from the rooms and Café/Restaurant is the confluence of Mekong River and Nam Khan River. The Hotel is quiet and peaceful with the beautiful former Royal temple Wat Xienthong as your immediate neighbor. 
THE BELLE RIVE BOUTIQUE HOTEL in Luang Prabang – situated at the shore of the Mekong River and in the historical center of the peninsula – offers luxury rooms and tranquility for independent travelers with high standards.
Le Sen Boutique Hotel lies 1300 meters away from Royal Palace Museum, offering 19 rooms and featuring free self-parking, a sun terrace and a swimming pool. This property is housed in a royal-style building. Free shuttle bus service, laundry and ironing service are also included.
Located just 20 minutes' walk from the center of Luang Prabang, it is close to Whisky Village. Night Market can be reached in about 15 minutes' walk. It features an outdoor pool with a Jacuzzi available during your stay. Guests can benefit from a gym, yoga classes and a fitness centre during their stay.
Located on the beachfront in Nongkhiaw and featuring a bar, Ou River House has free WiFi throughout the property. At the hotel, every room comes with a balcony with a mountain view. With a private bathroom equipped with a shower and free toiletries, rooms at Ou River House also offer a river view. At the accommodation each room includes a seating area. A continental breakfast is available daily at Ou River House. The hotel offers a terrace.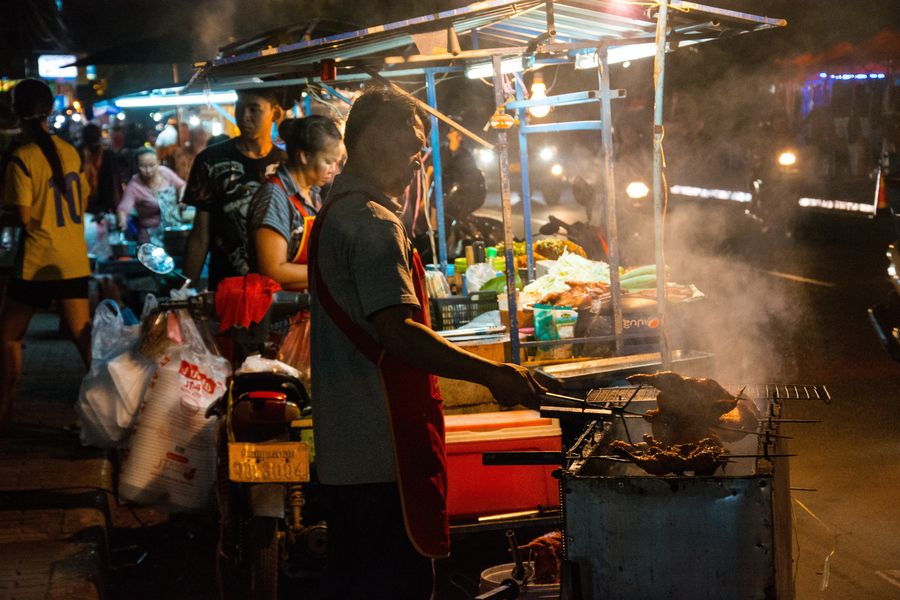 MANDA de LAOS features Laotian Family Cuisine specialties from all regions of Laos. Dine under the stars surrounded by a UNESCO classified lily pond, immerse in a tropical ambiance. During sunset time, sip our signature cocktail while watching the magical changing colors in the sky.
The Elephant Restaurant is located in the heart of the historic Luang Prabang Peninsula, between the Mekong River and the Nam Khan River. Luang Prabang, former royal capital of Laos, is listed as a UNESCO World Heritage Site. 
A quality Irish owned pub in the heart of Laos P.D.R. If you're looking for good food, an ice cold beer Laos, and famous Irish hospitality all served up in a friendly, fine atmosphere then you've come to the right place!
Over the last couple of decades Laos has earned a reputation among visitors as a remarkably safe place to travel, with little crime reported and few of the scams often found in more toured places such as Vietnam, Thailand and Cambodia. However, in more recent years, there has been a small rise in petty crimes, such as theft and low-level scams, which are more annoying than dangerous.
Better roads, better vehicles and fewer insurgents mean road travel in Laos is quite safe, if not always comfortable. However, while the scarcity of traffic in Laos means there are far fewer accidents than in neighboring countries, accidents are still the main risk for travelers.
As motorbikes become increasingly popular among travelers, the number of accidents is rising. Even more likely is the chance of earning yourself a Lao version of the 'Thai tattoo' – that scar on the calf caused by a burn from a hot exhaust pipe.
The speedboats that careen along the Mekong in northern Laos are as dangerous as they are fast. We recommend avoiding all speedboat travel unless absolutely necessary.
While theft is much less common than elsewhere in Southeast Asia, it has been on the rise in recent years. Most of the reports we've heard involve opportunistic acts that are fairly easily avoided.
Money or items going missing from rooms is becoming more common, particularly in rural bungalows, so don't leave cash or other tempting belongings on show. If you're on a crowded bus, watch your luggage and don't keep money in loose trouser pockets. When riding a bicycle or motorcycle in Vientiane, don't place anything of value in the basket, as thieving duos on motorbikes may ride by and snatch a bag.
If you're hiking or sightseeing, always stay on the marked trail. Some places are strictly prohibited because of unexploded landmines. This is especially true around the Plain of Jars. It's unlikely you'll have a reason to wander off into a dangerous area but pay attention to signs and markers.
Always trust your gut instinct. Make copies of your personal documents, including your passport and ID.
Most people who get into trouble in Laos do so because they're tangled up with drugs or the sex industry. Laos is strict about punishment when it comes to these offenses, so don't be like other travelers and disrespect the local laws and customs.
Our articles may contain affiliate links. We may get paid a small commission when you use our links with no additional cost of your part! See our Privacy Policy page for more details.