With just the right combination of urban and outdoors, Austria offers travelers a mix of alpine summits, imperial glory, wine, classical music, delicious food, world-class art and culture.
Vienna is the entrance to much of central Europe; Graz and Linz have historic old towns and cool cafes, while Salzburg is a picturesque Baroque city close to lakes and mountains.
There's a lot of art, culture, and history in the cities here and you'll be able to fill your time with an expansive list of diverse activities.
In this Austria travel guide you will find valuable tourist information, tips for visiting the country, best hotels to stay in and top attractions in Austria you can explore.
Language
The official language in Austria is German. There is also lingua franca; Austro-Bavarian, the main dialect outside Vorarlberg; Alemannic, the main dialect in Vorarlberg; and several minority languages.
Currency
Euro
Best time to visit Austria
There isn't really a bad time to visit Austria. It all depends on what you are looking to do. During the high season, from June to August, you will find the best weather. However, this is also peak season for tourists visiting the country, especially in the cities of Vienna and Salzburg (Salzburg is busiest in July and August for the Salzburg Festival).
The most convenient time to visit Austria is in late Mar–May & Late Sep–Oct. It's still warm during this time but there aren't as many crowds. This time of year is especially good for outdoor activities.
November through March have many sights closed, though ski resorts open from mid-December so if this is your trip of choice, this is the perfect time to go. High season for skiing is mid-December to March.
Another type of trip to consider is during November to December which are considered to be the most magical months in the cities of Vienna and Salzburg because of the Christmas markets, so keep this in mind when planning your trip.
Top Attractions in Austria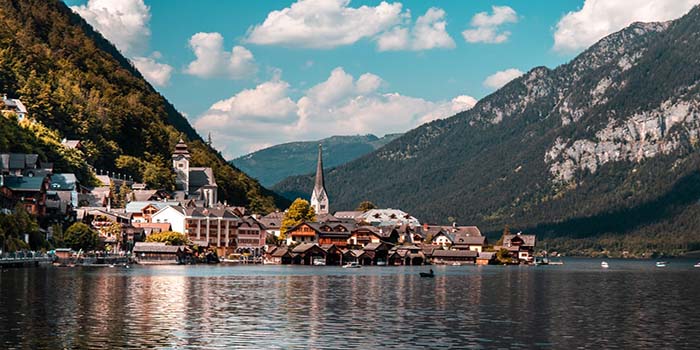 Hallstatt
Don't miss this picture-postcard village of Hallstatt in the lovely Salzkammergut region. With a swan-ruled lake, a waterfall, and nearby mountains, Hallstatt is like a fairytale. Come here to relax, eat, and enjoy nature. It also serves as a good gateway to the Salzkammergut region, where you'll find lakes, forested mountains, and ancient villages.
Visit the capital Vienna
As one of the great European capitals, today's visitors to Vienna discover a city with grace, beautiful 18th century buildings, art, music, and incredible food.
Enjoy Viennese art from the Kunsthistorisches to the Albertina museums as they exhibit one of the world's greatest collections of art.
Enjoy classical music
One of the most outstanding places to take in some classical music is at State Opera in Vienna. Prices will vary depending on the performance but expect to pay at least €50 EUR ($58 USD) for a show.
Visit the Museum of Fine Art
In the Museum of Fine Art, you can see works from ancient Egypt throughout the 18th century. It's definitely worth taking the time to explore as you can also find unique artworks from Michelangelo, Rembrandt, Rubens, and Raphael to name a few, here. Admission is €15 EUR ($18 USD) for adults, with discounts available for students and seniors.
St. Stephen's Cathedral
Stephansdom is a Gothic cathedral, noted for its colorful mosaic roof made up of 230,000 tiles. The cathedral has been destroyed and rebuilt over the years, with the most recent reconstruction taking place just after WWII. The inside artwork is equally as incredible as the exterior, with ornate columns that support a painted ceiling.
Salzburg
The city of Salzburg is known for being the birthplace of Mozart. It has a lot of music related attractions around the famous composer. You can also find hip cafés, lovely scenic hikes, cobblestone streets, and a historic fortress in this charming Baroque city.
Hohensalzburg Castle
Standing high over the city of Salzburg, the magnificent castle dominates the city. There's a great hike up to the castle too which takes about 30 minutes, or if you prefer, you can take the funicular up. Here you'll find ancient ruins, a cool historical tour, and panoramic views of the city. The fortress also has a collection of museums, including the Marionette Museum, and the Museum of the Rainer Regiment.
Skiing in Arlberg
St. Anton is a particularly lovely town in summer but it really swarms with visitors at the height of the ski season. It is known as a cult destination for serious skiers and snowboarders from around the world because of its extensive slopes full of character and challenge, and its huge amount of off-piste opportunities. The mountainous countryside offers up plenty of opportunities for skiing in the winter. Expect to pay more if you want better equipment or visit a more prestigious ski resort.
Schloss Hellbrunn
Schloss Hellbrunn in Salzburg is a baroque palace that was built in the 17th century and is considered as one of the most beautiful Renaissance buildings. The palace is known for the trick water fountains hidden around the grounds, benches and tables.These "secret" fountains spray visitors when they least expect it. Look out so that you won't be the one getting sprayed at!
Mozarts Geburtshaus
Located in Salzburg, this is the house where Mozart was born in 1756. The house has been transformed into a museum with lots of letters and memorabilia from the musician's life.
Visit the National History Museum
If you are a museum enthusiast, the National History Museum is worth your time. The museum is home to a detailed anthropology exhibit as well as a planetarium and prehistoric exhibit. There is a big collection of meteorites, and the museum is also home to the 30,000 year old Venus of Willendorf statue. 
It's one of the most famous Early Stone Age archaeological discoveries in the world and was found in Lower Austria in 1908. Discounts are available for students and seniors.
Explore Innsbruck
Innsbruck is one of the most beautiful towns in the entire country and is set in the Alps. The town is filled with cobblestone streets, a historic center, plenty of cafes, and serves as a good launching pad into the nearby mountains for camping and hiking. 
When you're there, make sure to explore the Golden Roof, an impressive alcove balcony with 2,657 copper tiles covering its roof. Two other attractions you must visit are The Court Church and the City Tower, which has stood guard for nearly 450 years.
Go hiking
If you go to Austria, you can't miss out on hiking. The trails in Austria are well-marked, and you'll find mountain huts along the way that each provide shelter. Almost 30% of the country's natural landscape is marked as protected, which may be one of the reasons why hiking is such a foundational part of the culture. Pack a lunch, hit the trails, and enjoy all that the country has to offer! 
One of the best hikes you can do is The Pinzgauer Spaziergang route in Zell am See-Kaprun, covering 10.5 miles (17 kilometers) from Saalbach to Schmittenhöhe's peak. If you're looking for something more challenging, take the 175-mile (280 kilometers) Eagle Walk from St. Johann to St. Anton am Arlberg.
Visit Graz's Old Town
This UNESCO World Heritage site boasts over 1,000 buildings, some of which date back to the Gothic period. It's a picturesque area worth exploring, especially if you love history and architecture. You'll find street cafes, art galleries, and lots of shopping opportunities here as well. If you want a guided tour of the area, expect to pay around €10 EUR ($12 USD).
Visit the stunning Belvedere
A UNESCO World Heritage Site. The Belvedere is actually two palaces. The northern palace is home to an incredible art collection with works by Renoir, Monet, and Van Gogh and a large portrait collection.
The Sigmund Freud Museum
Sigmund Freud, the famous founder of psychoanalysis, lived in this apartment-turned-museum from 1891 to 1938. The museum opened in 1971 with the help of Anna Freud, his youngest daughter, and is home to the original furniture and Freud's private collection of antiques as well as first editions of his works.
Bad Gastein
This is a great budget base that has excellent skiing. At the end of the day, soak those aching muscles in one of the town's hot water spas.
MELK
Melk's monastery is a must-see for anyone visiting Austria, as it overlooks the beautiful Danube.
Public Transportation
The prices will differ by city, but you can expect to pay around €2.30 EUR ($2.70 USD) for a standard adult ticket. Most cities offer a multi-day pass, such as Vienna's 24-hour pass or the 72-hour pass.
Trains
Traveling by train through Austria is now faster and easier than ever before. In fact, it serves as a good hub for if you want to visit other cities in Europe such as Bratislava, Prague, and Budapest. Ticket prices are quite affordable and the views are astonishing.
Bus
If you're looking for budget-friendly options to get around Austria, you should go with Flixbus. For example, the Flixbus from Vienna to Graz offers tickets for as low as €9 EUR, while the train ride costs closer to €30 EUR.
Car
If you're driving, make sure to get an International Driving Permit (IDP) – you'll need one for any car rental! It costs about €18 EUR and is valid for one year from the date of issue. It's also valid in 150 other countries which you can use in your next trips.
Car rentals may not be the most economical way to get around, but it's a fun and easy way to explore Austria.
Attention! All expressways and highways in Austria are subject to toll
Ridesharing
If you can't or don't want to drive yourself, you can also try the popular ride-sharing app BlaBlaCar. You can usually find rides for popular routes here, though there is a nominal fee.
Hitchhiking
Hitchhiking in Europe is very safe, but it's not for everyone. HitchWiki is the best website for hitchhiking info.
Airports & Airlines
Austrian Airlines is the national carrier, based in Vienna; it's a member of Star Alliance.
Bratislava Airport – Nine kilometers northeast of the center.
Blue Danube Airport Linz – Located 12 km southwest of Linz, with flights to Vienna, Frankfurt and Düsseldorf, plus several other European cities in summer.
Graz Airport – Located 10km south of the centre and is served by carriers including easyJet, Austrian Airlines, KLM, Eurowings and Lufthansa.
Innsbruck Airport – EasyJet flies to Innsbruck Airport, 4km west of the city centre.
Kärnten Airport – Klagenfurt's airport, 3km north of town, is served by the airlines easyJet, Austrian, Transavia and Eurowings.
Vienna International Airport – Has good connections worldwide. The airport is in Schwechat, 18km southeast of Vienna.
If you don't have a lot of time and want to jump from one city to the next,  you might want to consider going with a budget airline.There are several low-cost budget airlines that service Vienna including low-cost long-haul Level, Eurowings, Easyjet and Ryanair.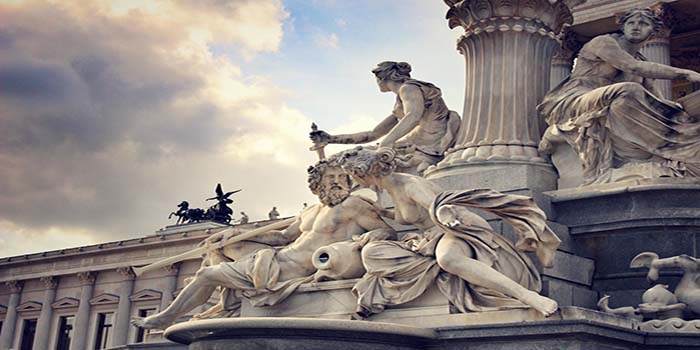 This charming little boutique hotel in the center of St. Anton am Arlberg offers unforgettable holiday experiences in the summer as well as in winter. It's simply one of the best hotels in Austria.
This used to be an old farmhouse that has successfully been converted into the charming Chalet-Hotel. It's a traditional hotel in the Austrian mountains, with a smooth wooden facade, lovely balcony views, and a pitched roof with beautiful illumination.
For centuries, Burg Bernstein served to protect the population from enemy armies. Today, the castle fulfills its function as a bulwark against the hustle and bustle of modern times.
Masterfully situated on a boulder above the diving valley, Burg Bernstein overlooks the Hungarian lowlands and southern Styria.
The rooms were restored but still have their authentic furniture.
The luxurious Five Star hotel rises above its expectations and achieves exactly what makes your stay extra special with style, comfort and elegance. You will stay in tastefully designed suites and rooms and your every need will be attended.
Coziness and personality, tradition and modernity unite to form something very special. Since 1931 the Hotel Gotthard has been standing for heartfelt hospitality, alpine coziness and homelike living comfort.
Crusty bread from the hotel's own bakery, enticing tidbits from the confectioner and delicious delights from the kitchen, which enthrall the palate, and a spacious wellness oasis to relax and unwind. That is the Hotel Gotthard today.
Best Restaurants In Austria
Mamamon focuses on the genuine taste of Thai as well as seasonal and organic products.
The Meierei is located in possibly one of the most beautiful spaces in the city, centrally located in Stadtpark. Have a relaxed breakfast beside the Wienfluss, let yourself be tempted by freshly baked strudel in the afternoon, discover the diverse world of cheese and wine, and enjoy the finest Viennese Cuisine throughout the day.
The most delicious delicacies are prepared in the former school on the Zellberg, by junior chef Stefan personally. Here, you can sit on the sun terrace and enjoy the magnificent view of the Zillertal, and the first class food. Pure enjoyment.
Dine in the ambiance of a modern ski lodge in one of the Hospiz Alm Restaurant's grand terraces. It's amongst the most exclusive resting points of Arlberg and serves cuisine in elegant and rustic ambience.
Safety and Security In Austria
Austria is considered a very safe country to travel around in. However, scams and pick-pocketing might occur, especially around high traffic areas in Vienna and Salzburg. Be alert if someone tries to strike up a conversation with you trying to sell something affordable for a good price. They are likely trying to rip you off. Moreover, if young children approach you, be aware – one will be talking with you while the friend may be reaching for your wallet while you're being distracted.
If a taxi driver seems shady, ask them to stop and get out. Make sure to have copies of your personal documents, including your passport and ID, just in case anything would happen.
The most important piece of advice we can offer is to purchase good travel insurance. Travel insurance will protect you against illness, injury, theft, and cancellations.
Our articles may contain affiliate links. We may get paid a small commission when you use our links with no additional cost of your part! See our Privacy Policy page for more details.