Once a hermetic country with very strict visa policies for foreigners, Uzbekistan is slowly opening its borders to show the world the majesty of what used to be the core and center of the ancient Silk Road, a country filled with impressive shrines, mosques and perfectly shaped old cities.
While there are many organized tour groups, the independent tourism is still at very early stages. Uzbekistan is, by far, the most tourist-friendly country in Central Asia and an unmissable destination for sightseeing city lovers, because this is what Uzbekistan is mainly about.
Uzbekistan is the proud home to a spellbinding arsenal of architecture and ancient cities, all deeply infused with the bloody, fascinating history of the Silk Road. In terms of sights alone, Uzbekistan is Central Asia's biggest draw and most impressive showstopper.
This Uzbekistan Travel Guide aims to be an exhaustive resource for covering everything that you need to know before travelling to the beautiful Central Asian country of Uzbekistan.
Language
The official language of Uzbekistan is Uzbek. Russian and Tajik are also widely spoken.
Currency
The official currency of Uzbekistan is the Uzbek som.
Climate and Recommended Time to Visit
Uzbekistan is best visited during spring and autumn (April to May, and September to early November). During these periods, it's typically warm and dry, and you can enjoy the heat of this desert region without it being uncomfortably hot, as it can be during the summer months.
From November to March it can be very cold, but this also brings clear, bright skies which provide an exceptional backdrop to any photos you take during your trip. This is also the quietest time of the year, so if you're willing to dress warmly you're likely to have the country's exquisitely beautiful sites to yourself.
The extreme heat of the summer months of July and August means bargains can be had at many hotels.
Top Attractions and Must-See Sights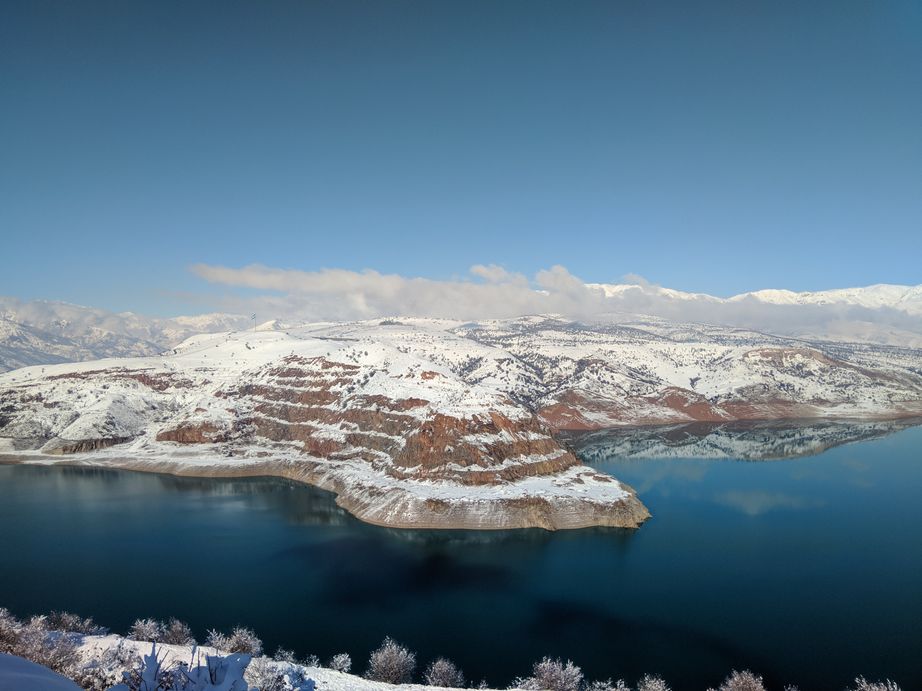 Registan
This ensemble of majestic, tilting medressas a near-overload of majolica, azure mosaics and vast, well-proportioned spaces is the centrepiece of the city, and arguably the most awesome single sight in Central Asia.
Savitsky Museum
The Savitsky Museum houses one of the most remarkable art collections in the former Soviet Union. About half of the paintings were brought here in Soviet times by artist and ethnographer Igor Savitsky, who managed to preserve an entire generation of avant-garde work that was proscribed and destroyed elsewhere in the country for not conforming to the socialist realism of the times.
Ferghana Valley
The Ferghana Valley is, in reality, not a valley at all but an inland basin fed by streams and rivers from the surrounding mountains.
The valley is extremely fertile and produces a large proportion of the country's food. It is also one of Central Asia's most devout areas, evidenced by the large numbers of veils and skull-caps.
The main points of interest here are the extraordinary Yodgorlik silk factory in Margilan – producing some of Asia's finest fabric and the discreetly charming town of Kokand.
Samarkand
For countless centuries, a glorious magnet for travellers, scholars, tyrants and poets. Evidence of the city's extraordinary 2,500 year history is everywhere, from the crumbling remains of Marakanda – the old Greek city – to the grand imposing monuments of the Islamic Renaissance.
Take an afternoon stroll through Registan Square, gaze on glorious buildings and absorb the same atmosphere of opulence and grandeur that have drawn visitors to the city for so long.
Tashkent
This great city, right in the heart of Asia, is the largest metropolis in the region, the nation's capital and home to some excellent museums, operas and fine dining.
This is the main transport hub for the whole of Central Asia with flight connections linking Uzbekistan with the world.
Khiva
Five hundred miles across the desert from Tashkent lies Khiva, a well-preserved and fascinating city. The city was well known to the Victorians, who were shocked at tales of the barbarity of the local rulers, the Khans of Khorezm.
The Pahlavon Mahmud Mausoleum, with its sublime courtyard and stately tilework, is one of the town's most beautiful spots. Pahlavon Mahmud was a poet, philosopher and legendary wrestler who became Khiva's patron saint. His 1326 tomb was rebuilt in the 19th century and then requisitioned in 1913 by the khan of the day as his family mausoleum.
Kumtepa Bazaar
The fantastic Kumtepa Bazaar, 5km west of Margilon centre, is a time capsule full of weathered Uzbek men in traditional clothing exchanging solemn greetings and gossiping over endless pots of tea. Rows of handmade khanatlas and adras silk, available from just 5000S per metre, are both the shopping and the visual highlight.
Tosh-Hovli Palace
Don't miss the harder-to-spot and labyrinthine south wing, where the throne room, two brick yurt bases and a sumptuous aivan (covered portico) are located, along with a wonderful carriage dating from 1872.
This palace, which means 'Stone House', contains Khiva's most sumptuous interior decoration, dense with blue ceramic tiles, carved wooden pillars and elaborate ghanch.
Built by Allakuli Khan between 1832 and 1841 as a more splendid alternative to the Kuhna Ark, it's said to have more than 150 rooms off nine courtyards, with high ceilings designed to catch the slightest desert breeze.
Kalon Minaret
When it was built by the Karakhanid ruler Arslan Khan in 1127, the Kalon Minaret was probably the tallest building in Central Asia – kalon means 'great' in Tajik. It's an incredible piece of work, 47m tall with 10m-deep foundations (including reeds stacked underneath in an early form of earthquake-proofing), and has stood for almost nine centuries. Chinggis (Genghis) Khan was so dumbfounded by it that he ordered it spared while his troops ransacked the rest of the city.
The minaret is an architectural masterpiece. Its 14 ornamental bands, all different, include the first use of the glazed blue tiles that were to saturate Central Asia under the Timurids. Up and down the southern and eastern sides are faintly lighter patches, marking the restoration of damage caused by Soviet general Frunze's artillery in 1920. Its 105 inner stairs, accessible from the Kalon Mosque, have been closed off to tourists for several years but may reopen.
Ark
The spectacular-looking Ark, a royal town-within-a-town, is Bukhara's oldest structure, occupied from the 5th century right up until 1920, when it was bombed by the Red Army. For centuries it was the residence of the emirs of Bukhara. It's about 80% ruins but there are still some remaining royal quarters, now housing several interesting museums.
Best Hotels In Uzbekistan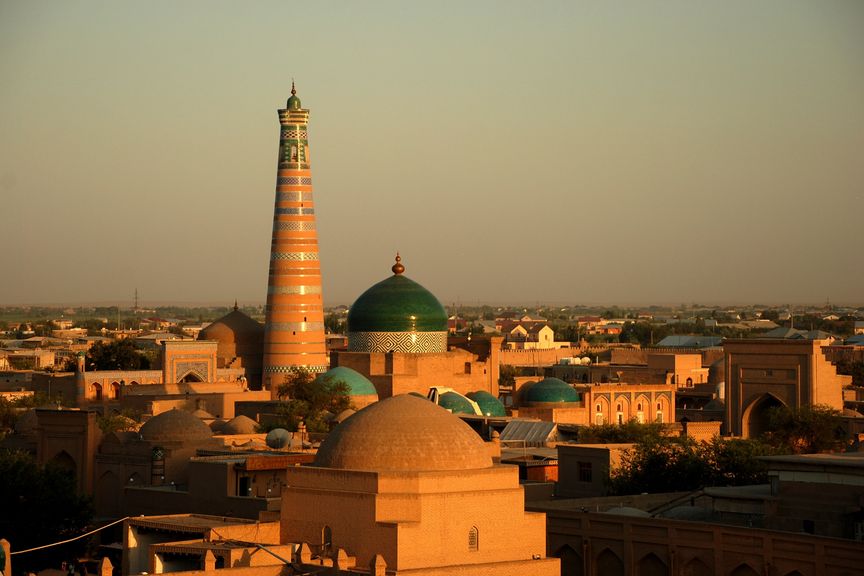 Silk Road Kokand Hotel has a restaurant, bar, a shared lounge and garden in Kokand. Among the facilities at this property are a 24-hour front desk and room service, along with free WiFi throughout the property. Private parking can be arranged at an extra charge.
Hyatt Regency Tashkent offers the quintessential location for both business and leisure travelers. Make yourself at home in your spacious guestroom, dine in one of our four restaurants and bars, hold a board meeting or an exclusive event and don't forget to relax in our pool and spa area. Here, you'll find that productivity and relaxation are constants during your time in Tashkent.
 Hotel Khurjin offers pet-friendly accommodation in the historic restored building of the 18th century in Bukhara. Guests can enjoy the on-site restaurant, two cozy courtyards and an acting 15th-century well. Free private parking is available on site. Guests can also benefit from free WiFi featured throughout the property.
Alliance Hotel has a restaurant, seasonal outdoor swimming pool, a bar and shared lounge in Tashkent. The accommodation features a 24-hour front desk, a shuttle service, room service and free WiFi throughout the property.
How to Stay Safe in Uzbekistan
Uzbek people are really nice and welcoming, they are curious but in a friendly way and have no bad intentions.
Some of the taxi drivers might take advantage of the fact that you are a tourist and charge a little more than usual, but this is the ends of the "special" treatment for tourists.
There is a lot of police and military present on the streets so that actually makes you feel even safer. At first it might be a bit disturbing to see so many green uniforms around but you get used to it after a day or two.
Just remember not to take any pictures with police or military personnel. And obviously don't do anything stupid.
Our articles may contain affiliate links. We may get paid a small commission when you use our links with no additional cost of your part! See our Privacy Policy page for more details.