This beautiful landlocked country of Kyrgyzstan (Кыргызстан), formerly part of the Soviet Union, is probably most popular travel destination in Central Asia.
Joyously un-spoilt mountains capes, stark craggy ridges and rolling jailoos (summer pastures) are brought to life by semi-nomadic, yurt-dwelling shepherds. Hikers marvel at stunning treks from Karakol, Kochor, Arslanbob and even the countries capital Bishkek. Since hiking makes a huge part of travelling here it should be assumed that you will need a reasonable level of fitness to access them.
If you fancy saving your legs then jump on the back of a horse and take on the country's most spectacular horse trek to Song Kol.
As first of the Central Asian nations to relax their visa policies, (it's visa-free for most western and developed nations) a strong tourism network has developed.
From Community Based Tourism (CBT) operating all over the country to guesthouses and independent guides there are plenty of ways to access the stunning scenery for which this country is famed.
Travels to Kyrgyzstan has increased dramatically in recent years as travelers come to hike, camp and horse trek through Kyrgyzstan's stunning scenery.
For more specific information on what to see and do, how to get to and around Kyrgyzstan and other Kyrgyzstan travel tips be sure to read our Kyrgyzstan travel guide.
Language
Kyrgyz and Russia
Currency
Kyrgyz Som
Climate and Recommended Time to Visit
Travelling to Kyrgyzstan is limited to the warmer months if trekking is your goal. The ideal time is June to early September.
July & August would be the ideal season for trekking, especially if you plan to go high in the mountains as, during these two months, the weather is warmer and the likelihood of raining is lower.
However, even in June, you may find some routes and passes are closed especially if the preceding winter was a long and harsh one.
Do be aware that July and August are peak months to travel to Kyrgyzstan and as it becoming a popular destination, some areas may be crowded.
In late spring and early autumn, you can do some cool treks, though high mountains may be not accessible.
If skiing is your game, March and April are particularly good months to travel to Kyrgyzstan. However, the ski industry is not particularly well developed.
Top Attractions and Must-See Sights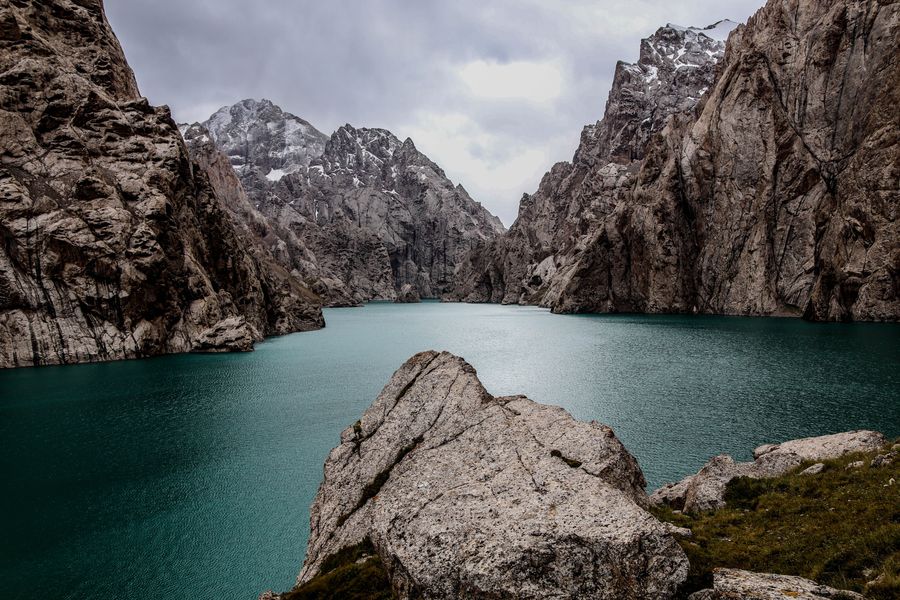 Stay with Kyrgyz nomads
Experiencing the nomadic life is one of the greatest Kyrgyz experiences. From staying in a yurt to helping them preparing kurut, their local cheese.
However, with the tourism increase, some nomadic camps have become too commercial, and what I recommend is that you try to find the most authentic ones by going to Song Kul, instead of staying at the CBT camp where everybody stays.
Trekking on a horse
Kyrgyzstan is the land of horses and even today, in the rural areas, they are the preferred way of transportation. These horses are used to the high altitude mountain passes, and you definitely get a different experience, and perspective than going on foot. 
Visit remote Silk Road Heritage sites
Kyrgyzstan has only a small bunch of Silk Road Heritage sites, but the few it has are truly epic, remote and placed in the most epic locations. 
Absorb Arslanbob's natural beauty
The walnut forests surrounding the ethnic Uzbek village of Arslanbob in the Jalal-Abad province are among the largest in the world and central to the local economy. The landscape here is exceptionally beautiful and perfect for summer hiking, skiing in winter or simply walking.
Osh Market
One of Kyrgyzstan's main attractions, Osh market is one of the largest in Central Asia and an excellent place to people watch or buy souvenirs, fruits, spices and everything else under the sun.
Central Tien Shan
Central Tien-Shan, in the far east of the country, is for the truly intrepid as it contains the nation's two highest peaks. Access is usually by helicopter and offers challenging mountaineering and glacier walks. For experienced climbers only, a trek in Tien Shan will reward with a disappearing lake and supposed UFO landing site. Mountaineering and border permits are required.
Seek out the striking Burana Tower
South of Tokmok, though close enough to Bishkek for a day excursion, this tower is actually a minaret – all that remains of the 10th-century Karakhanid city of Balasagun.
Trek the Altyn Arashan Valley
A number of treks start in Karakol, the major town near Lake Issyk-Kul. The most popular is the three-day hike around the Altyn Arashan Valley.
Jyrgalan
Jyrgalan is the best place to visit in Kyrgyzstan. This little village just outside of Karakol is a trekker's paradise, and is worth spending a few days in town anyway. 
Song-Kul
One of the countries most popular destinations, Song Kul is truly spectacular. Whether you're hiking or on the back of a horse it's hard not to be completely overwhelmed, especially as you cross the pass down to towards Song-Kul.
Best Hotels In Kyrgyzstan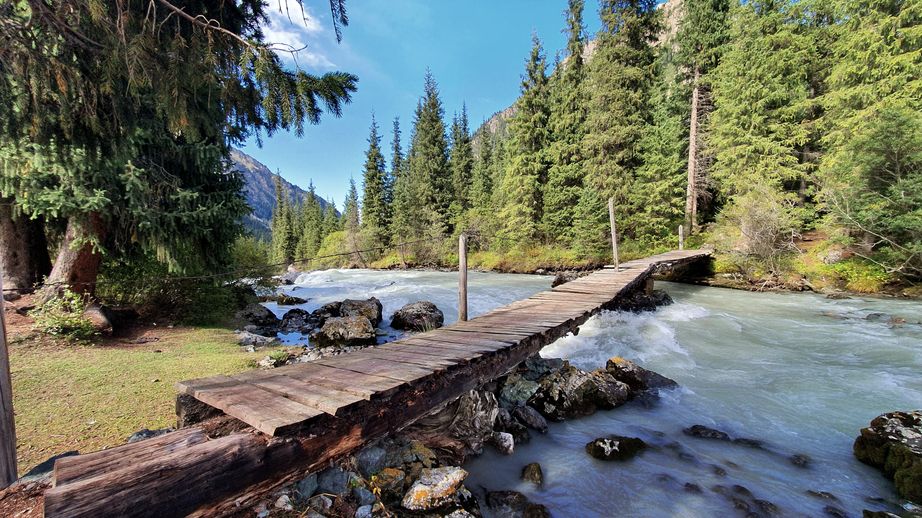 Breathe deeply the pure mountain air that will fill you with strength, looking intently at the white mountains full of spirituality, make a tea ceremony on the mountain, watch the calming flow of the river and enjoy the spectacular views, inspiring new ideas without abandoning the facilities at the level of five stars in mountain hotel Jannat Resort.
Located 24 km away from Bishkek in the village of Koi-Tash, a place known for its underground sources of mineral waters and amazing beauty of Alamedin gorge. 85 comfortable rooms in 4 different categories, with breathtaking views are available at the service of the guests.
The only 5 star Hotel in Bishkek. It has inspiring view on Tien-Shan Mountain range and the ancient trading route The Silk Road. The Hotel is located right in the center of the Bishkek's business and government district and cultural area including the Kyrgyz Republic Opera House and Art Museum.
If you are new to Kyrgyzstan and checking the hotels and room prices in Bishkek, we welcome you to the five-star hotel complex Golden Dragon, which is an optimal option of accommodation. The hotel is just ten minutes away from the city center and thirty five kilometers away from the Manas International Airport, which makes it very attractive for the guests from various countries and regions.
In the heart of Central Asia, Sheraton Bishkek Hotel with its panoramic view of the city and the mountains of Tien Shan is ready to welcome you and your guests. Sheraton Bishkek Hotel is located in the heart of Bishkek city, the capital of Kyrgyzstan, a city where from an environmental point of view is the cleanest air and nature in the world.
The hotel is within walking distance of the city business, shopping and entertainment districts and the transportation network. It is an ideal choice for business and leisure travelers alike who value the hotel's personalized service. 
How to Stay Safe in Kyrgyzstan
Kyrgyzstan is a very safe country. Solo travelers will be just fine and whereas we can't speak for women, we know of many women who have been to Kyrgyzstan and they had positive experiences. 
The only potential danger you may hear about is that Bishkek used to be infamous for its after-midnight crime, mainly targeting drunk people on their way home from the bars. The situation, however, has dramatically improved but, if that is a concern for you, just take a taxi when you go back home and avoid roaming around late at night. 
Our articles may contain affiliate links. We may get paid a small commission when you use our links with no additional cost of your part! See our Privacy Policy page for more details.