There is no other place like Singapore. Located just off the southern tip of Malaysia, this vibrant city-state, that became independent from the British in 1965 and is now one of the world's leading economic centers in shipping and banking, boasts a beautiful blend of Malaysian, Indian, Chinese, Arab and English cultures – all with its own Singaporean twist.
Singapore is expensive by Southeast Asian standards with everything costing about double what it does elsewhere in the region.
The lack of natural resources here is compensated by a wealth of jaw-dropping man-made attractions best seen at night, reason why countless foreign tourists including many Filipinos, travel to Singapore. A leisurely stroll in the city is like being transported from one country to another.  
While most people come here for a couple of days just to "do" Singapore and check it off their bucket list, over the past few years, the city has shed some of its stuffy nature and become a much more fun and cosmopolitan city.
Our Singapore travel guide is filled with travel tips that will help plan your trip by providing recommended restaurants and top hotels in Singapore together with getting around information and recommended things to see in Singapore.
Language
Most locals are bilingual – proficient in English and either Mandarin, Malay or Tamil.
Currency
The Singaporean dollar (SGD) is the currency of Singapore.
Climate and Recommended Time to Visit
It's always a good time to visit Singapore! The island's year-round warm, tropical climate. It is best to book your hotel in advance during peak seasons – January to February, June to July and September to October.
Temperatures in Singapore are consistent all year. Typically, on any given day, you will see temperatures between 75°F (24°C) to 89°F (32°C). The humidity level is high; the country sees an average of 167 days of rain per year.
Top Attractions and Must-See Sights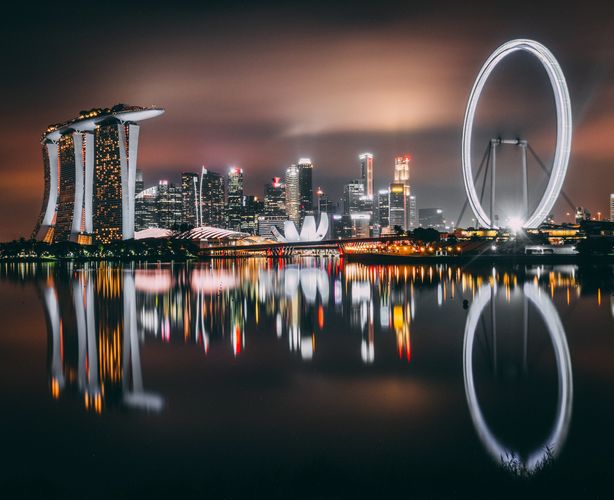 Joo Chiat
A historic neighborhood, Joo Chiat is a perfect place to bring your camera and just wander around aimlessly. The colorful Peranakan houses are some of the most beautiful sites in Singapore.
Chinatown
Chinatown encompasses two square kilometers of traditional Chinese life, nestled beside the modern Central Business District. This remains the place to get a real sense of Chinese culture within Singapore. The streets are filled with temples, craft shops, stalls, and restaurants and are a great place to pick up a bargain. Head down Chinatown Food Street to find some char kway teow (stir-fried noodles) or grilled meats.
Singapore Botanic Gardens
A 158-year-old tropical oasis, Singapore Botanic Gardens is much loved by locals and tourists alike. The Botanic Gardens lie close to the city and consist of 52 hectares of gardens and forest. The main attraction is the National Orchid Garden, which is home to over 1,000 species of orchids. There is also a ginger garden, a rainforest, and various streams and waterfalls to explore. The Botanic Gardens are Singapore's first UNESCO World Heritage site. It's open daily from 5am-12am, and admission is free.
 Gardens By The Bay
Totally unlike any other garden you will ever experience, Gardens by the Bay is well worth a visit. Located along Marina Bay, this urban landscaping project is a series of fake "supertrees". At heights of 80-160 feet, the metal structures have roughly 200 species of orchids, ferns, and other tropical plants coating their structure and forming a lush, colorful skin.
It's free to walk through the outdoor gardens, but you have to pay $8 SGD ($6 USD) for entry if you want to do the OCBC Skyway (the 128-metre long walkway through the canopy of the Supertree Grove).
Arab Street
More than just one street, this is a must-see neighborhood that includes Bussorah Street, Haji and Bali Lanes and Muscat Street. Start at the corner of Beach Road and just explore the shops, cafés and restaurants. The stunning Sultan Mosque (Masjid Sultan) is a must-see sight.
The Quays
The Quays along the river are famous here! Explore Boat Quay, Robertson Quay, then get down to Clarke Quay for restaurants, bars and other fun spots.
Day Trip To Sentosa Island
Sentosa is Singapore's carefully planned, all-ages playground – a world-class sprawl of theme parks and amusements, evening spectaculars, luxe resorts and a subterranean casino. There's something for everyone, from blockbuster rides and shows at Universal Studios, to giant tanks peppered with marine life at SEA Aquarium and artificial surf at Wave House. Palm-fringed beach bars flank stretches of sand, seemingly begging you to stop in for a sundowner, while top-notch restaurants look out over million-dollar yachts.
Hang out at Bora Bora Beach Bar or try the cable car sky dining experience (although it isn't cheap). You can get to Sentosa via the Sentosa Express train, which is $4 SGD ($3 USD) – but if you enter on foot or by bicycle you'll get free access.
Singapore Zoo
The Singapore Zoo is one of the world's most inviting, enlightening animal sanctuaries, where open-air enclosures allow for both freedom for the animals to roam and unobstructed visitor views.
Covering an area of 70 acres, this place is huge and has a vast array of animals: over 3,600 mammals, birds, and reptiles. The zoo's night safaris are awesome. There's no restaurants around here and, since you have to wait for the night safari to begin, you get stuck eating the overpriced zoo food. See the zoo in the morning and come back at night for the safari.
The Merlions
You are sure to see statues of these imaginary creatures dotted about Singapore. The Merlion is Singapore's mascot and has the head of a lion and the body of a fish. The original statute (and most impressive Merlion) can be found in Merlion Park, but the 37-meter tall replica on Sentosa is also pretty cool to see. There is no entrance fee for Merlion Park.
Thian Hock Keng Temple
Stunning architecture makes Thian Hock Keng one of the most photogenic buildings you're likely to see in Singapore. The temple was built in 1840 and made from the finest materials available at the time, and is the oldest Chinese temple in Singapore. It's dedicated to Mazu, the Goddess of the Sea, and Chinese immigrants came here to ask for safe passage before leaving to cross the South China Sea. The temple was designated as a national monument in 1973. It's open daily from 7:30am-5:30pm, and admission is free.
Bukit Timah Nature Reserve
Bukit Timah is located within Singapore's only remaining stretch of rainforest, and is the country's premier ecotourism attraction. You'll find macaques, squirrels, flying lemurs, and various species of birds. If you take the hiking or biking trails, you'll be able to get up close to them. The reserve is 30 minutes from the city center and is open daily from 7am-7pm. The weekends get really busy, so if you want to avoid the crowds come during the week.
Pulau Ubin
This island lies off the northeastern coast. It's incredibly different from the modern city — locals still use a diesel generator for electricity and fetch water from wells.
By hopping aboard a chugging bumboat (motorised sampan) from Changi, visitors can explore Pulau Ubin's old-growth mangrove swamps and silent, lotus-peppered lakes; cycle past tin-roof shacks, ramshackle shrines and lazing monitor lizards; rampage along a cross-country mountain-bike trail; and end the day by digging into a simple seafood meal by the sea.
Little India
The most atmospheric of Singapore's historic quarters is as close as it gets to the Singapore of the old chaotic days. No trip to Singapore is complete without a visit to Little India. The five-foot-ways of colourful shophouses spill over with aromatic spices and Bollywood magazines. Here you can get amazing, cheap and delicious food, fresh vegetables, and interesting snacks and souvenirs.
Seek out local favorites like roti prata (pancakes) and teh tarik ("pulled" tea). Make sure you eat at the giant cafeteria restaurants and don't be afraid to eat with your hands!
Sri Mariamman Temple
This extremely colorful, ornate temple is the oldest Hindu temple in Singapore and was built in 1827 in Chinatown. It was constructed in what is known as the Dravidian style and is devoted to the goddess Mariamman, known for curing illnesses and diseases. During colonial times it was a hub for community activities, and was even the Registry of Marriages for Hindus. It's open daily from 7am-12pm and 6pm-9pm.
Asian Civilisations Museum
Travel back through time at this engrossing ode to Asia's cross-cultural connections, developed through Singapore's position and history as a port city. Having recently undergone a radical transformation, the galleries are like visiting a sprawling, glittering attic, heaving with ancient pottery, religious sculptures, silver tea sets, whimsical puppets and mystical weaponry. You'll find the region's most comprehensive collection of pan-Asian treasures within its walls, and the recently recovered treasures from the Tang Shipwreck need to be seen to be believed.
Air
The only commercial airport in Singapore is Changi International Airport, 12 miles from the city center. Changi Airport is one of Asia's best-connected airports and is an important hub for international aviation. Being an important gateway to Southeast Asia, mostly all major international airlines fly into Singapore.
There is regular air traffic from Singapore to several destinations in Europe, Asia, the Middle East, Australia and North America. Regularly voted the world's best airport, its facilities include a gym, several gardens, an outdoor pool, free internet, cafes and plenty of shops.
Train
Singapore's Mass Rapid Transit (MRT) is the fastest and best way to get around. The rail network is very extensive, so most of the city's main attractions are within walking distance to an MRT station. You can buy a Singapore Tourist Pass, which gives you unlimited travel for one, two, or three days.
Bus
Singapore's extensive bus service is clean, efficient and regular, reaching every corner of the island. The two main operators are SBS Transit and SMRT. Both offer similar services. For information and routes, check the websites. Alternatively download the 'SG Buses' smartphone app, which will give you real-time bus arrivals.
You can use your Singapore Tourist Pass on the buses as well. You can also pay with cash, but it has to be the exact change.
Car
Singaporeans drive on the left-hand side of the road and it is compulsory to wear seat belts in the front and back of the car. The Mighty Minds Singapore Street Directory is invaluable and available from petrol stations, bookshops, FairPrice supermarkets and stationery stores. However, the island has good internet coverage so Google Maps is also a reasonable option.
If you plan on driving in Singapore, bring your current home driver's licence. Some car-hire companies may also require you to have an international driving permit.
All major car-hire companies have booths at Changi Airport as well as in the city, these include:
At various times through the day, from Monday to Saturday, much of central Singapore is considered a restricted zone. Cars are free to enter but they must pay a toll. Vehicles are automatically tracked by sensors on overhead Electronic Road Pricing (ERP) gantries, so cars must be fitted with an in-vehicle unit, into which drivers must insert a cash card (available at petrol stations and 7-Elevens). Check www.onemotoring.com.sg for ERP rates and hours of operation.
Taxi & Ridesharing
You can flag down a taxi any time, but in the city center taxis are technically not allowed to stop anywhere except at designated taxi stands.
All cabs are metered, but there might be surcharges depending on the company and where you're going (for example, if you're hiring a taxi from midnight to 6am there is a 50% surcharge on the total metered cost).
An app called Grab is a popular one, and the ride prices are cheaper than what a traditional taxi ride would cost. It works just like Uber, which is being phased out in Singapore.
Trishaws
Trishaws peaked just after WWII when motorised transport was practically nonexistent and trishaw drivers could make a tidy income. Today there are only around 250 trishaws left in Singapore, mainly plying the tourist routes. Trishaws have banded together and are now managed in a queue system by Trishaw Uncle.
You can also find freelance trishaw riders outside the Raffles Hotel. Always agree on the fare beforehand: expect to pay S$40 for 30 minutes.
Boat
Visit the Southern Islands of Singapore from the Marina South Pier. There are regular bumboat (motorised sampan) services from Changi Point Ferry Terminal to Pulau Ubin. To get there, take bus 2 from Tanah Merah MRT.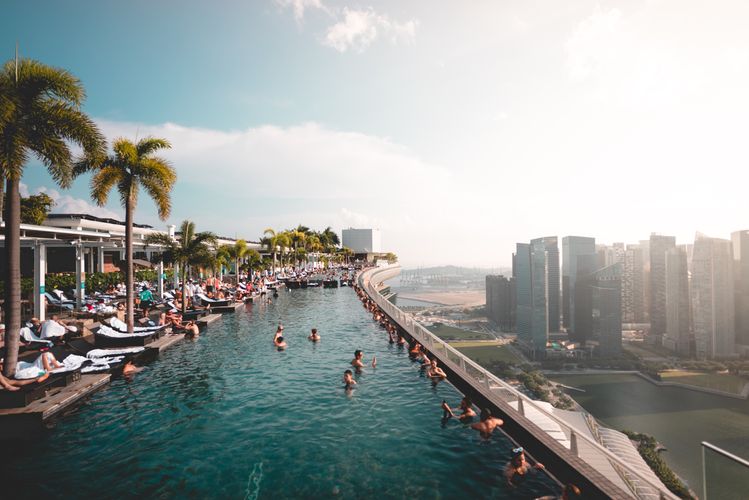 In a neighborhood of modern, glass-paneled apartment blocks, the St. Regis stands out with its fleet of imposing bronze Bentley limousines parked outside. The rooms are positively palatial, and the hotel's award-winning spa is consistently voted among Singapore's best.
This Neoclassical grand dame is stately yet buzzy. There's constant traffic in the lobby area—it's a popular meeting spot for execs from the surrounding business district, and a regular stop for tourists on the heritage trail. No other hotel in Singapore has a heritage so linked to the country's modern history. Previously called Fullerton Building, it was once the General Post Office and housed various government agencies before it was turned into a hotel in 2001.
From across the Singapore River this trio of former godowns (warehouses) cuts a striking profile. Inside, it's just as impressive. With industrial details inspired by Fritz Lang's film Metropolis, a restaurant by celebrated local chef Willin Low, and a rooftop glass lap pool, it's one of Singapore's coolest new hotels.
Inspired by the glamour of the 1970s, Bar' 75 artfully blends retro with a funky sports-themed bar. Chill out on comfortable sofa seats or catch live sporting events on the big screen with a glass of ice cold beer and savoury delights such as satay (grilled meat skewers), buffalo wings and Wagyu burger. Or catch up with friends over a game of pool. 
With the city's most iconic sights mere minutes away, this dynamic destination is all yours to explore – from the bustling streets of Orchard Road to the scenic Botanic Gardens. When you need a breather, signature hospitality awaits in the contemporary comfort of Pan Pacific Singapore.
The magnificent Fullerton Building is a grand neoclassical landmark built in 1928. Gazetted in December 2015 as a National Monument, it was once home to Singapore's General Post Office, the Exchange Room and Exchange Reference Library, and the prestigious Singapore Club. For nearly a century, it played a pivotal role in Singapore's rich history. Today, The Fullerton Hotel Singapore has been transformed into a stunning 400-room heritage hotel in Singapore.  
Best Restaurants In Singapore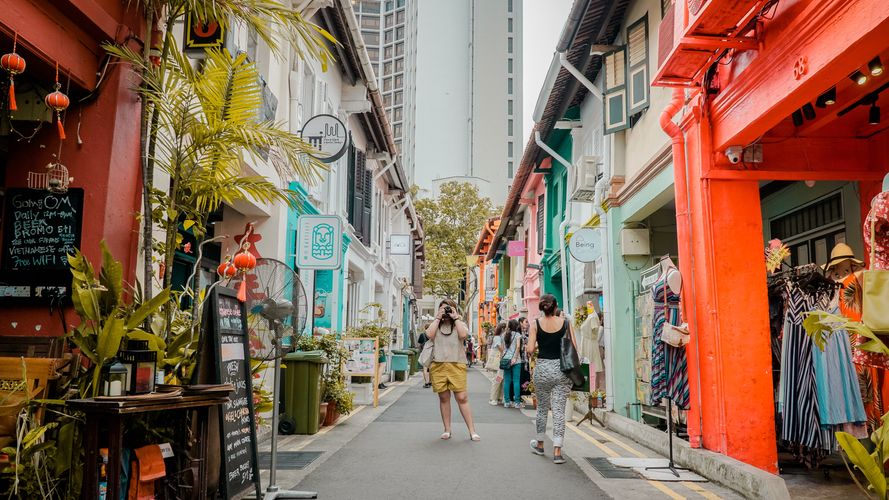 At Candlenut, the world's first Peranakan restaurant to earn a Michelin star, Singaporean chef Malcolm Lee taps into his heritage and culinary training to deliver modern renditions of Straits Chinese dishes. Many are based on family recipes, such as the "yeye" (grandfather's) curry, which is served as an appetizer of fried pastry cups (kueh pie tee shells) filled with crab meat, pickled shallots, and laksa leaves. Try the bakwan kepiting, a comforting chicken broth swimming with crab and pork balls and sliced bamboo shoots, and the buah keluak (an earthy black nut) curry with local chicken. And be sure to save room for dessert.
Pepe Moncayo worked for the internationally acclaimed and late Santi Santamaria at his eponymous, now-shuttered restaurant, and that pedigree shows at BAM!. The food here deftly combines Japanese produce and Western techniques, be it over a plancha or sous vide. The menu changes daily and every dish is bright yet complex; past highlights include chilled somen served in a balanced dashi with slivered almonds and grapes, and fried cod maw served in a silky Jerusalem artichoke emulsion and showered with Manjimup black truffles.
As the name Imperial Treasure Super Peking Duck Restaurant suggests, the Peking duck—sliced tableside—is the star of the show here, and it's widely regarded as one of the best in town. Its beautifully lacquered, paper-thin skin is served first with a saucer of sugar for dipping. Luscious slices of duck breast arrive next. The rest goes back to the kitchen to be prepared in one of several ways: fried with noodles or vegetables, or made into a rich broth. Tip: Book in advance.
At Hajah Maimunah, a glass-and-metal counter contains trays of at least 30 different dishes that straddle the flavors of Malaysia and Indonesia. Among them are spoon-tender beef rendang (beef braised in a blend of chiles, onions, lemongrass, and coconut milk), sayur lodeh (cabbage, carrots, and green beans stewed in a spicy coconut gravy), and grilled spicy chicken. Point to the dishes that interest you and the friendly women behind the counter will dish them onto a plate of rice.
328 Katong Laksa
The menu at Singapore's most famous laksa spot is tiny. There's the star of the show, the creamy, coconutty, lightly spicy laksa noodles (conveniently cut into pieces so you can eat it with a spoon); the chunky fish otah made with fresh mackerel and wrapped in a banana leaf; and the perfectly decent nasi lemak (coconut rice with toppings). Know before you go, this isn't the sort of place you come to linger over the food. It's for fast, tasty food.
How to Stay Safe in Singapore
Singapore is an incredibly safe place to backpack and travel – even if you're solo traveling, and even as a solo female traveler.
Singapore is notoriously strict on drugs. If you're caught even with marijuana in your system, you'll do jail time. You'll also get fined up to $1,000 SGD ($730 USD) for things like littering, spitting, and smoking in public.
Always trust your gut instinct. If a taxi driver seems shady, stop the cab and get out. Make copies of your personal documents, including your passport and ID. Forward your itinerary along to loved ones so they'll know where you are.
Most importantly, purchase good travel insurance. Travel insurance will protect you against illness, injury, theft, and cancellations. It's comprehensive protection in case anything goes wrong.
Our articles may contain affiliate links. We may get paid a small commission when you use our links with no additional cost of your part! See our Privacy Policy page for more details.