Traveling Morocco is an intense experience by any standard.
Morocco is a gateway to Africa and a country of dizzying diversity. Here you will find epic mountain ranges, ancient cities, sweeping deserts – and warm hospitality.
From the colorful, heady markets filled with the rich scents of spices to the vibrant Atlas Mountains, there is just so much to see in this incredible North African country.
From the high Atlas Mountains to the desert to the coasts, Morocco is an amazing country that hits all a traveler's senses. You may love it or hate it but you will walk away from a better traveler because you went.
Whether you are going backpacking through Morocco, visiting on a tour, or own your own budget trip, Morocco will definitely leave an impression.
Use this Morocco travel guide to plan your trip, see the best the country has to offer, save money, and avoid common pitfalls that happen to travelers here!
Language
The most common language is Arabic, but many locals also speak French (most common), Spanish, Berber and English (because of tourism).
Currency
The currency in Morocco is called a dirham.
Climate and Recommended Time to Visit
Morocco is a great year-round destination. With its coastline, mountains, and desert landscapes, it's an incredibly diverse country that offers something unique to see any time of the year.
The best time to visit Morocco typically is during the country's shoulder seasons, which run from April to May and September to November. The temperatures are nice and warm during this time, and there will be less tourist traffic.
Summer months, June to August, can be ridiculously hot – especially the further south you go (including in Marrakesh and Fez). Many people head to the coast to enjoy places like Tangier, Rabat, and Essaouira.
Winters – December to February – are mild, but it can get quite cold in the evenings. Temperatures drop as low as 27°F ( -3°C) in Marrakesh, and the Atlas Mountains receive a lot of heavy snowfall. Winters in the north and along the coast are very wet.
Top Attractions and Must-See Sights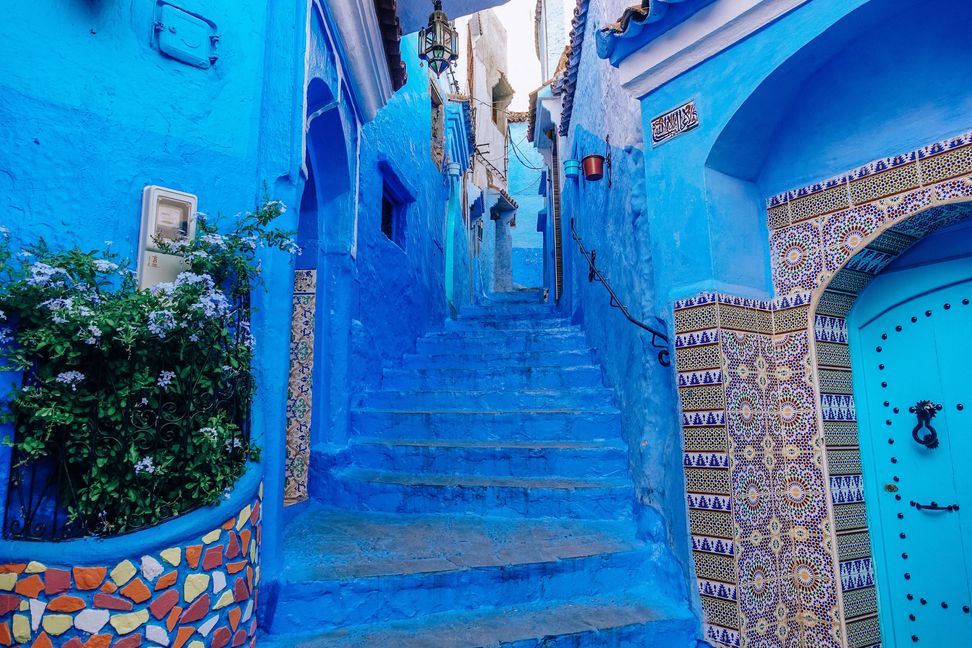 Chefchaouen
Simply the most beautiful small town in Morocco. Chefchaouen is located in the middle of the Rif Mountains. It is very relaxed, offers reasonable accommodations, and is visually stunning. The streets and buildings are painted a vibrant sky blue, and the mountains in the backdrop are rugged and dramatic. It's a great place to wander, shop, and sip mint tea.
High Atlas
The nerve-shredding Tizi n'Test and the higher Tizi n'Tichka wend up over the Atlas Mountains, providing breathtaking views along the way. The rugged and beautiful Atlas Mountains stretch over 1,500 miles, from the West Coast of Morocco all the way to Tunisia. This mountain range is home to Jebel Toubkal, North Africa's tallest peak at 13,671 feet. You can hike all year round, but the best time is from April to May.
Djemaa El Fna Street Theatre
Circuses can't compare to the madcap, Unesco-acclaimed halqa (street theatre) in Marrakesh's main square. By day, 'La Place' draws crowds with astrologers, snake-charmers, acrobats and dentists with jars of pulled teeth. Around sunset, 100 restaurant stalls kick off the world's most raucous grilling competition. After dinner, Djemaa music jam sessions get under way – audience participation is always encouraged, and spare change ensures encores.
Marrakesh
Spend some time in the Djemaa el-Fna, where you can find exotic street performers, tattoo artists, musicians, and chefs. After that, wander around the medina, explore the souks, eat in the market, see the old city, and enjoy Morocco's most international city. Marrakesh has it all.
Sahara Desert
The Sahara is exactly how it is portrayed in the movies – vast, empty, and absolutely spectacular. You can spend the night in a simple tent in the dunes. The stars go on forever and there's no light pollution to block them out.
Fez
The most complete medieval city in the Arab world, Fez's labyrinthine streets conceal ancient souks and iconic monuments, none more so than the exquisitely decorated Medersa Bou Inania. This old and powerful city is one of the best places in the country. The streets are filled with wonderful aromas, mosques, craft shops, and crowds upon crowds of people. Though Fez can be a bit overwhelming, once you get used to the pace of the city, it's simply magical.
Torda Gorge
This gorge is one of the most recognized in the world and has become very popular with travelers looking to hike the canyon. It's a challenging hike but if you're looking for something truly different and outdoorsy in Morocco, don't miss out on this.
Hassan II Mosque
The Hassan II Mosque, located in Casablanca, is a popular attraction among tourists. It took thousands of Moroccan artists a total of five years to build this detailed architectural masterpiece. Its mosaics, plaster moldings, marble and stone columns and floors, and wood ceilings are utterly impressive. It is big enough for 105,000 worshipers, making it one of the largest mosques in the world! I was awed.
Tangiers
This major city in northern Morocco is located on the North African coast at the western entrance to the Strait of Gibraltar. The history of Tangiers is very rich, due to the historical presence of many civilizations and cultures. Almost 100 years ago, Tangiers was considered as having international status by foreign colonial powers and became a destination for many European and American diplomats, businessmen, writers, and spies.
The Ancient City of Volubilis
Berber king Juba II, whose wife was the daughter of Antony and Cleopatra, was installed at Volubilis by the Romans. The town became a thriving farming community producing olive oil, wheat and wine for the Roman army.
This World Heritage site has few rules about where you can walk, little signage and lots of storks nesting on column-tops. It has some dazzling mosaics and a brand-new museum.
Most of the city is still excavated so the site has a very raw feel to it. It's a lovely day trip away from the crowds and noise of Fez.
Essaouira
Essaouira is located a few hours from Marrakesh on the Atlantic coast and is a popular beach destination for tourists. The relaxed atmosphere of the city, the lack of pushy touts, the sea air, and all the fresh fish will make you want to stay for a few days. Be sure to visit the wonderful fish market in town, where all the small fishermen sell their day's catch. Afterward, check out the small fish stalls nearby in the main square where you can enjoy fresh seafood grilled really cheap.
Draa Valley Kasbah Trail
Roads now allow safe, speedy passage through the final stretches of ancient caravan routes from Mali to Marrakesh, but beyond the rocky gorges glimpsed through car windows lies the Draa Valley of desert-traders' dreams. The palms and cool mud-brick castles of Tamegroute, Zagora, Timidarte and Agdz must once have seemed like mirages after two months in the Sahara. Fortifications that housed gold-laden caravans are now open to overnight guests, who wake to fresh boufeggou dates, bread baked in rooftop ovens, and this realisation: speed is overrated.
Tafraoute
The Anti Atlas' main town, Tafraoute, has a jumble of pink houses and market streets with extraordinary surroundings. The Ameln Valley is dotted with palmeraies (palm groves) and Berber villages, and the looming mountains stage a twice-daily, ochre-and-amber light show.
With a relatively undeveloped tourist industry, despite the region's many charms, it's a wonderful base for activities including mountain biking and seeking out prehistoric rock carvings.
Sidi Ifni
This formerly Spanish seaside town, a camel ride from the Sahara, is every bit as dilapidated, breezy and magical as well-trodden Essaouira. You can walk out along the sweep of Legzira Plage, or just explore the blue-and-white backstreets of one of southern Morocco's most alluring hangouts. The best time to appreciate the art-deco relics is sunset, when the Atlantic winds bend the palms and fill the air with a cooling sea mist.
Taroudant
With views of both the High Atlas and the Anti Atlas mountains, this Souss Valley trading centre is known as Little Marrakesh, offering a medina and souqs without the big-city hustlers. Day trippers from Agadir will certainly find it charming. The town's red-mud ramparts are unique, changing color according to the time of day.
Circle the 7.5km perimeter by foot, bike or horse-drawn carriage and then return to the medina through one of the gates. After the sunset glow fades from the walls, the town is a relaxing, everyday place with some good restaurants.
Air
Royal Air Maroc (www.royalairmaroc.com) is the main domestic airline and they sometimes have good sales. Zagora, Errachidia and Essaouira are also serviced. Other airlines operating flights to Morocco include British Airways (www.ba.com), easyJet (www.easyjet.com) and Ryanair (www.ryanair.com).
The busiest international airports are in Agadir, Casablanca, Fes, Marrakech, Ouarzazate, Rabat, and Tangier. July to September is peak season in Morocco, so fly outside the summer months to take advantage of cheap deals.
Public Transportation
Public transportation can be hit or miss in Morocco. The bigger cities, like Marrakesh and Casablanca, have public bus services – but the buses are incredibly old and overcrowded, and the routes are hard to figure out.
Train
Morocco's national rail network is operated by ONCF and services some the country's major cities like Marrakesh, Casablanca, Rabat, Meknes, and Fez. The trains are comfortable and they are usually on time, but disruptions do occasionally happen. There is now a high-speed rail running between Casablanca to Fez too. You can look up schedules and prices on ONCF.
If you're planning to spend a lot of time on trains, a rail pass from ONCF may save you money. It's available for 7, 15 or 30 days of travel, with discounts for children and travelers under 26. A train ticket will cost around 30 MAD ($3 USD) per hour of travel for 2nd class, or 45 MAD ($5 USD) per hour for 1st class.
Rail links between Morocco and Algeria are suspended. English travellers can catch trains from London St Pancras to Algeciras in Spain changing in Paris, Marseille, Barcelona, and Madrid, then catch a ferry to Morocco from Algeciras. It will take around 26 hours for the journey to Algeciras from London St Pancras, then another 90 minutes for the ferry journey to Morocco.
Bus
Intercity buses are a cheap and efficient way to get around Morocco, especially compared to other methods of transportation. The four most popular operators are:
Supratours
CTM
SATAS (regional)
Ghazala (regional)
CTM and Supratours are the most reliable, and they have comfortable buses with air conditioning. You can book your tickets online, or simply show up at the bus station. The websites aren't terribly reliable or efficient to use.
Car
Car rental isn't typically recommended in Morocco. Drivers are aggressive and accident rates are high! But if you want to venture off the beaten path, it's a good way to go. You can find rentals starting from 240 MAD (25 USD) a day (sometimes cheaper).
The best road link is from southern Spain or France via passenger/car ferries. The road link on the north Algerian border is closed due to ongoing political disputes but border links with Morocco's other neighbour Mauritania in the south are still open.
There are warnings of landmines and high instances of banditry in the country's far southwest, but the roads are generally well-maintained tarmac. However this turns into sandy 'piste' immediately on entering Mauritania, and with the added risk of landmines, a guide is strongly recommended. The border closes at 18:00 daily.
Taxi & Ridesharing
Instead, most people use petits taxis to get around town. These are small vehicles that can hold up to three people, and they are prevalent all over the country. They're very cheap, although there may be a surcharge after 8pm. To ensure you get a fair fare, negotiate your price up front. Metered taxis are also available in the bigger cities like Marrakesh.
Grand taxis are shared taxis that can carry up to six passengers and are used to go longer distances between neighboring towns/cities. They won't leave until the taxi is full, but generally wait times aren't so bad. You can locate one near just about any taxi stand or bus/train station. If you have a lot of luggage you may be surcharged. You'll want to arrange your fare ahead of time.
Uber is available in Casablanca.
Boat
Travelling by sea to Morocco is a popular alternative to flying. The main ports are Tangier (www.tmpa.ma) and Nador in Morocco proper, and the Spanish-held ports of Ceuta (www.puertodeceuta.com) and Melilla. Several lines from Europe serve these ports. Agadir, Tangier, and Casablanca are popular cruise stopovers.
Ferry operators include Grimaldi Ferries, Balearia Ferries (www.balearia.com), FRS (www.frs.es), Naviera Armas (www.navieraarmas.com), Grand Navi Veloci (www.gnv.it) and Trasmediterranea (www.trasmediterranea.es).
There are reasonably priced and regular car- and passenger-ferry links between southern Spain and Tangier and the Spanish enclaves of Ceuta and Melilla on the north Moroccan coast. Most links are roll-on, roll-off car ferries.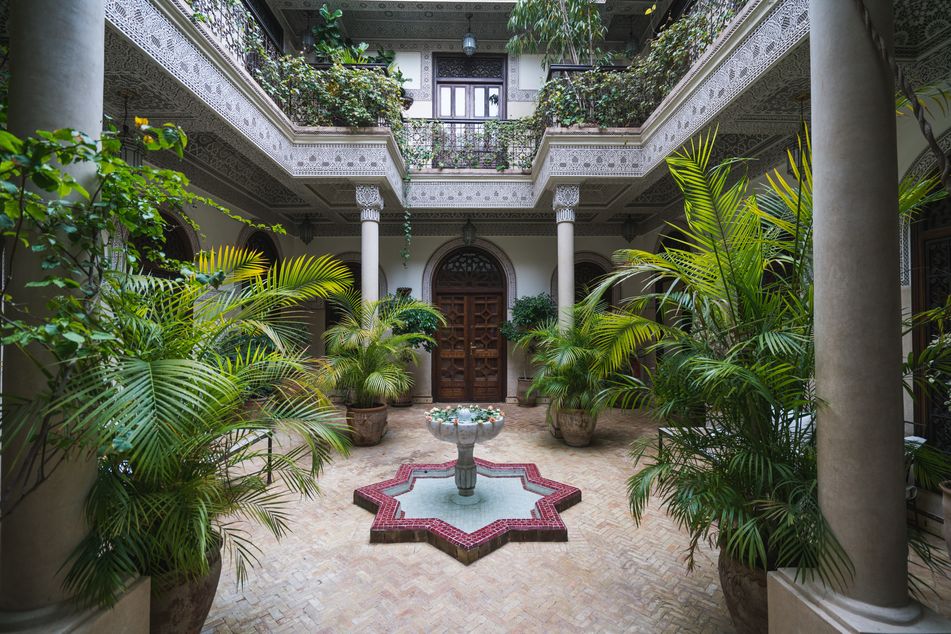 The Riad is located in Marrakesh, 10 minutes from the Jamaâ El Fna Square. It features an outdoor swimming pool and a gourmet restaurant in the heart of the Medina. Guest rooms at the Riad L'Orchidee are air-conditioning and equipped with free WiFi access.
This 4-star hotel offers massage and beauty treatments and a restaurant serving traditional Moroccan cuisine. Guests can enjoy breakfast, lunch and dinner served on the terrace or in the dining rooms. 
Welcome to Sofitel Agadir Royal Bay Resort. If you're in search of enjoyable experiences and time with your family, you will find the perfect place here to relax and have fun. Satisfy all your cravings with breakfast, half-board and all-inclusive options. 
Situated on the coast of Morocco, Atlantic Palace Agadir is a 328 room and suite hotel. The hotel is nestled in a beautiful 10,000 m2 Moroccan garden in the centre of the "Secteur Balnéaire" offering intimate surroundings and a particular peaceful atmosphere. 
The Four Seasons Casablanca is a diamond on the seafront of the largest city in the Kingdom of Morocco. Walking in, you will instantly notice the modern chic décor, with marble floors, fireplaces, and gorgeous chandeliers in the most relaxing and elegant atmosphere. The rooms are as beautiful as the outside, with white walls and sophisticated furniture, an incredible view directly over the beach of Casablanca, and a marble bathroom perfect for photos. The hotel also has three different restaurants with various kinds of cuisine that you must try, or if you are not feeling like getting ready, you can simply check out their in-room dining menu that is as good as the restaurants. 
This incredible resort is located only a few minutes away from the city center and it is the perfect place to spend a relaxing trip. As soon as you step inside you feel like you're in another world where everything is perfect. There are marble floors everywhere, Moroccan tiles, gardens, and olive groves surrounding the outside area, with a gigantic pool and comfy chairs.
At Mandarin Oriental, you can choose a suite with a large bedroom and bathroom with a terrace that includes your own pool area, where you can sunbathe while sipping a drink. A penthouse spreads over the entire floor and has 8 bedrooms, hammams, spacious terraces with stunning views over the resort, and various plunge pools. 
Best Restaurants In Morocco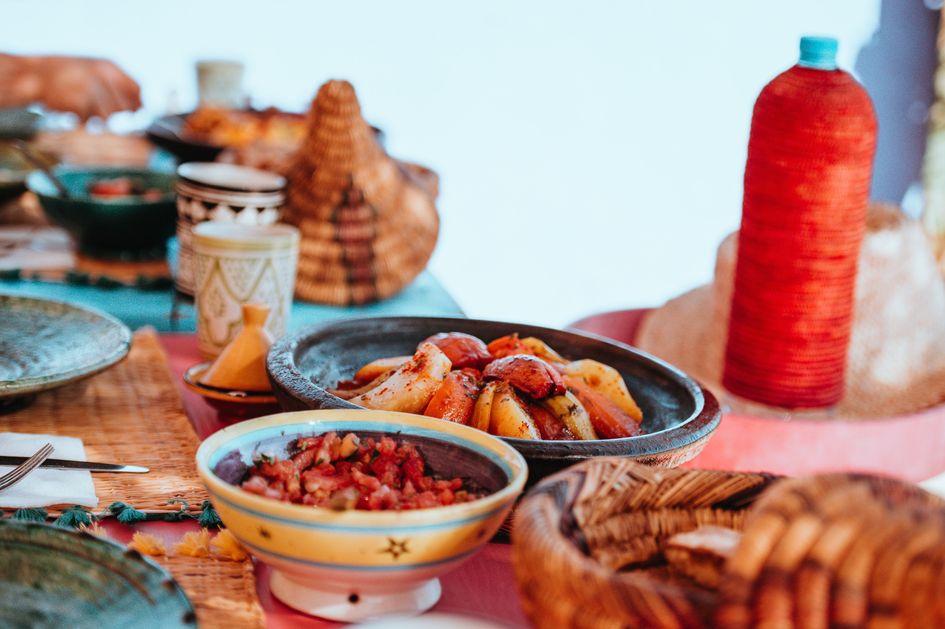 Either in the main restaurant or the courtyard near the pool, the experience will transport you to the heart of the Moroccan culture. Take a moment and discover our menu by yourself – The menu includes all true traditional dishes, made with passion and love for the Moroccan gastronomy.
Open for lunch and dinner, Le Trou au Mur is a restaurant in Marrakech that brings a breath of fresh air to the city's fine dining scene. Le Trou au Mur is chic, laid-back, and intimate, making it one of the best restaurants in Marrakech.
Set in a small riad in the oldest part of the medina, Le Trou au Mur's décor is a unique blend of superb local craftsmanship with the best of modern European style. Enjoy an early supper on the roof, or dine at any time in the gorgeous air-conditioned restaurant.
One of the great pleasures travelling allows you to experience is the chance to try exciting foreign foods.
Morocco has a long and eventful history. Over the centuries it has been enriched by a fascinating blend of Arab, Berber, Middle Eastern, Moorish, Iberian, Mediterranean, African and Jewish cultures, from which has evolved a cuisine that is uniquely Moroccan. 
Latitude 31, Marrakech
A modern restaurant with a peaceful and leafy courtyard, Latitude 31 is another top restaurant in the Red City of Marrakech. You can also choose to dine on the roof terrace if you prefer. The restaurant blends traditional cooking techniques with fresh, modern touches, bringing diners innovative Moroccan dishes.
The restaurant's signature dish is a tagine with mushrooms sourced from Immezour. The establishment also serves the local dish of beef tangia. Roasted sea bass with risotto, seafood tagine, a mixed grill with herbs from the Atlas Mountains, couscous and ravioli are a few of the mouth-watering items you'll find on the menu.
How to Stay Safe in Morocco
Morocco travel requires extra vigilance because it's easy to have something happen to you. You're unlikely to ever be in any real physical danger in Morocco, but the petty crime and harassment require you to stay on guard — more so than other countries.
Always trust your gut instinct. If a taxi driver seems shady, stop the cab and get out. If your hotel is seedier than you thought, get out of there. Make copies of your personal documents, including your passport and ID. Forward your itinerary along to loved ones so they'll know where you are.
The most important piece of advice we can offer is to purchase good travel insurance. Travel insurance will protect you against illness, injury, theft, and cancellations. It's comprehensive protection in case anything goes wrong.
Our articles may contain affiliate links. We may get paid a small commission when you use our links with no additional cost of your part! See our Privacy Policy page for more details.