People from around the world travel to Greece for its famous islands for the sun and its cities for history. Said to be one of the world's most favored vacation destinations, Greece not only has beautiful beaches, distinct architecture, and historic ruins, but also gets its popularity from it's warm people and rich culture!
Greece has various islands that are known for their beaches and natural features, while others are more known for their nightlife or cultural traditions. Greek culture is alive with passionate music, wonderful cuisine and thrill-seeking activities.
The best part about traveling here to this country is that it's incredibly affordable, so you can travel around for a fraction of what you would spend while visiting other countries in Europe.
In this Greece travel guide, we will combine all the needed information for you to travel through Greece without missing anything!
Language
The official language in Greece is Greek.
Currency
The currency in Greece is the Euro.
Climate and Recommended Time to Visit
If you are a traveler who is looking to do outdoor activities while here, then the best time to visit would be between April and May. During this time the weather is perfect, and you'll have the Greek Islands mostly to yourself before the summer crowds arrive.
In general, when planning a trip to Greece, you must schedule all things around Easter weekend. This weekend is a very busy time, and more often than not, hotels are often booked up weeks in advance.
The peak travel season is June through August, and sights, tours and transport are running in full forces. As guessed, due to this, accommodation prices are extremely high and crowds and temperatures soar as well.
During the rare "off" season, hotel prices can drop by up to 20%, temperatures are not as blazing and additionally, internal flights and island ferries have reduced rates.
Top Attractions and Must-See Sights

Acropolis
The Acropolis in Athens is a classical citadel that's located on  rocky land, above the city of Athens. The Acropolis houses the remains of several ancient buildings of great architectural and historic significance, with the most famous being the Parthenon. Its shrines and sanctuaries of white Pentelic marble change to honey hue during sunset, and are illuminated at night.
Meteora
The extraordinary rock formations of the Meteora region, enabled by Byzantine monasteries are a tourist attraction you don't want to miss. The sheer spectacle of these monasteries makes this one of the most visited attractions in all of Greece. Additionally, this stunning landscape offers many opportunities for those tourists who climb or are looking for a nice walk outside of the crowded cities.
Ancient Delphi
Delphi has always been known as a place of historic and spiritual significance. This city is home to the ancient world's most distinguished oracle, making it the place to contact Apollo and give advice to those seeking good fortune. Besides viewing this sanctuary, this site also includes the Delphi Archaeological Museum and the nearby Sanctuary of Athena Pronea.
Rhodes Town
Rhodes Town is actually considered two distinct and very different towns. On one side, the new and modern town surrounds the Old Town, lying within but a part, is sealed like a medieval time capsule. Both of these towns are surrounded by a ring of high walls and a deep moat.
Patmos
This hourglass-shaped island is known worldwide as a sacred island. For those that are unaware, Patmos is the place where Saint John wrote the Book of Revelation. This island is an ideal destination for nature lovers, due to its lace-like coastline, sheer cliffs, and volcanic soil.
Pilgrims from around the world travel to St John's cave and the island's monasteries, especially to the whitewashed, labyrinthine sanctity of hilltop Hora. Patmos welcomes all visitors, from movie stars to holidaymakers. Patmos offers all visitors beautiful villages, including the scenic harbor community of Skala, plus barely disturbed bays lined with sand and pebble beaches, and gorgeous pine- and heather-coated hillsides.
Crete
Crete, which is Greece's largest island, is known for its diverse terrain that ranges from fine-sand beaches to white mountains. With its marvelous beaches, ancient treasures, and landscapes, weaving into vibrant cities and surreal villages, Crete is one of the most wonderful locations to spend a few days at.
The most famous historical attraction on this island is the Palace of Knossos, which acted as the grand capital of Minoan Crete. Located here are ruins that incorporate an immense palace, courtyards, private apartments, baths, lively frescoes, and more.
Additionally, if you are looking for outdoor activities to do around Crete, the 16km-long Samaria Gorge, and one of Europe's longest canyons, should definitely be on your must-do list.
Cyclades
If you are on a quest to find the Greek island of your dreams, then look no farther than this stunning place. The Cyclades is a group of Greek islands, located southeast of the mainland in the Aegean Sea.
Thessaloniki
Thessaloniki is an easy place to fall in love with, offering travelers the beauty, history, and culture, topped with striking cuisine, and wonderful sea views. This is considered Greece's second city, which, similar to the rest of the country, has suffered due to the hit of an economic crisis. Nonetheless, the streets remain full of life and vibrancy.
Hydra
Hydra is one of the only Greek islands that are free of wheeled vehicles, which means no cars and no scooters. All this island has are tiny marble-cobbled lanes, donkeys, rocks, and the beautiful sea. In addition to the island's preserved stone architecture, Hydra has rural paths and clear, deep waters, and is one of the best places to find a good cappuccino.
Corfu
The Greek Islands may get all the press but Corfu, located on Greece's west coast, is also a solid place to enjoy the beach too. Corfu has been portrayed as an idyll for centuries and is known as the place where the shipwrecked Odysseus was sent home.
After exploring all the history this island offers, you can sail around the corner, and immerse yourself in a place full of bountiful produce, cypress-studded hills, villages, and sandy coves.
Ancient Olympia
Olympia is a well-known aged site on Greece's Peloponnese peninsula that was in charge of hosting the original Olympic Games for more than 1100 years. Founded in the 8th century B.C. Its ruins include athletic training areas, a stadium, and temples that are dedicated to the gods Hera and Zeus.
The Olympic flame is still lit here for the modern Games. Unfortunately, due to the destruction ordered by Theodosius II in AD 420 and even various subsequent earthquakes, little remains of the magnificent temples and athletic facilities. On the bright side, enough of this place still exists to give you a sliver of the sanctuary's past glory.
Kefalonia
Kefalonia is an island that's located in the Ionian Sea and just west of mainland Greece. The largest, and conceivably the most diverse of the islands, is famous for its scenic Kefalonia beaches, dramatic landscapes, and delicious food.
Remember the Spartans
Sparta was said to be the ancient rival of Athens and was known for the actions of her fierce warriors. The city has a long history and ruins to explore with no shortage of things to do, excursions to take, and places to eat. Sometimes it's an often-overlooked city, but you can get all the history of Greece without having to deal with the tourists that Athens brings.
Santorini
Santorini is known as one of the Cyclades islands in the Aegean Sea and was devastated by a volcanic eruption in the 16th century BC, which is what shaped this rugged landscape. The whitewashed houses cling to cliffs above an underwater crater, giving off spectacular views of the sparkling ocean.
Many consider Santorini to be the most spectacular of all the Greek Islands due to its amazing beachside camping, winery tours, scuba diving, and views.
Air
Most visitors flock to Greece by flying, which tends to be the fastest and cheapest option available. The vast majority of domestic flights are handled through the country's national carrier, which is Aegean Airlines, and sometimes through Olympic Air. There are also a number of smaller Greek carriers, including Thessaloniki-based Astra Airlines and Sky Express that handle flights to and from select cities.
Sometimes, some discounts for return tickets are offered, but only if used between Monday and Thursday. It's important to note as well that the baggage allowance on domestic flights will vary according to the airline and even to the category of ticket you've purchased. On most occasions, bags can be scrutinized carefully at check-in.
Greece has four main international airports that can take tourists in and out of the country.
Aegean Airlines and Greece's next best airline, Olympic Air, offer flights between Athens and destinations throughout Europe, as well as to Cairo, İstanbul, Tel Aviv and Toronto. Both airlines have exemplary safety records.
Train
International train travel in Europe has become much more feasible in recent years. Many countries now offer speedier trains and better connections all over the country.
Greece's railway organization runs daily services that connect Thessaloniki with Sofia, but sometimes, you'll have to transfer to a bus for the short section between Kulata on the Bulgarian side of the Greek border. There is another train service running between Belgrade and Thessaloniki and is run by Skopje. This line is operated from June to September, and if you choose to use it, can connect you to trains to other parts of Europe.
Boat
Greece also offers tourists an extensive network of ferries, and are sometimes the only way to reach many of the islands, which truly are the best part of this country. Many schedules are often subject to delays due to poor weather along with the occasional industrial action, and prices fluctuate regularly. Timetables are not announced until just prior to the season due to competition for route licenses. In summer, various ferries run regular services between all destinations. It's important to note that services do seriously slow down in winter, whereas others stop completely.
Ferries can get very crowded in summer, so if you want to travel around the islands, it's wise to make a reservation beforehand. Mostly all ferry companies have local offices on many of the islands, or you can use their websites to get the most up-to-date information on schedules and prices. 
Car & Motorcycle
In the past years, Greece has had a terrible reputation for road safety. Luckily, in recent years, roads and highways have improved dramatically and European Commission statistics have reported a drop of 45% in fatalities.
Heart-stopping moments aside, renting your own car is a great way to explore off the beaten track. Greece's road network has improved enormously in recent years but has also increased a bit due to tourist traffic, especially on the islands.
Motorcycles and mopeds are another travel option, but you need to take into consideration that you are required to have a motorcycle licence if you wish to rent either vehicle. Also, be sure to expect gravel roads particularly on some of the islands. If you end up renting a motorcycle or moped, be sure to check with your travel insurance provider, to make sure you are covered.
Local Transport
Bus – Most Greek towns are small enough to get around on foot, but all major towns have local buses. Busses are especially useful in Athens, Patra, Kalamata, and Thessaloniki.
Metro – Athens has a solid underground system, and as of now, Thessaloniki is in the process of constructing one as well. This metro is said to open near the end of this year.
Taxi – Travelers will be able to find taxis because they are widely available in Greece, except on very small or remote islands. They are reasonably priced based on other European prices, especially if three or four people share costs. Many city cabs are metered, but will often have their rates doubling between midnight and 5 am. If you are traveling from an airport, bus, port, or train station then fares will be increased as well. A bit of advice – before getting into the taxi, it's best to ask how much the price is likely to be. On most islands, where tourists are shuttled between popular locations, the price is set each season.

Designers from K-Studio have done an excellent job at modernizing this 1930s building and turning it into a gorgeous 38-room hotel. These designers only used natural materials such as marble, wood, and metal alongside choice pieces of contemporary art. If you are looking for a real treat, rent out the two-bedroom penthouse suite which includes a private Jacuzzi and swimming pool on a wrap-around roof terrace with stunning Acropolis views. Additionally, guests can join meditation and yoga classes at this hotel's in-house Zen Center Athens for free during their stay.
Once you enter this historic neoclassical villa, you will see that it's near to a peaceful central street, and you'll find yourself being seduced by its simple charm. This hotel features an elegant lobby equipped with candelabras, velvet chairs, and even a piano for guests to enjoy. The plush, high-ceilinged rooms, some that offer balconies, have city or garden views. If you are looking for a cheaper room, this hotel offers loft bedrooms that have horizontal windows but no view.
At Bella Venezia, the staff are friendly, warm, and provide fabulous service.
Taking its place on a former Islamic seminary that was built in 1817 by Pasha Mohamed Ali, this remarkable hotel complex in Panagia blends original stone features with every modern comfort. Its restored Turkish hammam, an array of spa treatments and even a candlelit indoor pool can give guests a complete getaway.
This hotel's unique architecture and modern interior bring together a subtle blend of luxury and intimacy which is not easily forgotten by the guests that stay here. Megaron hotel is a historical monument and a status symbol for the locals, which was established in 1920 and converted into a Luxury Hotel in 2003.
This hotel's luxury rooms and suites are the perfect choices for couples, families, and solo travelers looking for a holistic island experience in Greece.
With elegantly designed throughout and personalized services anticipating every guest's wishes, Summer Senses is a true paradise on earth, offering tourists a pleasant holiday destination. The two large swimming pools that this hotel offers are the perfect place to cool off during the summertime heat.
Mykonos Riviera Hotel & Spa is a five-star Mykonos Town hotel. Mykonos Riviera offers the perfect setting for moments of romance, luxury, and personalized service. This hotel is one of the smallest luxury hotels found in Greece.
Legacy Gastro Suites is a new five-star, luxury boutique hotel, located in the heart of Heraklion which is Crete's vibrant seaside capital. This hotel has just 12 unique, but thematically linked suites.
Best Restaurants In Greece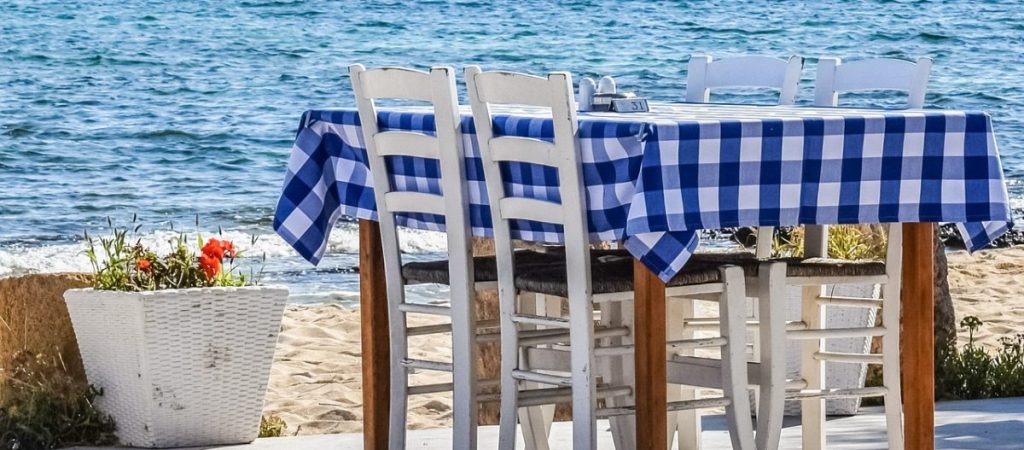 It's almost impossible to explain how good Peskesi's slow-cooked Cretan dishes are, or how this Venetian villa's beauty will consume you is. This eatery is Crete's finest culinary eatery, with nearly everything organic and from the restaurant's own farm. Additionally, the all-Cretan wine list is top-notch as well. Because of the popularity of this place, it's suggested to book well in advance.
Even though this cafe is barely visible from the street, it offers a dinner-only menu that is filled nightly to create culinary creations. Guests can chat over a romantic meal in the delightful lemon-fragrant garden courtyard.
Theodosi restaurant serves Greek and creative Cretan cuisine prepared from fresh local products, complemented by a fine selection of wine. Additionally, their outdoor patio offers spectacular sea and city views while savoring imaginative drinks and desserts from around the globe.
The aim of this restaurant is to provide simple, tasty food at affordable prices in a relaxed atmosphere. Talos is only open from mid-April till the end of October
Ta Karamanlidika tou Fani brings the traditional tastes of Byzantium & Cappadocia right to your table. At Fromagerie you may also choose to eat from our carefully selected collection of aged greek cheese. The menu includes aperitifs, salads, cheese or ham varieties, cold and hot dishes, and dessert, all accompanied by a selection of distilled beverages and wines of local grape varieties.
How to Stay Safe in Greece
Greece is very safe for backpacking and solo travel, with violent attacks on tourists being uncommon. Petty crime is about the worst thing that you could run into while traveling here. It's always suggested to be aware of your surroundings when you're in markets, on busy streets, in tourist areas, or when using the metro.
It's almost important to note that while Greece is often in the news for political turmoil, protests and riots, visitors should have no fear. All that's happening is far away from any tourist area and confined to Athens.
It's recommended to make a few copies of your personal documents, including your passport and ID. Also, if you have the chance to purchase travel insurance, you should do so. Most travel insurance providers will protect you against illness, injury, theft, and some last-minute cancellations.
Our articles may contain affiliate links. We may get paid a small commission when you use our links with no additional cost of your part! See our Privacy Policy page for more details.