The Dominican Republic is the most visited tourist destination in the Caribbean and is said to be one of the friendliest islands in the Caribbean. The distinctly Latin vibe is laid-back, with nightlife supercharged. In recent years, this country has had to grow up, with all its all-inclusive resorts becoming more upscale, along with small boutique properties opening in all of the most popular tourist areas.
The Dominican Republic flourishes wilderness, tropical rain forests, and swamps, all while cultivating savannas, vast desert expanses, and everything in between. The Caribbean sun always shines over this exotic land, with average temperatures reaching 82°F year-round.
The opportunities for ecotourism and adventure travel are tremendous. You are able to scale a 150 m waterfall on a rope, then mountain bike along remote dirt tracks one day, and the next ride the top windsurfing waves in the hemisphere and trek to the top of a 3000 m mountain before heading out in a fishing boat see the humpback whales swimming about in the bay of Samaná.
Fashionable restaurants, art galleries, boutique hotels, and late-night clubs help make Santo Domingo, the countries capital, a lively vacation destination. Most Dominican towns and cities are neither quaint nor pretty, and poverty still prevails, however, the standard of living has risen along with the increase of North American tourism.
The energetic lifestyle of this sunny Latin-Caribbean country makes the Dominican Republic a perfect combination of an active and relaxing trip, which is what this travel guide will show you. 
Language
The main language is Spanish with some English spoken.
Currency
The Dominican peso is the main currency here, but the U.S. dollar also widely accepted in tourist areas.
Climate and Recommended Time to Visit
The climate in the Dominican Republic is regularly warm with tropical temperatures lasting all year round, which can wavier from region to region.
When pondering the best time to visit the Dominican Republic, it's worth remembering that there are two distinct tourist high seasons the summer months and the winter months. July and August are the months when travelers from the northern hemisphere flock to the resorts and beaches. In December and late February, the Dominican climate is at its best because it will have cooled down a little from the summer, making it an ideal travel time.
Keep in mind that the Dominican Republic is in the center of the Caribbean hurricane belt, and will be hit with major storms every season, making August and September slower months.
Top Attractions and Must-See Sights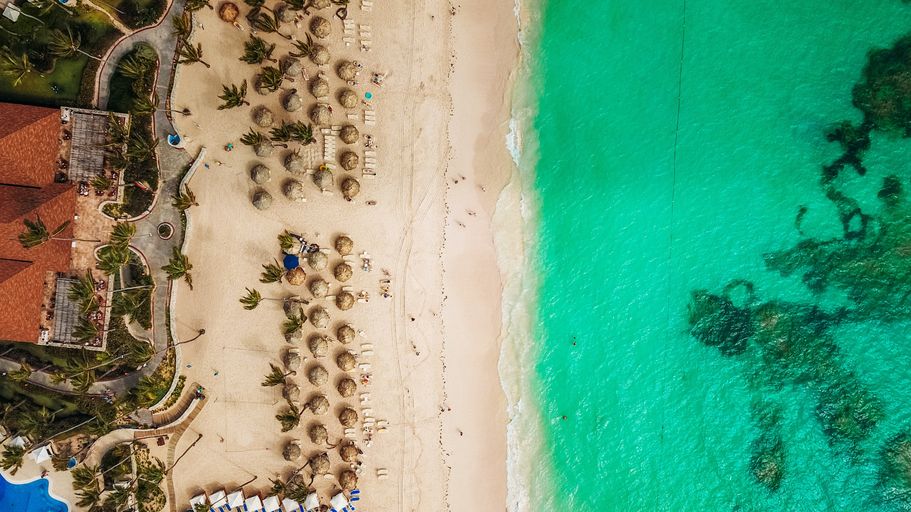 Columbus Lighthouse
This enormous cross-shaped monument that celebrates Christopher Columbus, is located on the south coast and was built to commemorate the 500th anniversary of this countries discovery. Many nights, it projects a cross-shaped beam of light into the sky, which can be seen from neighboring Puerto Rico. Today, travlers can visit the 'lighthouse', which now doubles as a museum, with exhibits that include a sarcophagus, supposedly containing Columbus' remains.
Columbus junior's family home
Santo Domingo's Zona Colonial is a World Heritage Site that allows travelers to explore some of the most historic buildings in the Americas. This family home was completed in 1514, with the  Alcazar de Colón being the palatial residence of Diego Columbus. The cathedral is known as Christopher Columbus' resting place with a standing bronze statue outside, with the explorer overlooking Plaza de Colon.
Puerto Plata
This historical city to the north of the Dominican Republic has an Old Town that is centered around Fortaleza San Felipe. This monument was constructed by the Spanish for both a defensive outpost and to keep captured smugglers. Additionally, the nearby beaches are magnificent, particularly Sosua and Cabarete. The big surf and powerful breezes here create some of the world's best windsurfing and kite-boarding conditions.
Join the Carnival
The city of La Vega explodes to life every Sunday in February for its annual carnival, El Carnaval de la Vega. This pre-Lent festival has parades that feature costumed characters and a limping devil, called Diablo Cojuelo. Although this city is known for its carnival, there are other cities that host unique parades.
Meet the Tainos
The Museum of Dominican Man called the Museo del Hombre Dominicano, is Santo Domingo's top museum, fully devoted to the country's anthropology. Its sculptures and artifacts contribute a fascinating insight into the Tainos, who were the island's earliest settlers. You can also see colorful carnival costumes and masks here along with exhibits of the Voodoo cult religion, which was once dominating the Caribbean.
Lago Enriquillo
A saltwater lake that is the size of Manhattan and populated by crocodiles, rhinoceros, iguanas, and thousands of colorful tropical birds, is called Lago Enriquillo. This lake is located near the Haitian border and is the largest lake in the Caribbean. Here you can go on boat trips to explore. Its flora and fauna are protected within a combined national park called the Jaragua-Bahoruco-Enriquillo Biosphere Reserve.
Waters have receded here throughout the recent years, revealing an eerily picturesque sunken forest. Around the lake, colonies of seemingly menacing Ricord and rhinoceros iguanas can be found.
Mount Isabela de Torres
Close to Puerto Plata on the north coast, Mount Isabela de Torres presents impressive views of the ocean and surrounding national parks. If you are feeling adventurous you can climb to the top in a few hours, or chose to take the cable car will carry you up in minutes. This cable car operates  from Monday to Saturday and is cheap to try out.
Playa Rincón
Consistently rated as one of the top beaches in the Caribbean, this 3 k stretch of coast at Rincon is large enough for every day-tripper to claim their own piece of real estate. A compact palm forest provides the best backdrop with fresh seafood available upon request.
Santo Domingo's Zona Colonial
With its cobblestone streets and beautifully restored mansions, churches and forts, it's easy to visualize the landmark quarter in Santo Domingo during Spain's 16th-century empire. Here, you will find the past and present coexisting gracefully, all while following in the footsteps of pirates and conquistadors.
Bahía de Las Águilas
The remoteness and isolation that this country's most beautiful beach deals with, only adds flavor and spice to the ultimate adventure it takes to get here. At the Bahía de Las Águilas, you will find a stunning 10km-long stretch of postcard-perfect sand that hugs Haiti.
27 Waterfalls of Damajagua
Only a short drive from Puerto Plata is the lush forests that lead to these incredible falls. Experience this spectacular series of waterfalls, which involves wading through clear pools, swimming inside narrow, smooth-walled canyons, hiking through dripping tropical forest, and climbing rocks, ropes, and ladders in order to see it for yourselves.
Las Galeras
This quiet fishing village of Las Galeras, located in the eastern end of the Península de Samaná, is an escape from your ordinary vacation. Fewer tourists and less development mean that the area around here includes some of the more scenic places in this country. Swinging palm trees beaches offer travlers crashing waves and astounding views from many elevated dining and sleeping options. Not only do these options take in the sea views, but also overlook the surrounding areas of jungle, mountain, and sea.
Kitesurfing in Cabarete & Beyond
With a year-round strong offshore breeze, Cabarete is one of the top capitals for kitesurfing. Here you can harness the wind's power to propel you over the rough waves of the Atlantic is an experience you won't forget.
Whale-Watching
Every year, thousands of humpback whales converge in the waters of the Península de Samaná to mate and give birth, viewed from a respectful distance by boatloads of human faces. Be sure to get a front-row seat to this spectacle, which includes mothers and their babies trying out their fins for the first time. These sites can be seen from mid-January to mid-March.
Mountain Vistas in Constanza
The scenery found in the central highlands of the Dominican is a surprise to most. WIth cloud-covered peaks and vast forest regions rising from the valley floor are not often connected with Caribbean islands.
Mountain Biking the Dominican Alps
Hardcore cyclists rave about the rough trails that the Dominican Republic's central highlands offer. By freestyling your way down rocky paths, or cycling through alpine meadows and coursing streams, is an adventurer's paradise. Of course, less strenuous rides are offered too.
Air
British Airways is a provider that operates direct flights from Gatwick to Punta Cana all year round, with loads of non-stop flights from the USA by popular carriers like American Airlines, Delta, JetBlue and United. Visitors are commonly advised to arrange airport transportation prior to traveling.
The main domestic carriers that can be taken around the country include Aerolíneas MAS, SAP Group, Air Century, and TAS Jet. For those with money to spend but a limited amount of time, flights between Punta Cana and Arroyo Barril in Samaná can be beneficial.
Train
The cross-country rail network is mainly used for freight, but in cities like Santo Domingo, quality metro services are offered. For Santo Domingo metro systems, you can purchase a single-charge card or a rechargeable card and ride the routes as often as you'd like.
Bus
This country has a great bus system similar to Greyhound in the US, offering frequent service throughout the country. Many of the larger city buses are imported from Brazil and are the kind where you board in the back and pay upfront when getting off. Other city buses are more or less like guaguas, which are busses where you board quickly and pay the attendant when they come around.
There are several privately-owned bus companies that run coach services between major destinations. Popular companies include Metro Bus and Caribe Tours, and do not require reservations.
First-Class Bus Carriers
Capital Coach Line – This service offers daily bus routes to and from Port-au-Prince, Haiti, on comfortable and air-conditioned buses.
Caribe Tours – This is one of the country's two main bus companies, which has the most departures while covering the most destinations.
Expreso Bávaro – This company can handles trips between Santo Domingo and the Punta Cana area.
Car
Though the DR's bus and guagua system are two excellent means of transportation, having your own car is faster and more convenient. Even if renting a car isn't in your budget for the entire trip, its smart to consider renting one for a select couple of days in order to reach sights that are isolated.
For travelers from most countries, your home country driver's license will enable you to drive in the country.  If you do choose to rent a car, it's worth buying a good map of the area you'll be driving in.
If you are renting a car at major international airports, as well as in Santo Domingo, then expect to pay more than other cities. For many companies, their online rates are much less than those of local or national agencies. Rates typically cost around US$20, for a standard car, and up to US$120, for a 4WD per day.
Taxi & Ridesharing
Dominican taxis rarely drive around looking for passengers, and instead, wait at designated stops. These stops are commonly located at hotels, bus terminals, and tourist areas. Here, taxis do not have meters, and you must agree on a price beforehand.
Uber is available in Santo Domingo, Puerto Plata, and Santiago, working the same as it does elsewhere with rates cheaper than most taxis.
Boat
A scheduled passenger ferry service is available between Samaná and Sabana de la Mar, but it is subject to weather conditions. With these ferries, departures are frequently canceled. Keep in mind that there is no car ferry service offered here, so if you happen to arrive in Sabana de la Mar with a rental vehicle, you will have to leave it behind or return the same route you arrived.
Best Hotels In The Dominican Republic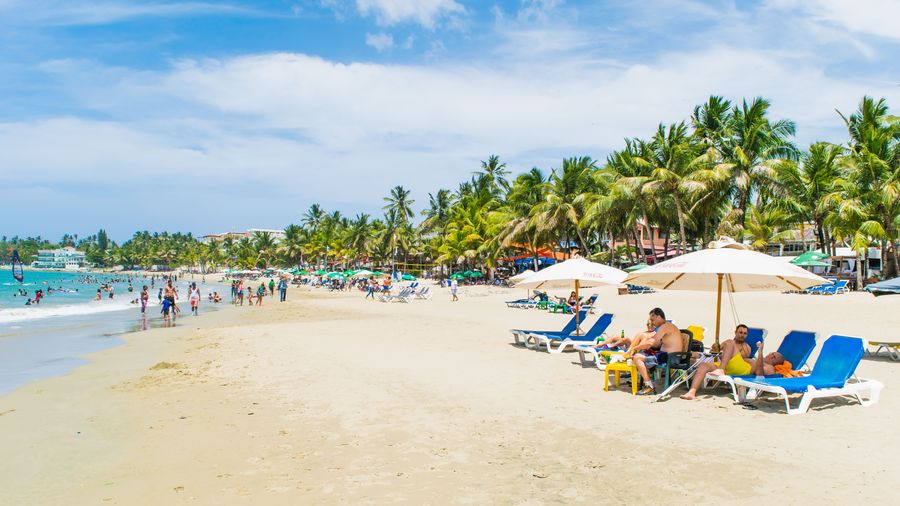 This hotel allows you to stay in the Dominican Republics' vibrant capital of Santo Domingo. Packed with historic sites, restaurants, and galleries for guests too, this city's charming colonial hotel provides four accommodation options.
Equipped with a marina, polo facilities, three-time championship golf courses, high-end shops, an equestrian center, shooting range, and big-name entertainment venues, this 7,000-acre island complex is a destination in itself. Here you can settle into one of the hotel rooms or villas, before getting out and exploring.
With 60 sumptuous accommodations varying from lavish boutique villas to elegantly designed Beachfront suites, these villa rooms that offer complete privacy for all guests. Eden Roc at Cap Cana is a unique and isolated property snuggled in the exclusive, beachfront community of Cap Cana.
A pleasant, luxurious and quiet vacation awaits you if you stay at this hotel, located on Bávaro Beach. If you wish for a unique experience, this hotel is an ideal refuge. Offering exclusive services and activities for the whole family, you can enjoy all this country has to offer.
Tortuga Bay offers luxury, flawless service, and charming villas with interiors designed by the world-famous Oscar de la Renta. The VIP Services that guests will find at this hotel can whisk anyone away.
Located in a private enclave inside this resort, is this hotel that has 13 luxurious villas granting unrivaled luxury, privacy, security, and five-star service. Guests can choose from a variety of various accommodations including 1 bedroom junior suites, 2 bedroom suites, 3 or 4 bedroom villas, all situated along pristine white-sand beaches.
Best Restaurants In The Dominican Republic
Filigrana is a restaurant of grilled Mediterranean gastronomy with a fusion of local flavors, all while offering an exquisite menu. Here, the foods can please the most demanding of palates with quality and native products.
Martin Berasategui is said to be one of the best chefs in the world and the winner of 10 Michelin stars. Here, you can enjoy an extensive experience with masterful techniques, with cuisine options that combine creativity and originality, and tradition.
Crossing over a fish pond, you will realize that you have reached Jellyfish. With its distinctive architecture and long track record of providing good service, Jellyfish is a lovely beach club, that is filled with natural materials of wood, stone, and palm. This restaurant also includes a lounge with a panoramic view of the entire beach.
How to Stay Safe in The Dominican Republic
Millions of Americans travel to the Dominican Republic each year without having problems, however, crime remains a serious problem in this country. Of course, violent crime only rarely touches visitors, and property crime is much more common, with tourists being specifically targeted.
Honestly, the overall threat of crime in the Dominican Republic is high, and although security tends to be more meticulous in tourist areas, you should never let your guard down. The top five most brutal cities in the Dominican Republic include Samana, which is very popular with tourists, and La Romana, which has a high rate of all-inclusive resorts.
In public parks or areas that are isolated at night, such as Parque Mirador del Sur and areas surrounding Santo Domingo's National District, such as Santo Domingo Oeste, Este, and Norte, it is best to avoid walking. Also, note to be alert in some areas within the National District, including East Maximo Gomez Avenue, Simon Bolivar, Luperon, Espaillat, and Capotillo; South Mirador del Sur Park, West Luperon Avenue, George Washington Avenue, Paseo Presidente Billini, and Puerto Avenue.
If confronted by a criminal with a weapon, just hand over your valuables because items can always be replaced, but your life cannot. If you need help from the authorities, it's good to know that police response to crime may be slow, In many cases, misconduct from officials still remains a problem within the national police force.
Our articles may contain affiliate links. We may get paid a small commission when you use our links with no additional cost of your part! See our Privacy Policy page for more details.