With sand-covered tombs, austere pyramids and towering Pharaonic temples, Egypt brings out the explorer in all of us. Egypt welcomes you with its mighty Nile and magnificent monuments, the beguiling desert and lush delta, and with its long past and welcoming, story-loving people.
Egypt once ruled an empire from Al Qahira – Cairo, the City Victorious. The metropolis is packed with soaring minarets and medieval schools and mosques, some of the greatest architecture of medieval Islam. At the same time, Egypt's native Christians, the Copts, have carried on their traditions that in many respects – such as the church's liturgical language and the traditional calendar – link back to the time of the pharaohs.
Visit the Valley of the Kings in Luxor, where Tutankhamun's tomb was unearthed, and see the glittering finds in the Egyptian Museum in Cairo. Hop off a Nile boat to visit Dendera, or trek into the desert to find the traces of Roman trading outposts.
The old saying that Egypt is the gift of the Nile still rings true: without the river there would be no fertile land, no food and a lot less electricity. Although people's lives are increasingly physically detached from the water, the Nile still exerts a uniquely powerful role.
This Egypt travel guide will lead you through the ins and out of the country. From recommended activities to the best restaurants to the perfect hotel for your travel plan.
Language
The official language in Egypt is Arabic but many of the people and everyone in the touristic places speak at least decent English, enough to communicate.
Currency
The currency is the Egyptian pound (LE)
Climate and Recommended Time to Visit
Springtime in Egypt is one of the most popular times to visit. The weather is warmer but it's still quite pleasant. April and May are also considered to be the best months to enjoy the Red Sea for diving, swimming, and soaking up the Egyptian sun. However, there is a chance you will experience the Khamsin Wind – a minor yet hot sandstorm that sweeps through Egypt during April and May.
In April, Sham al Nessim, a Coptic festival, celebrates the arrival of spring. This occurs every year on Easter according to the Coptic calendar and is celebrated with picnics in parks and on riverbanks throughout Egypt.
In summer, temperatures reach an average of 95 degrees and are met with extremely intense humidity. If you're willing to face the heat, this is one of the best times to visit the country as many people choose to avoid it. If your hotel has air conditioning and a swimming pool or you fancy cruising up the Nile, you'll have a very enjoyable time.
Much like spring, fall in Egypt brings cooler temperatures and affordable prices. Though it's still warm out, the sea breeze picks up, making it much more bearable. The Mediterranean Sea is still warm yet uncrowded so beach conditions are ideal.
Winter is the peak season for tourism in Egypt. Because the weather has cooled, tourists flock to the ancient sites, making the lines longer and the hotel prices skyrocket. During Christmas and New Years, hotels and cruises raise their rates significantly and they book up far in advance so you'll want to plan accordingly.
Top Attractions and Must-See Sights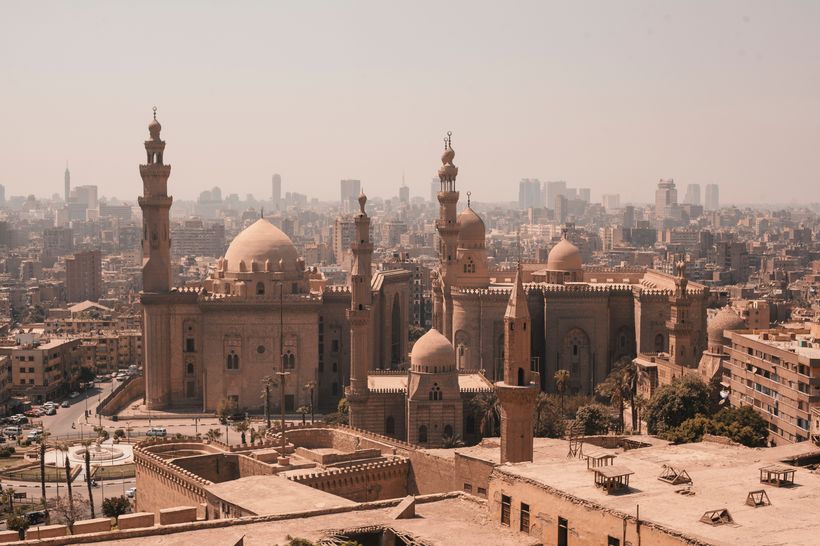 Pyramids of Giza
The Pyramids of Giza are at the top of most travel itineraries and for good reason. However familiar the image of the only surviving wonder of the ancient world, they remain both awesome to see and fascinating to visit. While archaeologists continue to debate exactly how and why the millions of blocks were hauled into place, visitors tend to marvel at the size of each block, only fully appreciated when you stand beside one. For a panoramic view of the three pyramids with all of Cairo as a background, head for the cliff beyond the third pyramid.
Luxor
Famed for the Valley of the Kings, Karnak Temple, and the Memorial Temple of Hatshepsut, the Nile-side town of Luxor in Upper Egypt has a glut of tourist attractions. This is ancient Thebes, power base of the New Kingdom pharaohs, and home to more sights than most can see on one visit.
With the greatest concentration of ancient monuments in Egypt, you could spend weeks visiting Luxor, although most visitors stay for only a day or two. However long you have, be sure to walk through the columned halls of the great temple complexes of Luxor and Karnak on the east bank of the Nile, or climb into the tombs of pharaohs, queens, courtiers and workmen in the Theban hills on the west bank.
While the East Bank brims with vibrant souk action, the quieter West Bank is home to a bundle of tombs and temples that has been called the biggest open-air museum in the world.
You need only travel for a couple of hours into the desert, by 4WD, camel or foot, to be able to savor the simple beauty and sheer isolation of wildest Egypt. Highlights of an excursion into Egypt's Western Desert include camping under a star-studded sky among the surreal formations of the White Desert, heading into the mesmerizing dunes of the Great Sand Sea, and deep desert excursions, such as living out The English Patient fantasies at the remote Gilf Kebir.
Souqs
The incessant salesmanship of Egyptians makes more sense when you see it at work in one of the country's many souqs. Here vendors are set up cheek by jowl, all hawking their wares in their set district, cajoling and haggling. Visit a centuries-old souq such as Khan Al Khalili first, and you will see its pattern at work everywhere, even in ad hoc modern markets set up near the main tourist sights.
Red Sea Diving
Egypt's Red Sea coastlines are the doorstep to a wonderland that hides below the surface. Whether you're a seasoned diver or a first-timer, Egypt's underwater world of coral cliffs, colorful fish and spookily beautiful wrecks is just as staggeringly impressive as the sights above. Bring out your inner Jacques Cousteau by exploring the enigmatic wreck of WWII cargo ship The Thistlegorm, a fascinating museum spread across the sea bed. Even if diving isn't your thing, with a mask and snorkel it is still possible to see some of this beautiful underwater world.
Abu Simbel
Even in a country festooned with temples, Abu Simbel is something special. Ramses II built Abu Simbel a long way south of Aswan, along his furthest frontier and just beyond the Tropic of Cancer. But these two impressive temples are a marvel of modern engineering as well: in the 1960s they were relocated, block by block, to their current site to protect them from the flooding of Lake Nasser. To appreciate the isolation, spend the night at Abu Simbel, either on a boat on the lake or at Nubian cultural centre and ecolodge Eskaleh.
Siwa Oasis
This gorgeous little oasis, surrounded by date palm plantations and numerous fresh water springs, is one of the Western Desert's most picturesque spots. The grandest and most remote of Egypt's Western Desert oases, Siwa on the edge of the Great Sand Sea is not only where Alexander the Great came to consult the oracle of the gods, it is also the perfect place to hang out and relax after travelling along the Nile.
Cycle through huge palm groves, take a desert tour to hot and cold water springs and lakes, or slide down the inclines in the many dunes.
Cairo's Quiet Mosques
The tranquil, shady arcades of a medieval mosque are the perfect place to take a break from the modern world. Far from being austere places of worship, many mosques function as peaceful places in an increasingly noisy city as well as being prayer halls: many Cairenes drop in for a quiet chat or an afternoon nap. While some mosques bustle with theological students and others have become national monuments, the Mosque-Madrassa of Sultan Hassan is a medieval monument, working mosque and architectural wonder. Kick your shoes off, sit down and stay a while.
Alexandria
Flaunting the pedigree of Alexander the Great and powerful queen Cleopatra, Egypt's second-largest city is rich in history, both ancient and modern. The most European of Egypt's cities, Alexandria has a history that not many others can match.
Although today, there are few historic remnants of its illustrious past — feted in songs and books — this is a place made for aimless strolling along the seashore Corniche, café-hopping, and souk shopping.
Visit the Bibliotheca Alexandrina, the new incarnation of the ancient Great Library, or any number of great small museums around town. Walk the souqs of atmospheric Anfushi, the oldest part of the city, or hunt for dusty antiques in Attareen. Above all, be sure to stop on the corniche or head along the coast to feast on fresh seafood with a Mediterranean view.
Egyptian Museum
The scale of the Egyptian Museum is so overwhelming that, if you have the time, we recommend at least two visits. The vast rooms are packed to the rafters with some of the world's most fascinating treasures: glittering gold jewelry, King Tut's socks and mummies of the greatest pharaohs.
After taking in the highlights, go back a second time and wander through the less-visited rooms, looking for alabaster offering tables, life-size wood statues, scale models of armies, farms and ships, and even mummified pets – everything the ancients hoped would accompany them to the second life.
Islamic Cairo
Surrounding the market is a muddle of roads, home to some of the most beautiful preserved architecture of the old Islamic empires. The atmospheric, narrow lanes of the capital's Islamic Cairo district are crammed full of mosques, madrassas (Islamic schools of learning), and monuments dating from the Fatimid through to the Mameluke eras. This is where you'll find the labyrinth shopping souk of Khan el-Khalili, where coppersmiths and artisans still have their tiny workshops, and stalls are laden with ceramics, textiles, spice, and perfume.
White Desert
Egypt's most unique natural wonder is the White Desert, where surreally shaped chalk mountains have created what looks like a snowy wonderland in the middle of the arid sand. The landscapes here look like something out of a science fiction movie, with blindingly white boulders and iceberg-like pinnacles. For desert fans and adventurers, this is the ultimate playground, while anybody who's had their fill of temples and tombs will enjoy this spectacular natural scenery.
Air
In general, it's only worth flying if your time is very limited, or for the view – the Nile Valley and Sinai look amazing from the air. Although the trip from Aswan to Abu Simbel is easiest by plane. EgyptAir flies between Cairo and Alexandria, Mersa Matrouh, Port Said, Sharm el-Sheikh, Hurghada, Marsa Alam, Assyut, Sohag, Luxor, Aswan and Abu Simbel, as well as between Aswan and Luxor and between Aswan and Abu Simbel.
Fares rise as seats on the plane get booked up, so it's best to book early if possible. In winter season, it's wise to book at least a week ahead for flights between Cairo and Luxor, Aswan, Abu Simbel or Sharm. Always reconfirm 72 hours prior to the journey, as overbooking is commonplace.
Train
Covering a limited network of routes (Cairo to Alexandria, the Delta and the Canal Zone, along the coast to Mersa Matrouh and up the Nile Valley to Luxor and Aswan), Egypt's trains are best used for long hauls, when air-conditioned services offer a comfortable alternative to buses and taxis. For shorter journeys, trains are slower and less reliable.
Timetables are posted up in major stations, but in Arabic only. Schedules and fares for services between major stations are posted on the Egyptian Railways website (enr.gov.eg), where you can also buy tickets online. Schedules for sleeper services are available on the website of the company which operates them, Watania (wataniasleepingtrains.com).
From Cairo to Alexandria or Aswan, there are fast a/c trains, including sleepers (also called wagons-lits) and snail-like non-a/c local services. However, on the Cairo–Luxor/Aswan route, foreigners are only allowed to use four "tourist trains" (two of which are sleepers), whose compartments are guarded by gun-toting plainclothes cops.
Non-a/c trains comprise ordinary second class (daraga tania aadia) carriages, with padded bench seating, or third class (daraga talata), with wooden benches. Few foreigners use them, but on a few routes they are the only services available, and over short distances you might enjoy the disorder.
There is no advance booking for seats on these services and you needn't even queue for a ticket at the station – these can be bought on-board from the conductor, with just a small penalty fee added to the fare.
Bus
Egypt's three main bus companies, all based in Cairo, are: Upper Egypt Bus Company (Nile Valley, Fayoum, inner oases and the Red Sea Coast down to El-Quseir); East Delta Bus Company (Sinai and the Canal Zone); and West and Middle Delta Bus Company (Alexandria, Mersa Matrouh, Siwa and the Nile Delta). An independent firm, El Gouna, runs buses from Cairo to Hurghada and Sharm el-Sheikh.
Major routes are plied by a/c buses, usually new and fast. Local routes usually have cheaper non-a/c buses, generally old rattletraps. Superjet buses have a/c, toilets, videos and expensive snacks.
Car
Driving in Egypt is not for the faint-hearted or inexperienced motorist. Cities, highways, backroads and pistes each pose a challenge to drivers' skills and nerve. Pedestrians and carts seem blithely indifferent to heavy traffic. Though accidents are less frequent than you'd think, the crumpled wrecks alongside highways are a constant reminder of the hazards of motoring.
The minimum age for driving in Egypt is 25 years, the maximum is 70. Foreigners require an International Driving Licence.
Road signs are similar to those in Europe, but speed limits are usually posted in Arabic numerals.
Two beeps means "I'm alongside and about to overtake." A single long blast warns "I can't stop and I'm coming through!" Extending your hand, fingers raised and tips together, is the signal for "Watch out, don't pass now"; spreading your fingers and flipping them forwards indicates "Go ahead." Although the car in front usually has right of way, buses and trams always take precedence.
On country roads – including the two-lane east- and west-bank "highways" along the Nile Valley – trucks and cars routinely overtake in the face of incoming traffic. The passing car usually flashes its lights as a warning, but not always.
Police or military road checks – signposted in English as "Traffic Stations" – occur on the approach roads to towns and oases and along major trunk routes. Foreign motorists are usually waved through, but you might be asked to show your passport or driving licence.
Car Rental
Renting a car pays obvious dividends if you are pushed for time or plan to visit remote sites, but whether you'd want to drive yourself is another matter – it's not much more expensive to hire a car and driver. Branches of Misr Travel, and numerous local tour agencies, can fix you up with one, or you can charter a taxi.
A self-drive car can be rented through one of the international franchise chains, or a local firm. It's worth shopping around as rates and terms vary considerably. Most companies require a hefty deposit, and not all accept credit cards. You cannot bring a rented car across the border into Egypt.
Motorcycling could be a good way to travel around Egypt, but the red tape involved in bringing your own bike is diabolical (ask your national motoring organization and the Egyptian consulate for details). It's difficult to rent a machine except in Luxor or Hurghada. Bikers should be especially wary of potholes, sand and rocks, and other road-users.
Hitchhiking is largely confined to areas with minimal public transport, or trunk routes if passing service taxis or scheduled buses are full. You usually pay anyway, and foreigners who hitch where proper transport is available may inspire contempt rather than sympathy. Women should never hitch without a male companion.
Taxi & Ridesharing
Collective service taxis (known as servees) are one of the best features of Egyptian transport. They operate on a wide variety of routes, are generally quicker than buses and trains, and fares are very reasonable. On the downside, maniacal driving on congested roads calls for strong nerves; accidents are not uncommon.The taxis are usually big Peugeot saloons carrying seven passengers, or microbuses (meecros) seating a dozen.
Most business is along specific routes, with more or less nonstop departures throughout the day on the main ones, while cross-desert traffic is restricted to early morning and late afternoon.
Show up at the terminal and ask for a servees to your destination, or listen for drivers shouting it out. As soon as the requisite number of people (or less, if you're willing to pay extra) are assembled, the taxi sets off.
Boat
The colonial tradition of Nile cruises has spawned an industry with over two hundred steamers. Most sail from Luxor to Aswan (or the other way), a three- to five-day trip, stopping at Esna, Edfu and Kom Ombo.
In Egypt you can arrange a trip on the spot from around $50–60 per day (all per person in a twin cabin). Prices escalate dramatically for a luxury cruise.
If possible, check the vessel first. Deluxe boats with swimming pools can be wonderful, but not all offer value for money. The best deals are available from local agents in Luxor and Aswan (or directly from the boats). Beware in particular of the overpriced trips sold by touts and some hotels in Cairo.
Feluccas, the lateen-sailed boats used on the Nile since antiquity, still serve as transport along many stretches. Favored by tourists for sunset cruises, they allow you to experience the changing moods of the Nile while lolling in blissful indolence.
Local ferries, generally battered, crowded and cheap, cross the Nile and Suez Canal at various points. There is also a sporadic and not very reliable boat service from Aswan to Wadi Halfa in Sudan.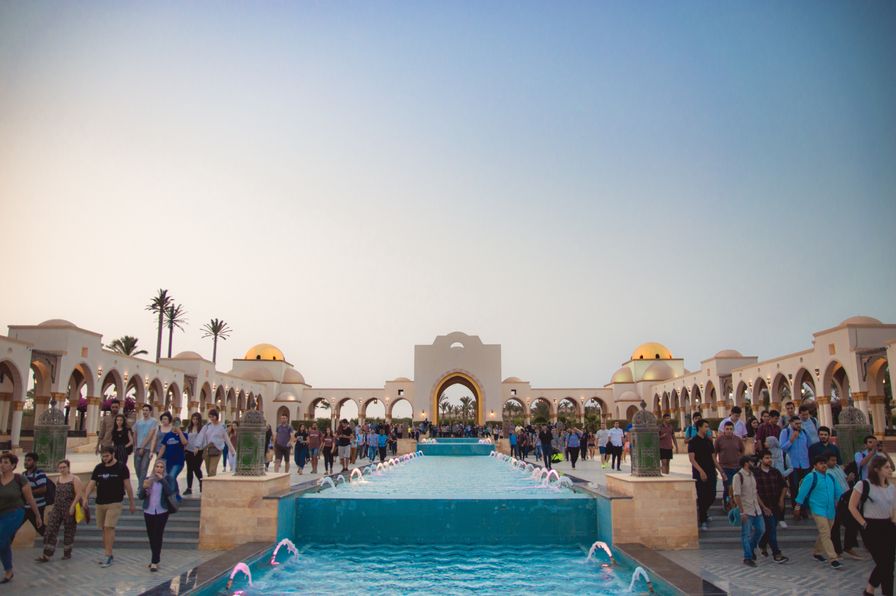 The contemporary peach façade of this luxury 5-star hotel in Luxor gleams against a backdrop of rare plants palms and fruit trees. Archaeologist Howard Carter, discoverer of Tutankhamens tomb wandered the same leafy paths. Beyond the jade-green waters of the Nile curve past Luxor and Karnak temples monuments to the ancient City of Thebes.
French luxury and local cuisine in the world's most exciting city. Discover the sumptuous history of a hotel that's hosted royalty and celebrities: the 5-star Sofitel Winter Palace Luxor! Built in 1886 on the banks of the Nile and surrounded by century-old Royal Gardens, the hotel overlooks the Nile and the West Bank Necropolis. It's an oasis of tranquillity – and a gateway to the splendours of pharaonic times.
Escape to the banks of the Nile at the exquisite Hilton Luxor Resort & Spa, just 10 minutes from Luxor town center. This stylish resort is the ideal base for exploring the region's historical attractions. Among the eight restaurants and bars at the resort, you'll find fragrant Arabian-style teas and Turkish coffees with waterfront views at Diwan Shisha Café.
Kempinski Hotel Soma Bay introduces luxurious European service with Egyptian hospitality at the premier holiday destination on Egypt's Red Sea coast. The hotel comprises 325 rooms, including 34 suites with luxurious interior design providing a remarkable dining experience in 6 food & beverage outlets with special culinary highlights. The Fitness Centre provides gym, Jacuzzi, sauna, steam room and 4 treatment rooms, where certain massages can be arranged through The Cascades Spa & Thalasso.
Steigenberger Alcazar is Steigenberger's latest venue in Nabq Bay less than ten-minutes from Sharm El-Sheikh International Airport. This impressive five-star resort enjoys 35,000 sqm of its own private beach with stunning underwater scenery at your fingertips. Nabq is an area of fascinating, almost stark beauty with contrasts between high mountains, deep valleys and the soft, velvet-like sands fringing the warm and wonderful Red Sea. Steigenberger Alcazar offers comfortable rooms and suites that were designed to create a total holiday experience that is second to none. Superior Rooms and Deluxe Family Rooms stand just off the beach while Villas and Junior Suites accommodate larger groups.
Best Restaurants In Egypt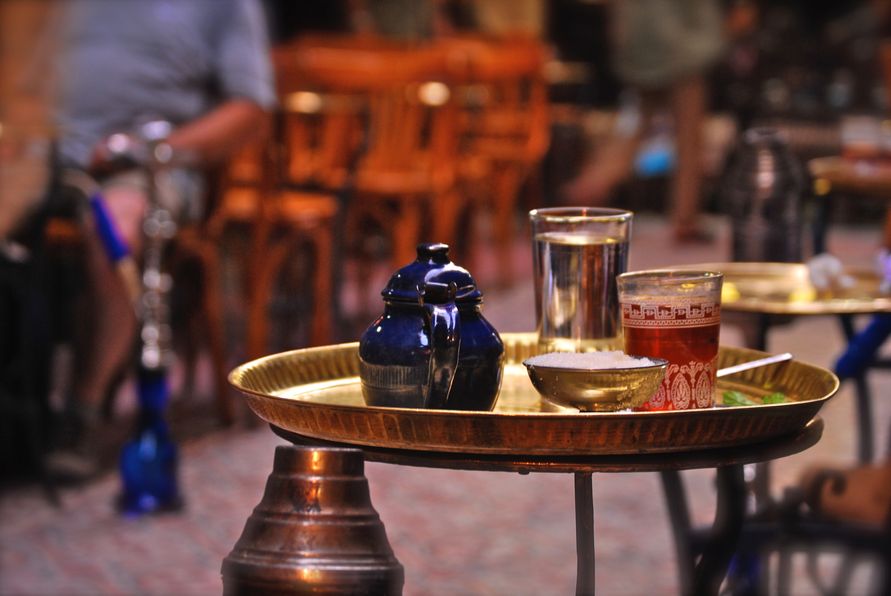 At the Blue Restaurant and Grill, you can savour delightful Italian dishes, featuring a variety of mouth-watering homemade pasta, risotto and antipasti.
The Blue Restaurant is a destination for modern Mediterranean and Italian cuisine in Garden City, Cairo. It offers authentically prepared dishes using only the finest imported meats, fresh seafood and other regional ingredients as you enjoy the ambiance of one of the city's most elegant dining venues.
The restaurant serves all-day à la carte dishes, including antipasti, pastas and contemporary main dishes.
Guests of Sachi can look forward to a distinctive and unforgettable dining experience that combines the signature atmosphere and ambiance of the restaurant with the exquisite and authentic flavors of Japanese and Mediterranean cuisine dishes. Guests are assured with a truly memorable experience with friends, family and loved ones. 
If you have never tried Lebanese food before you are in for an experience. There are few things that will make your mouth water such as grilled Lebanese meat will do, along with a fresh delicious salad. 
Embark on a journey to the past, and discover the flavours of the Ottoman Empire at Osmanly restaurant in Cairo. Serving traditional Turkish cuisine in Cairo, Osmanly restaurant, which offers an exquisite and varied menu seven days a week. Offered options for both lunch and dinner. Guests can dine like a Sultan and enjoy a truly unforgettable dining experience at Kempinski Nile Hotel Cairo.
Deciding on just one dish might be difficult, as there are so many delicious meals on the handcrafted menu. Guests will be delighted to hear that every piece of beef and lamb, prepared exclusively by the highly trained chef, has been individually inspected before reaching the grill, ensuring the quality of each piece of meat. 
How to Stay Safe in Egypt
Egypt is not a completely safe destination. You have to be careful and use your common sense.
Every time you enter a metro station / train station / any monument and tourist attraction you have to go through the security, similar to the one at the airport. It is annoying but after a day or two you will get used to it.
The most important piece of advice we can offer is to purchase good travel insurance. Travel insurance will protect you against illness, injury, theft, and cancellations. It's comprehensive protection in case anything goes wrong.
Our articles may contain affiliate links. We may get paid a small commission when you use our links with no additional cost of your part! See our Privacy Policy page for more details.