Cambodia is a popular stop along the Southeast Asia backpacking route. Traveling Cambodia will blow you away by how friendly the people are, how beautiful the country is, and how much there is to see and do there.
Cambodia is still trying to find its way after the horrifying genocide that was carried out by the Khmer Rouge regime (led by Pol Pot) between 1975 and 1979 when about 1.5-3 million Cambodian people were killed. It left a deep, deep wound on the country.
Despite having the eighth wonder of the world in its backyard, Cambodia's real treasure is its people. Here you'll find a place filled with some of the friendliest people you'll ever encounter, rich history, delicious food, beautiful coastlines, and a lively nightlife.
One of the most popular spots for travelers is the small town of Kampot, situated in southern Cambodia. The small sleepy town sits on the coast and is split by a river – so grab a kayak and explore! Known for pepper production, it's surrounded by vast landscapes and mountains. It's the perfect place to lay low for a few days!
Spend some extra time traveling through Cambodia exploring the temples, taking in the deserted, white sand beaches, the growing foodie and gastronomy scene, its complex history, lush jungles, and wonderful culture.
This guide to Cambodia travel guide can help you plan your trip and make sure you maximize your time there!
Language
Khmer is the official language of Cambodia.
Currency
The currency in Cambodia is the Cambodian Riel. However, the US Dollar is used as well.
Climate and Recommended Time to Visit
The best time to visit Cambodia is between November and April when temperatures are milder. It's the country's dry season, and you won't have to worry about rainstorms ruining any outdoor activities.
However, it's also peak tourist season in the country. There will be large crowds at top attractions like Angkor Wat and hotels raise their rates.
If you'd rather avoid peak tourist season, visit from May to the beginning of October. Although this overlaps with rainy season, generally that just means getting hit with brief heavy rainfall in the afternoons.
Top Attractions and Must-See Sights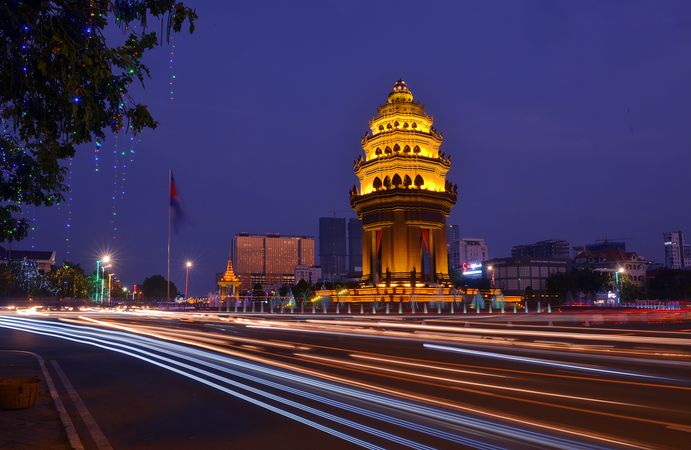 Ta Prohm
The so-called 'Tomb Raider Temple', Ta Prohm is cloaked in dappled shadow, its crumbling towers and walls locked in the slow muscular embrace of vast root systems. Undoubtedly the most atmospheric ruin at Angkor, Ta Prohm should be high on the hit list of every visitor. Its appeal lies in the fact that, unlike the other monuments of Angkor, it has been swallowed by the jungle, and looks very much the way most of the monuments of Angkor appeared when European explorers first stumbled upon them.
Prasat Preah Vihear
The most dramatically situated of all Angkorian monuments, Prasat Preah Vihear sprawls along a clifftop near the Thai border, with breathtaking views of lowland Cambodia 550m below. An important place of pilgrimage for millennia, the temple was built by a succession of seven Khmer monarchs, beginning with Yasovarman I (r 889–910) and ending with Suryavarman II (r 1112–52).
Like other temple-mountains from this period, it was designed to represent Mt Meru and dedicated to the Hindu deity Shiva. This breathtaking mountain temple is the source of conflict with its neighbor Thailand, who also claims this place as its own. The trip here is not easy but nothing worth going to.
Keo Seima Wildlife Sanctuary
The 3000-sq-km Keo Seima (formerly called Seima Protected Forest) hosts the country's greatest treasure trove of mammalian wildlife. The Wildlife Conservation Society (WCS) helps to manage the forest, and there are a range of ecotourism initiatives under way, including primate spotting in Andong Kroloeng.
Besides unprecedented numbers of black-shanked doucs and southern yellow-cheeked crested gibbons, an estimated 115 wild elephants – accounting for around a quarter of Cambodia's total population – roam the park, along with bears and cats.
Tuol Sleng Genocide Museum
In 1975, Tuol Svay Prey High School was taken over by Pol Pot's security forces and turned into a prison known as Security Prison 21 (S-21); it soon became the largest center of detention and torture in the country. S-21 has been turned into the Tuol Sleng museum, which serves as a testament to the crimes of the Khmer Rouge.
Prek Toal Bird Sanctuary
Prek Toal is one of three biospheres on the Tonlé Sap lake and this stunning bird sanctuary makes it the most worthwhile and straightforward of the three to visit. It's an ornithologist's fantasy, with a significant number of rare breeds gathered in one small area, including the huge lesser and greater adjutant storks, the milky stork and the spot-billed pelican.
Preah Khan of Kompong Svay
For tantalizing lost-world ambience, this remote temple complex about 90km south of Preah Vihear City is wrapped by vines and trees, and thanks to its back-of-beyond location, the site is astonishingly peaceful. You'll very likely be the only visitor, although you'll need private transport to get here.
Sihanoukville
White sand beaches, nearby deserted islands, great diving, seafood, and a heavy nightlife filled with cheap booze make this spot a favorite among travelers. It's not a quiet place to hang out, but it's a good place to drink or use as a base to visit the nearby islands, which are quiet and serene.
The Killing Fields
You can't mention Cambodia without people drawing a connection to the country's bloody genocidal past. Although a visit to the Killing Fields, located 10 miles from Phnom Penh, may not be the most cheerful way to spend an afternoon, it makes for a hallowing and memorable experience, a testament to the dangers of uncontested power.
Kep
This quaint beach town is the quiet version of Sihanoukville. It's a nice place to relax near the ocean without the party atmosphere that is Sihanoukville. This town is famous for its pepper crab and empty beaches. It's quite sleepy and there's not a lot to do here, so it also makes for a good day trip if you don't like the idea of chilling out for a few days.
Kampot
Outside the city of Kampot and on the way to Kep are vast pepper fields. This southern region of Cambodia is filled with pepper farms where you can learn about the history of the spice, see how it is grown, and pick up what is considered some of the finest pepper in the world. Tours are usually free, though you need to arrange transportation.
Most people come here to enjoy the scenic riverside views, as well as the rolling hills that surround the city. Since you can explore easily enough on foot or by bicycle, Kampot is a great place to slow down and relax.
Air
Domestic flights offer a great way to avoid Cambodia's often miserable roads. Cambodia's three functioning airports are all well connected to each other these days. With the exception of the Phnom Penh–Sihanoukville route, flights are very cheap. Airlines tend to come and go, with most of the newer ones existing to serve the booming Chinese market.
Phnom Penh International Airport – The airport is 7km west of central Phnom Penh. Official taxis/tuk tuks to anywhere in the city cost US$12/9 (30 minutes to one hour). The fare on ride-hailing apps is about half that
Siem Reap International Airport – The airport is 7km from the town center; taxis/tuk tuks cost US$9/7 (15 to 30 minutes), or about half that with a ride-hailing app.
Many hotels and guesthouses offer free airport pickup with advance bookings.
Train
Cambodia's rail system has been rehabilitated in recent years and limited passenger services resumed in 2016 through national carrier Royal Railways.
Currently there are two lines. The southern line links Phnom Penh with Sihanoukville via Kampot and Takeo, with departures on weekend mornings. The northern line – built before WWII and reopened in 2018 – runs from Phnom Penh to Poipet on the Thai border Friday and Sunday mornings via Pursat and Battambang.
Bus
The easiest and cheapest way to travel around Cambodia is by bus. A bus will take you everywhere and anywhere you want to go. The backpacker trail is so worn that there is a very well established tourist bus system to take you anywhere. Cambodia's bus network in particular has improved quite a bit in recent years.
The range of road transport is extensive. On sealed roads, the large air-conditioned buses and speedy express minivans are the most popular choices. Elsewhere in the country, a shared taxi or local minibus is the way to go.
All major cities are now well-linked by bus to Phnom Penh along sealed roads, but if you're traveling from one end of the country to the other you may have to change buses in Phnom Penh or another hub.
While it doesn't cover all bus companies, bookmebus is a reliable bus-ticket booking site, including for more obscure routes and cross-border trips.
Buses are reasonably safe but accidents can happen on Cambodia's dicey roads, and there have been several big accidents involving buses or express minivans where tourists were killed.
Car
Be extremely vigilant when traveling under your own steam and take care crossing the roads on the high-speed national highways. It's best not to travel on the roads at night due to a higher prevalence of accidents at this time. This especially applies to bikers, as several foreigners are killed each year in motorbike accidents.
According to official rules, to drive a car you need a Cambodian licence, but the law is seldom applied. Local travel agents and some motorbike renters can arrange a Cambodian licence in less than a week for around US$35.
When it comes to renting motorcycles, it's a case of no licence required. If you can drive the bike out of the shop, you can drive it anywhere, or so the logic goes.
Car and motorcycle rental are comparatively cheap in Cambodia and many visitors rent a car or bike for greater flexibility to visit out-of-the-way places and to stop when they choose. Almost all car rental in Cambodia includes a driver, although self-drive rentals are also available in Phnom Penh.
Some tourists with a healthy budget also arrange cars or 4WDs with drivers for touring the provinces. Hiring a car with a driver is about US$40 to US$50 for a day in and around Cambodia's towns. Heading into the provinces it rises to US$60 or more, plus petrol, depending on the destination. Hiring 4WDs will cost around US$60 to US$120 a day, depending on the model and the distance traveled.
Taxi & Ridesharing
Taxis and tuk-tuks are normally double to triple what the local transportation is and you often have to haggle for the price. They start really high and you work towards something you are willing to pay. Eventually, you come to a conclusion, which is usually about half the price they started with.
Taxi hire in towns and cities is getting easier, but there are still very few metered taxis, with just a handful of operators in Phnom Penh. Ride-hailing apps have entered the market. In the provinces they are generally used to hail tuk tuks but in the main cities can be used for small or large cars.
Shared taxis for long distance travel is a good idea if you have a group of 3-4 people, as you can buy spare seats to make the journey more comfortable. Double the price for the front seat and quadruple it for the entire back row.
It is important to remember that there are not necessarily fixed prices on every route, so you have to negotiate. For major destinations, they can be hired individually, or you can pay for a seat and wait for other passengers to turn up.
Boat
Cambodia's 1900km of navigable waterways are not as important as they once were for the average tourist, given major road improvements. North of Phnom Penh, the Mekong is easily navigable as far as Kratie, but there are no longer regular passenger services on these routes, as buses have taken all the business.
There are scenic boat services between Siem Reap and Battambang, and the Tonlé Sap lake is also navigable year-round, although only by smaller boats between March and July.
Traditionally the most popular boat services with foreigners are those that run between Phnom Penh and Siem Reap. The express services do the trip in as little as five hours. The first couple of hours out of Phnom Penh along the Tonlé Sap River are scenic, but it becomes less interesting when the river morphs into the Tonlé Sap lake, which is like a vast sea, offering little scenery. It's more popular (and much cheaper) to take a bus on the paved road instead.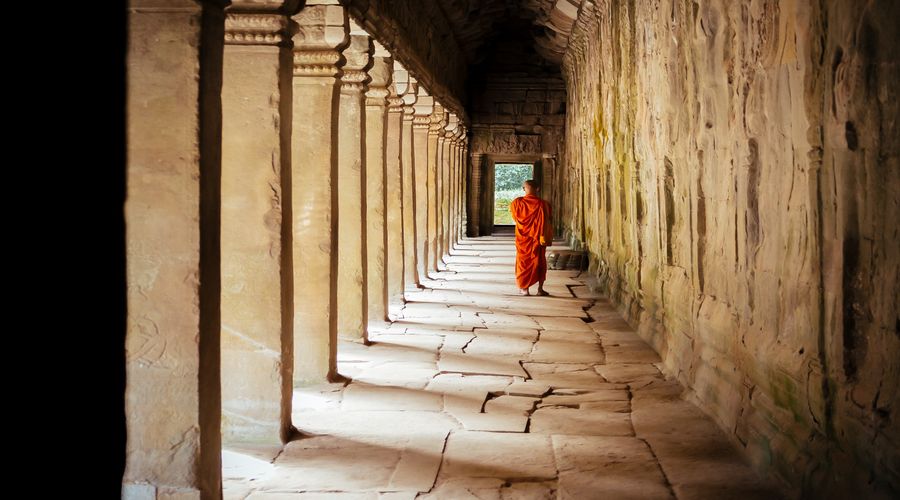 Inspired by Cambodia's tropical nature and New-Khmer architecture, an indoor oasis with breathtaking views over the historic quarter. Pagoda roofs and the Royal Palace's majestic trees create an aura of serene tranquility amidst the high-rises and traffic of the city. 
Experience a true Khmer hospitality, The Amazing Residence is your right choice, it is an upscale modern lifestyle with unique designed. This small luxury boutique hotel feature with a swimming pool, a Spa and an all-day-dining restaurant. The hotel is located in famous area of Siem Reap, old market, pub street and Angkor Night Market is just about 5 minutes by walk and Just only 10 minutes Tuk Tuk journey from the property to magnificent temples of Angkor Wat. 
The Palace Gate Hotel & Resort, a new luxury hotel situated in the heart of the thriving and lively capital city of the Kingdom of Wonder. Only 11.5 km from Phnom Penh International Airport, the hotel is located adjacent to the splendors of the Royal Palace and within a short walking distance of the bustling Riverside area of Sisowath Quay.
Palace Gate Hotel & Resort offers you luxurious accommodation in perhaps the city's most convenient location. 
The hotel is conveniently located in Siemreap center only 600 meters from center old market and 500 meters from night market, only from 15 minutes from Angkor Wat temple and 20 minutes from international airport. It has superbly 32 rooms wooden designed rooms in traditional Khmer modern with a swimming pool and one restaurant serving traditional Khmer and western cuisine "touch of class" and values. The roof bar offers a superb view of the Siem Reap city and the night view while you enjoy a drinks, snacks from our extensive drink list and menu.
A few steps from the Royal Palace and Wat Botum (Royal Pagoda), a collection of four period buildings, including what presumably was Queen Kossamak's private residence. There is a sense of timeless tranquility among exuberant flora. Two large swimming pools and private plunge pools contribute to the oasis feel of a place where each and every one of its accommodations keeps its own character and atmosphere.
Secondfold Residence is a 5-star, 18-room hotel situated in the heart of Siem Reap town, within a few minutes walking distance from all the attractions including the Siem Reap exhibition center, arts venues, a colorful array of nightlife, restaurants, bars markets and a vast choice of shopping outlets.
Best Restaurants In Cambodia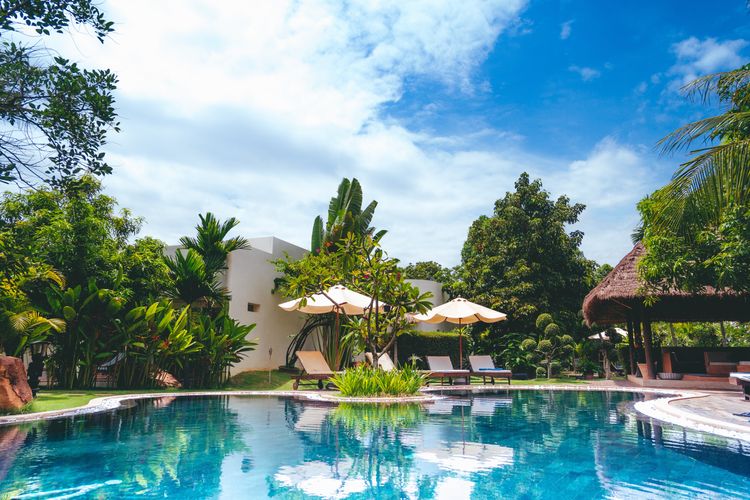 This vibrant bustling capital is situated at the confluence of three rivers, Mekong, Bassac and Tonle Sap. To get a glimpse of Cambodia's history visit the Royal Palace, the Silver Pagoda, the National Museum, the Genocide Museum, the Killing Fields, Independence monument and Wat Phnom. Meander through the central market, russian market, night market, olympic market and orussey market to get your hands on beautiful local carvings, paintings, silk, silver, gems and antiques.
Voted "best bar lounge" in Cambodia. WILD uses as much local products as they can, some directly from the garden, all juices are made daily from local fruits, and as much as possible organic. 
Previously well-known as Damnak Steakhouse, one of travellers' top ranked restaurant on TripAdvisor, Ox Club is a Mediterranean modern steakhouse situated in the elegant Art Deco dining room. 
If you appreciate the finest dining experience, look for nowhere but here at Damnak Lounge Fine Dining in the heart of Siem Reap.
Relax in a luxurious, air conditioned dining room or in the warm, open air terrace. The Damnak Lounge Fine Dining is the only Siem Reap's finest and classiest restaurant serving chef's tailor-made menu of sumptuous modern Khmer cuisine.
How to Stay Safe in Cambodia
Cambodia is an incredibly safe place to backpack and travel. Violent attacks are super rare. Petty theft is the most common type of crime here. There are some common scams around, like the motorbike scam where vendors try to charge you for damage to their bike, but for the most part, this is a safe place to travel.
People are nice and helpful and you're unlikely to get into trouble. The people who do tend to be involved with drinking or drugs or sex tourism.
A common scam in Cambodia is the tuk-tuk scam. You might occasionally meet a driver who works under commission for a particular restaurant, hotel, etc. You'll end up miles from your destination, or you'll be pressured to stay/spend money.
Another common scam is you might be approached by shady police officers, or fake police officers who will demand to see your passport. Chances are, you'll be asked to pay a fine to get it back.
Always trust your gut instinct. If a taxi driver seems shady, stop the cab and get out. If your hotel is seedier than you thought, get out of there. Make copies of your personal documents, including your passport and ID. Forward your itinerary along to loved ones so they'll know where you are.
The most important piece of advice we can offer you is to purchase good travel insurance. Travel insurance will protect you against illness, injury, theft, and cancellations. It's comprehensive protection in case anything goes wrong.
Our articles may contain affiliate links. We may get paid a small commission when you use our links with no additional cost of your part! See our Privacy Policy page for more details.