Summer is right around the corner, somewhere around the world, and for families thinking of where to plan their next getaway, there are plenty of destinations that won't break the bank. Picking the right location to travel to can make all the difference when it comes to saving money.
Families want to stretch their imaginations and share their passion for travel with their loved ones. They want family trips that don't break the bank but still offer enough activities and excitement to captivate children of all ages, and that includes parents who are still young at heart.
And while parents usually want the best family vacations to be the best vacations for kids, there are so many locations that are perfect for kids who want to run wild and parents looking to relax while they do it.
The best family vacation destinations have great free and cheap attractions, as well as properties that welcome kids with complimentary amenities, from unlimited water park access to mermaid lessons right on the beach.
Discover the most beautiful capitals like London, Madrid and Paris, as well as magnificent destinations to relax and have family walks in the Algarve, Costa Brava, Malta, where you can escape and dive into the blue waters. 
To help you find a destination that's fun for the grown ups as well as suitable for little ones we've put our expert travel heads together to collate a list of the top 32 places to go to with kids.
No matter whether you want a relaxing break or something a little more adventurous, there's somewhere for everyone in this list.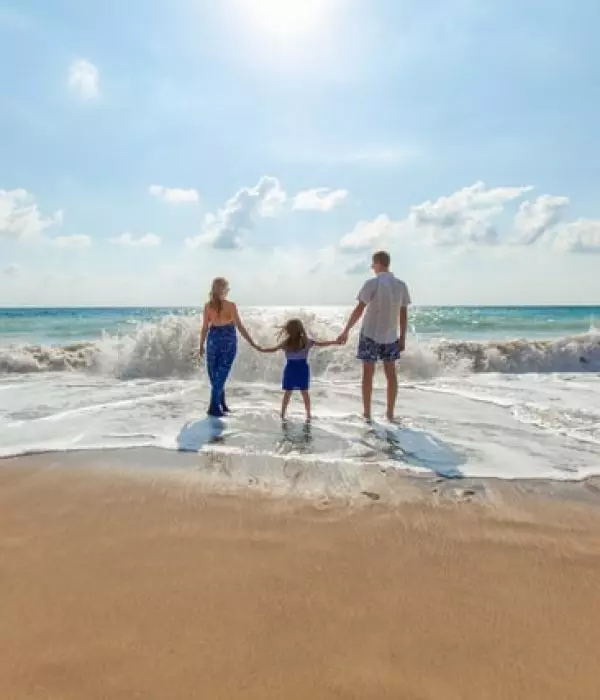 The Best 32 Family Vacation Destinations
Portugal
Lisbon, Portugal
Lisbon awarded Best European Destination a few years ago, is one of the most popular destinations in Europe. In Lisbon, families can enjoy a city and beach vacation in one. Discover the beauties and richness of Lisbon, one of the best destinations for a family holiday in Europe and visit the sumptuous castles of Sintra, explore the different neighborhoods, castles, and palaces, or hop onboard a funicular to climb the city's steep hills. The trams cost less than $4, giving you a cheap and scenic tour of the city.
Book your best family vacation accommodation in Lisbon.
Algarve, Portugal
The Algarve is a region that you should discover with your children who will love its golden beaches, its blue waters and the hidden beaches of Benagil caves.
Come and watch the dolphins in the Algarve, one of the best destinations for dolphin watching in Europe or enjoy a full-day Jeep safari tour in the Algarve or offer your family the Algarve coast.
Book your accommodation in Albufeira, Portimao, or Faro and enjoy a 5-star holiday tailored for young and old alike.
Vienna, Austria
Vienna is not only one of the most romantic European destinations, it is also one of the best destinations for Christmas in Europe and one of the best destinations for a family holiday in Europe.
The palaces of Vienna, such as the Schönbrunn Palace are must-visit places for you and your family. Let your children experience the Prater amusement park with its giant Ferris wheel, one of the symbols of Vienna, enjoy attractions like Madame Tussauds, and the world's oldest zoo, Tiergarten Schoenbrunn, which dates back to 1752. 
Book your accommodation in Vienna and discover the best destination for a family holiday in Europe.
The Domincan Republic
The Dominican Republic is an ideal beach getaway, with resorts and all-inclusive properties starting as cheap as $100 a night. Punta Cana is a popular destination for beach and golf lovers, and its airport is also the best connected in the Caribbean, with flights to and from over 20 countries.
Bali, Indonesia
Bali is a budget-friendly destination and Summer is one of the best times to visit, as it is in the island's dry season, which runs from April through October. If you visit during this time you'll avoid regular thunderstorms, and will be able to enjoy the beaches and outdoor activities like snorkeling, whitewater rafting, glass bottom boat rides, and rice paddy walks. The island is home to attractions like the Waterbom Bali water park, and some of the area's top family hotels.
Taipei, Taiwan
The city's numerous streets are attractions all on their own, from the restaurants and shops that line Yongkang Street to the night markets that provide an open-air buffet to explore. Yangmingshan National Park offers a relaxing escape to soak in natural hot springs. In Maokong, families heading to the Taipei Zoo can hop aboard a gondola ride from the zoo up into the hills to enjoy the gorgeous views.
Book your accommodation in Taipei for one of the best international family vacations.
Phuket, Thailand
Phuket, the biggest island in Thailand, offers tons of great beaches and prime snorkeling stops. Phuket is also home to attractions like the Anthem Wakepark, a cable wakeboarding water park. Family-friendly accommodations can be easily found for under $100 per night.
Romania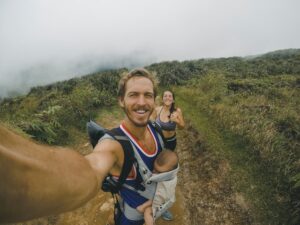 With its grim facade, turrets and ramparts, and precarious positios, Bran Castle is the quintessential vampire count's lair. The historical figure behind Romania's Dracula legend (Vlad Țepeş) is as terrifying as Bram Stoker's fiction: he wasn't known as "the Impaler" for nothing.
There are countless other atmospheric sites linked to the legend, not least Poenari Castle, where Vlad once lived, and the country's "cult of the dead" is never far from the surface.
For older children, Romania is a feast of freaky folklore. You can stay at one of the best hotels for families in Romania, Pensiunea Casa Doina, or find other accommodation options for European family vacations here.
Riviera Maya, Mexico
Why go? Snorkel in freshwater cenotes (natural pools), swim with manatees and climb ancient Mayan ruins all before the sun sets.
Float the underwater river at Xcaret Eco Theme Park and stay late for the musical show, "Xcaret Mexico Espectacular." Visit the Dolphin Discovery in Puertos Aventuras where the kids can splash and play with dolphins, manatees and even sea lions! Finally, explore the clifftop ruins in Tulum.
Where to stay? You can find an accommodation for any budget and luxury level you desire in Riviera Maya. Ffrom its impressive Barcelo Maya Grand Resort (five family-friendly hotels in one) to its more intimate Allegro Playacar where babysitting is always available to Allegro Cozumel which has a pirate-themed water park on site. You can find more information at VisitMexico.com
Disney World, Orlando, Florida
Disney is a fun family vacation destination for parents, maybe even more than it is for kids. You'll never forget the first time your princess-loving little girl catches her first glimpse of the real Ariel or Belle or watches fireworks explode over Cinderella's Castle. Check the Magic Kingdom classics off your list first. Then, head to Disney's Animal Kingdom.
A good choice for a place to stay at is Good times at Disney's properties – including Disney's Beach Club Villas. Or try the Renaissance Orlando at SeaWorld for rooms at half the price. More information can be found here: DisneyWorld.disney.go
London, UK
London is a multifaceted city. It seems to be made for shopping lovers, rock culture or underground but it is also one of the best destinations for families in Europe. Let your kids discover the beauty of Green Park and Hyde Park, Buckingham Palace, Legoland or a Warner Bros Studio tour in the footsteps of Harry Potter.
Why go to Buckingham Palace? When you tell kids a real queen lives here, their ears will perk up!
On your first full morning in London, check out the Changing of the Guard where the soldiers march out in their trademark red coats and fuzzy black hats. It starts at 11 a.m. (10 a.m. on Sundays) but get there at least a half-hour early so the little ones can see. If the royal flag is flying, the Queen is in residence. 
You can stay at The Rubens at The Palace which could be to London what the Plaza Hotel was for Eloise. The Nadler Victoria is just steps from Buckingham Palace. There is always something to discover in London. 
Spain
Spain's year-round mild climate makes it a fine beach destination and one of the best family vacation destinations out there.
A winter visit isn't as cold as the rest of Europe. There are plenty of science museums for kids to play in and beautiful sand beaches as well.
Tenerife, Canary Islands, Spain
This Canary Island is home to Europe's No. 1 water park, its most visited national park and world-class beaches featuring sand imported from the Sahara!
Head to Siam Park – voted the best water park in Europe. Ride the water slide that travels through a shark tank or relax at the world's biggest wave pool. Drive a rental car across the island to paddle board, kayak and snorkel with Teno Activo at Los Gigantes. Also check out Loro Parque – voted best zoo in the world by TripAdvisor – and visit the volcano in Teide National Park.
You can find great family hotels here and find more info at: WebTenerife.com
Costa Brava , Spain
The Costa Brava is European families' favorite destination spot. It is the perfect destination for families who wish to rest in the sun and have everything at hand: hotels, apartments, villas at affordable prices.
Book your accommodation at the Costa Brava as well as one of the best activities such as a Hot Air Balloon flight.
Madrid, Spain
Madrid, the capital of Spain is famous for its quality of life, its magnificent parks but also for its football team. Your children will love this incredible city!
There are hundreds of perfect activities for families in Madrid. Give your children an unforgettable moment with a visit of the Atlético de Madrid.
Discover fun family activities and book your accommodation in Madrid for a family holiday in the capital of Spain.
Barcelona, Spain
Barcelona is exceptional for families; visit the Sagrada Famillia or the Port Aventura theme park with transfer from Barcelona. Book your accommodation in one of the most beautiful cities in Spain.
Lucia, Lesser Antilles, Caribbean
This Caribbean Island has the world's only "drive-in" volcano. Rent a car, pack the kids, and head for the crater! After hiking around La Soufriere Volcano's hot springs, let the kids throw mud at each other in a mud bath. Kids can swim at Lover's Rock from "Pirates of the Caribbean."
Where to stay? Marigot Bay Resort and Marina has a kid's activity program, and a seven-night stay comes with four hours of free babysitting! Other kid-friendly hotels and attractions are widely available.
Granada, San Juan Del Sur, Leon, Corn Islands
Hailed as "the next Costa Rica," this Central American country is enjoying a transformation. Head to the Spanish colonial town of Granada on the shores of Lake Nicaragua – the 19th largest lake in the world and home to two island volcanoes you can hike. In Cerro Negro near Leon, kids can sandboard down the volcanic ash sides.
Morgan's Rock Hacienda and Ecolodge, with its private beach, private farm and resident monkeys and sloth, is one of the top places you can stay at with your family. Book your accommodation here or find more info here: VisitNicaragua.us
Costa Rica
La Fortuna/Arenal Volcano, Costa Rica
Just about every adventurous activity imaginable can be found in Costa Rica: kayaking, zip-lining and surfing, to name a few. Plus, there's the opportunity to see fascinating wildlife – monkeys, sloths, hundreds of bird species – right outside your door, making this one of the most exciting family trips.
Try the three-hour walk across hanging bridges high in the canopies, or glide 3,200 feet above the rainforest in the Sky Tram. Take a break from the hot Central American sun with a day pass to the water slides and pools at Baldi Hot Springs Hotel Resort & Spa.
In La Fortuna, at the foot of the Arenal Volcano, you'll find a variety of lodging options; many boast hot springs and natural pools on the property. Hotel Los Lagos offers villa rentals that can sleep up to nine and feature a full kitchen, dining room and volcano views. Arenal Kioro has spacious family suites with two queen beds and a daybed that can sleep a small child, as well as options for connecting or adjoining rooms and free cribs on request.
Nosara, Costa Rica
Surfers flock to the fantastically consistent waves of Playa Guiones, on the country's Pacific coast, but you don't need to be Laird Hamilton to experience Nosara's excellent surf. To make this the most exciting of fun family vacations, the gentle white water makes it ideal for beginner surfing.
Olas Verdes is the area's first LEED-certified hotel, and its location near Playa Guiones makes it ideal for beach-lovers. The flexible layout lets you connect suites, depending on your family's size. Two-bedroom units sleep up to seven, and rates include daily breakfast.
The Abacos, The Out Islands of the Bahamas
With 700-plus islands and more than 2,000 cays, the Out Islands of the Bahamas offers the whole brood a chance to experience the real Bahamian way of life in one of the best family vacations.
Abacos' offers endless water activities, including boating, snorkeling, swimming and paddleboarding in the clear, shallow waters. Island-hopping is a must: Green Turtle Cay offers plenty of shelling and a bit of history at the colonial settlement of New Plymouth, while the Sunday-afternoon pig roast at Nipper's Beach Bar & Grill in Guana Cay is a tradition – kids can build sandcastles and splash in the calm blue water while you wait. 
Abaco Beach Resort's "Bahama Buddies" program introduces younger visitors to local children and invites them to spend the day together, learning how to catch and cook fish, make island crafts and crack coconuts.
There's a variety of accommodations for all family sizes so you can find what suits your family best.
Un-Cruise Adventures
Not all family vacations need to be tropical. With its jaw-dropping landscapes (larger-than-life glaciers) and abundant sea and wildlife – humpback whales, sea lions and polar bears – Alaska is a must-see bucket-list destination for all ages.
The mix of family-friendly onboard activities will keep all generations entertained, and water- and land-based tours make exploring the Final Frontier a cinch.
On an eight-day trip with Un-Cruise, adventures include touching anemones in tide pools and looking at plankton kids have collected under the microscope. Movie nights and dance parties keep the group camaraderie going on board. Book the Inner Reaches Eastern Coves itinerary for access to harbor seals in Endicott Arm, humpbacks in Stephens Passage, and lessons in Tlingit and Haida culture.
Oahu, Hawaii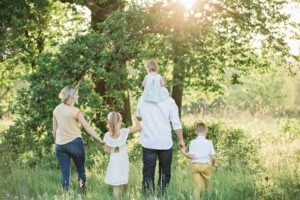 Nearly 3 million visitors come to Waikiki, Oahu's iconic resort area, each year as it boasts one of Hawaii's best beaches, with tons of watersports, dining and shopping options. Plus, attractions like a zoo and an aquarium promise the best vacations for kids.
The 22-acre Hilton Hawaiian Village Waikiki Beach Resort complex, set on the widest strip of beach in Waikiki, is a family-entertainment mecca. You can swim, surf, snorkel and paddleboard right from the hotel. Ideal for little ones is its beachfront lagoon, which lets them experience salt water without the big waves. Four nights of the week, the hotel stages Waikiki's only outdoor luau, with traditional food, Polynesian dancing and music, and fire dancers.
If you don't want to get wet while experiencing the ocean, descend 100 feet in an Atlantis Submarine to see reefs, sunken boats and planes, along with fish, sharks and turtles.
Disney Cruises
Obviously, the name says everything about these fun family vacations. Not only are you promised plenty of Disney-themed fun, you'll also never have to worry about your child's food allergies. You'll get a separate menu, plus the staff (often the chef) will stop by your table to explain how they can assist with any dietary needs.
Saint Lucia
Kids can learn patois, the local dialect in Saint Lucia, as part of the Kids Club offerings at St. James's Club Morgan Bay. Tots' yoga classes, cooking classes and mocktail lessons are here too, all aimed at giving kids a taste of the local culture for no extra fee, resulting in family vacations that will be difficult to top the following year.
Alaskan Dream Cruises
Children are always welcome on Alaskan Dream Cruises' smaller ships, but even more so on the Become a True Alaskan Family Cruise sailings (July and August). For ages 7 and up, the eight-day Alaska's Glacier Bay and Island Adventure trips feature an onboard youth-expedition leader who guides photo scavenger hunts, teaches navigation basics, and heads hiking and kayaking excursions. You'll sail on the 74-passenger Chichagof Dream, which offers convertible family cabins. Kids under 15 save 30 percent, which is always an added bonus for the best family vacations.
Greece
Athens , Greece
It is never too early to discover the roots of one's history and civilization. Come to Athens for a family holiday and alternate relaxing excursions like a full-day cruise to Hydra or a full-day trip to Meteora with cultural activities.
Visit the Acropolis and Parthenon. Stay in family hotels, guesthouses, villas, resorts or apartments, in Athens. Treat yourself to a dream holiday at the best price in family in Athens.
Corfu, Greece
Treat yourself to a piece of paradise for a family holiday and leave for the Greek island of Corfu. Corfu enjoys summer sunshine almost every day and quite pleasant temperatures around 30 degrees.
Offer your family an unforgettable holiday in Corfu by booking your stay from one of the best hotels, villas, apartments, guest houses in Corfu. Treat yourself to one of the best activities in Corfu  such as a private wine tasting excursion
Malta
Come discover the historical treasures of La Valletta and the wild nature of the island of Gozo or the beautiful town of Mellieha, crowned "European destination of excellence" by the European Commission for its commitment to sustainable tourism and ecology.
Offer your children an exceptional visit of Popeye village built for the musical "Popeye" tour in the 70s in Mellieha. Book your hotel or apartment for the best family vacation and get ready to fall in love with Malta.
Paris, France
France is well known for cultural attractions and museums. While there are certainly more attractions that appeal to adults, France is also well known for the Eiffel Tower – a huge hit for my kids, especially when it lights up at night.
Make a stop at Disneyland Paris. Disneyland Paris is smaller than the Disneyland theme park in California and Walt Disney World in Florida, but you can still experience the magic.
Each year hundreds of thousands of families stroll through the streets of Paris in family. This open-air museum is perfect for families. Your children will discover the statues of Rodin, the Mona Lisa, or Dadaism at the Georges Pompidou Museum, the gargoyles of Notre-Dame de Paris, the summit of the Eiffel Tower. 
Book your hotel in Paris as well as the best activities for your family.
Dalmatia, Croatia
Beautiful landscapes await you in one of the most beautiful regions of Croatia, Dalmatia.
Come discover Korcula, Trogir, Hvar, Pltivice Lakes, and Split. Dive into the blue waters of Croatia, discover its history, its gastronomy, its sumptuous landscapes. Book your hotel, apartment or villa and come to live an unforgettable holiday.
Rome ,Italy
You may have visited Rome before with friends or your beloved, but Rome in family is a fantastic experience. Your children will be amazed by the Colosseum or the genius inventions of Leonardo da Vinci.
The city, which was the capital of the world, marked the history of many countries.
Book your accommodation in Rome and your family activities in Rome to make the most of your holiday.
Vietnam
Vietnam is such a great country to visit with kids who love beaches, history and nature. If your children are adventurous and love history, then they'll enjoy visiting the Mekong Delta where they can take a canoe ride in a small Vietnamese village, learn about the Vietnam war and, most of all, play at the beach.
Canada
Canada is a family vacation destination best known for its hockey teams, natural landscapes and cold weather activities. Each province in Canada has its own unique sightseeing experience to offer, making a vacation to one of the Canadian provinces perfect for a family holiday.
Our favorite place to visit in Canada is Toronto. Head to Niagara Falls as you will love riding the Maid of the Mist under the gigantic waterfalls during the day. Book a hotel with a view of the falls so you can watch the falls light up in different colors after dark. 
Cuba
Beautiful beaches, amazing food and friendly people make Cuba one of the best family vacations and a very family friendly country to visit. You can fly to Cuba; however, you can't cruise to Cuba, which is OK because you need several days to really experience Cuba.
Go zip-lining, horseback riding, honey tasting and visit the caves while on a day trip to Viñales. Each of these activities is very kid friendly.
One of our favorite things about visiting Cuba was going to the beach. The beach was absolutely beautiful and the water was warm and perfect for swimming.
Japan
From the culture to the food, we found something for every family member to enjoy. You can fly into Nagoya and spend a few days there before heading to Tokyo.
In Nagoya, the kids will love visiting LEGOLAND and trying different types of noodles at each restaurant.
In Tokyo, the kids can enjoy visiting Shinjunku and Shibuya Crossing which is one of the busiest road crossings in the world. Also, visit Tokyo Disneyland, which you will all love as a family. Tokyo Disneyland has several snacks, like Mickey burgers.
Germany
The land of lederhosen and giant dumplings will satisfy your desire to experience a different culture with varying experiences. Sobering tours of Dachau and Buchenwald concentration camp (appropriate for older kids who understand the history here) create a life-changing attitude about the dignity of human beliefs, in contrast to major festival events such as Oktoberfest.
The posters you see of Germany are not Photoshopped. Chalets with geranium-filled flower boxes are everywhere, along with cafes with gingham tablecloths.
Large cities such as Munich and Hamburg offer first class museums and restaurants, while areas such as the Baden-Wurttemberg area offer cycling, hiking, castles and UNESCO World Heritage sites.
Germans emphasize outdoor activities ranging from skiing to simply walking to school rather than taking a bus. And let's not forget the apple strudel!
Switzerland
With its relatively small size and diverse experiences, Switzerland is one of our top choices for the best family vacations. If you're looking for a city escape, Zurich, Basel, Bern and Geneva are easy to navigate. You can also make trips to the lake (Lucerne, Interlaken) region or explore the Swiss Alps within a few hours from each of the cities.
Spending time in any region of Switzerland will be a good mix of slowing down and enjoying nature while experiencing luxuries such as chocolates, cheese and high-end designer shopping.
Landlocked and surrounded by five countries, a visit to Switzerland can easily include a day trip to another country. Traveling by train is the best way to experience the pristine beauty with sweeping views of pastoral villages.
Norway
Consistently ranked as one of the happiest places on earth, Norway is renowned for its majestic mountains, fabulous fjords and rugged beauty.
Norway has attracted adventure lovers for years. While the country's landscape is truly a treasure, the cities of Norway are equally intriguing.
Trondheim is the cultural center of the Trøndelag region. This picturesque city with its timber built fisherman warehouses of red, gold, brown and green flanking the sides of the Nidelva River is a fascinating contrast of old and new. Here you can climb the medieval steps to the top of the majestic Nidaros Cathedral or become a rock star for a day at Rockheim.