Whether you are looking for rich history, incredible architecture, outstanding food, local traditions, or stunning beaches, Portugal has it all. This country is truly a less known gem of Europe that features medieval castles, quaint villages, large captivating cities, and golden beaches. Traveling to Portugal will allow tourists to experience many things.
Portugal is a country blessed with magnificent sandy beaches, rugged coastlines, and architecturally-stunning cities, all topped off with incredible weather. By throwing in great food, lots of wine, and affordable prices, Portugal makes for a perfect holiday spot.
Lisbon has become a hub for digital nomads, expats, and retirees thanks to its low cost of living, but, in terms of the rest of the country, not much has changed since the old times. Portugal offers travelers with fewer crowds and a more local experience for all.
Below, you will find plenty of ideas regarding the best places to visit within this country, and the best regions of Portugal to explore.
Language
The most common language spoken here is Portuguese.
Currency
Portugal's currency is the Euro.
Climate and Recommended Time to Visit
The peak season in Portugal is July to August where accommodation prices increase 30% and big crowds flock to coastal resort areas. During this time, temperatures are around 92ºF (33ºC), which means the ocean temperature is warmer as well.
The most ideal time to tour Portugal is April to June and September to October. Lively festivals take place in June as well, with warmer weather during this time and not as many crowds, making these months ideal for hiking and outdoor activities.
December to March is considered the low season, with temperatures, dropping to 53 °F (17 °C) on average, which is still ideal. Additionally, during the winter months, the prices are low and the waves are high, which makes Portugal the perfect place for surfers to enjoy during the winter.
Top Attractions and Must-See Sights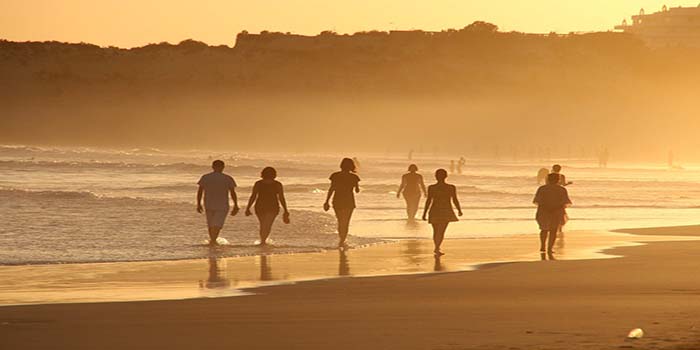 Be amazed by Lisbon
Lisbon, Portugal's capital, is the best starting point for your trip, and traveling here will instantly make you fall in love. This city is rich in nature and history, filled with beautiful and friendly locals. Lisbon offers travelers a perfect example of Portugal's culture, which makes it an ideal introduction to the country.
Here, you can take a trip to the Castle of St Jorge, explore the various churches, listen to the local music, taste the food, and enjoy your whole travel experience. You can also head to Rossio Square and take in the beauty of all its historical buildings and fountains while sipping on coffee from a local cafe.
Additionally, if you are visiting Lisbon, you should definitely make an effort to travel to Sintra. Sintra is loaded with palaces, wonderful views, and vast museum collections.
Journey to Evora
Evora is a small town that offers travelers an array of beautiful and historic buildings, with its most famous landmark being the Temple of Diana.
The Monuments in Braga
The attractive city of Braga can provide those who visit with many Baroque monuments, including one of the country's best-known sights, the Bom Jesus Sanctuary.
The Abbey of Santa Maria
The Abbey of Santa Maria is said to be one of Europe's largest buildings of the Cistercian order. Here, you can wander around the abbey at your leisure to find out more about the different parts of the building. It is equipped with five cloisters, seven dormitories, a library, and a huge kitchen. This church is free to enter but if you wish to go inside the monastery, it will cost around 6 EUR. This monastery is open daily 9 am-5 pm and in the winter, is open 30 minutes longer.
Aveiro
South of Porto, lying on what's known as the silver coast, is the town of Aveiro, which is a small university town. Aveiro has a historic center built on canals, which gave rise to the name "the Venice of Portugal."
Check out Faro
Faro is a popular origin for tours of the Algarve region, which is an area packed with exceptional beaches and seafood, always filled with plenty of tourists. Faro itself isn't known as a beach city but does have a lovely old town, making it a great place to spend a day before hitting the real resort areas.
Stand at the edge of Europe
Cape Sagres is the most southwestern point on the European continent and was home to where Henry the Navigator had his famous navigation school.
Visit Batalha
Batalha is one of Europe's greatest Gothic masterpieces where travelers can walk through the gigantic gothic doorway and view its interior, which features 16th-century stained-glass windows. The building also has seven chapels that are still unfinished.
Lagos
Lagos is the place visitors go to party rather than see its historic sites or relax in pretty gardens. Here, you can soak up the sun and then go out for dinner and a drink. During the summer months, Lagos is known to be one of Europe's premier party destinations.
Enjoy Porto
On the northern coast lies Porto, a city small in size, but packed full of character. Porto is one of Portugal's most picturesque cities that's all about getting lost and wandering the narrow alleyways and steep staircases.
Dao Valley
What would your trip to Portugal be without visiting a well-known vineyard? Portugal is home to some delicious wines all thanks to its ideal climate. The Dao Valley is ramed by scenic mountains and rolling countryside, splattered with remnants of Roman civilization. If you love wine, this is the perfect area to unwind and enjoy the views all while sipping on some of the best wines made in the country.
Airports & Airlines
Most international flights arrive in Lisbon, but sometimes other cities like Porto and Faro also receive incoming guests. If you want more information and live arrival or departure schedules, you can visit www.ana.pt. TAP is Portugal's international carrier as well as its main domestic airline.
The best way to get to islands like the Azores and Madeira is to fly and TAP Air will get you there.
Sea
You can ferry between Portugal's mainland and the islands. The Porto Santo Line will service ferries to Madeira Island while Atlânticoline ferries will service routes to the Azores islands.
Bus
The cheapest of all the options is to take the bus, and since Portugal is a smaller country, it's also not too time-consuming to travel this way. For example, a cross-country bus from Lisbon to Lagos will cost between 20-40 EUR, which is $25-45 USD, while an eight-hour trip from Braga to Faro starts at 35 USD.
There are also many private bus companies you can utilize including Rede Expressos, Rodonorte, and Eva Transportes.
Lisbon is the main spot for Flixbus routes, so it's the best line to take you out of Portugal and into the rest of Europe. If you wish to head into Spain by bus or train, a trip to Madrid costs around $55 USD.
Bus services are of four general types:
Alta Qualidade, which is a fast deluxe service that is only offered by some companies.
Carreiras Marked 'CR' are slow, and stop at every crossroads.
Expressos Comfortable, fast buses between major cities.
Rápidas Quick regional buses.
Even in the summer months, you'll have issues booking an express ticket for the same day, or even the next one. Additionally, the local bus services will thin out to almost nothing on weekends, especially in summer when school is out.
Car & Motorcycle
Portugal's modest network of highways are now gradually spreading across the country, leaving all their main roads in good condition. Driving can sometimes be tricky due to Portugal's small walled towns.
If you have your own vehicle, be sure to watch the people who lurk around squares and car parks, waving you into parking spaces. From there, you will be asked for payment and charged much more than needed.
Train
Portugal also offers travelers an extensive railway network, leaving scenic travel between destinations outstanding.
You can book intercidade and Alfa Pendular tickets up to 30 days ahead which should always be done in advance because you'll have little trouble booking for the next or even the same day.
Other train services can only be booked 24 hours in advance, and a seat reservation is mandatory on most trains.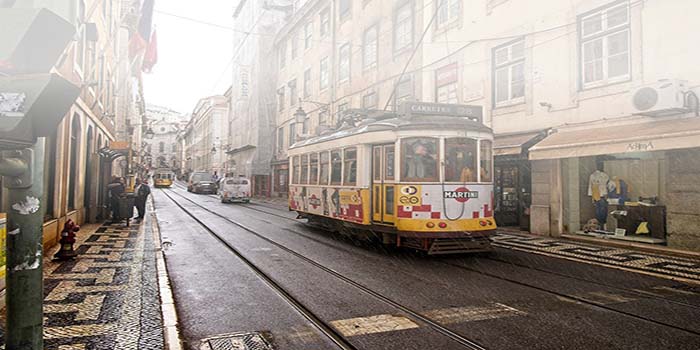 With an ideal location inside the walls of the historic city of Évora, Albergaria Do Calvário is a 4-star hotel with bright, and airy guest rooms and suites. It's decorated with local art and fitted with regional furnishings and a cable TV.
Many of the city's attractions are nearby to this hotel,  including the Cathedral of Évora Sé and Praça do Giraldo. Both of these attractions are only a 5-minute walk away.
With its bright and historic design decorated with modern interior décor, this 4-star hotel, is situated in a prime location in Lisbon's historic downtown area. This hotel features a restaurant and a bar, only 200 m from Rossio Square and a short walk from the well-known Santa Justa Lift.
This hotel Is surrounded by the natural beauty of green parklands and blends Belle Epoque style with the modern luxuries of today's world. Vidago Palace features a large pool, spa, and 18-hole golf course. Vidago Palace also offers guests 4 restaurants, a spa bar, and a poolside bar and grill. The region's most famous export wine can additionally be tasted at Vidago's wine cellar.
The rooms are decorated with light colours and floor-to-ceiling windows, all coming with LCD TVs and work desks.
Situated in Lisbon, only 400 m from Chiado, is the Corpo Santo Lisbon Historical Hotel. This hotel provides accommodation with on-site dining and views of most 17th century noble households.
All rooms offer air conditioning, private bathrooms, free toiletries, a flat-screen TV with satellite channels, and even a Blu-ray player. Additionally, every room at Corpo Santo Lisbon Historical Hotel is gifted with a seating area.
Perfectly located and exquisitely restored, this 14-room B&B is found inside what was once the same 19th-century neo-Moorish palace as its twin next door. Original frescoes, azulejos, and ornate decorated ceilings match great with the hardwood halls and spacious rooms that guests can enjoy. This hotel is themed after the life of King Dom Pedro V.
Best Restaurants In Portugal
As a former mill stable, this charming restaurant is fully equipped with traditional white-clothed tables, spread over several rooms, along with two outdoor terraces for guests to enjoy. Foods include some refined rustic specialties, such as estfado de javali, which is wild boar stew with local herbs, and caçarola de coelho e ameixas, which is rabbit and plum casserole. Dishes are additionally complemented by hundreds of Portuguese wines.
Two-Michelin-starred Henrique Sá Pessoa's flagship, named Alma, is one of Portugal's top destination restaurants. Additionally, this is named one of Lisbon's best gourmet dining experiences. This casual space has an understated style with original stone flooring and gorgeous hardwood tables.
Seasonal menus tend to focus on the freshest Iberian flavors possible, and some standout dishes include charred red peppers in an exquisite red-pepper coulis and suckling-pig confit. The best thing about this place is that portions are bigger than the average meal, and wine is constantly flowing. 
Casinha Velha
This restaurant is known as one of the best culinary experiences in central Portugal and is started with a sheep's and goat's cheese cart, followed by black pork sausages.
This restaurant offers the perfect combination of healthy and tasty options. Here, you can choose from fresh Juices to specialty coffee, and enjoy french toast, banana bread, or even eggs benedict. There are also Vegan & Gluten-Free Options offered to all guests.
The Italian Restaurant Come Prima is a must-visit eatery for lovers of Italian cuisine. You will be given a cozy space with a romantic atmosphere, making it an ideal place to enjoy excellent and fresh home-made pasta dishes. Additionally, there are wood-fired oven pizzas, with a selection of top-quality ingredients.
How to Stay Safe in Portugal
Portugal is very safe for backpacking and solo travel, making violent attacks very uncommon. Of course, just as in any destination, petty crime is about the worst that can happen to you. While in Portugal, pickpocketing is the most popular crime, so it helps to be aware of your surroundings when you're in markets, on busy streets, or at popular attractions.
By making copies of your personal documents, including your passport and ID, will save you a headache if anything does get stolen.
Our articles may contain affiliate links. We may get paid a small commission when you use our links with no additional cost of your part! See our Privacy Policy page for more details.