Chile is one of the most slender (just 150 miles across at its widest point) and long countries the world. From the snow-capped volcanoes of Patagonia and blistering heights of the Andes to world-class wineries and Maoi sculptures of Easter Island, there are a lot of wonderful things to see in Chile.
It's one of the most developed South American countries (its capital Santiago is a tech hub for the region), the food is incredible, and the scenery will make you feel in awe of nature.
Not only is there lots to do, but the country is budget-friendly, which really just rounds it out as a must-see place.
Chile is a country that has seen some great advances in its tourism industry, and this South American gem has really opened up to visitors over recent years, with a wonderful range of terrain from the Andes to the Pacific Coast, and great transport connections.
Much of the Spanish colonial heritage has also been retained in the country, so whether your passion is for historic sights and great architecture, or you prefer stunning natural beauty, Chile has something for you and you can find everything in this Chile travel guide.
As a general guide, you want to decide whether you're heading north or south. You may, however, also want or need to consider a Santiago based round route if you're short on time or have a flight in and out of there.
Because Chile can suck up a lot of time, you need to know what you really want from it. Whatever you do, make sure you soak up the Latin vibes, drink wine, and get to at least one National Park.
To top it off, Chile has a unique and mouth-watering cuisine that you just have to taste to understand! If you haven't had the chance to travel Chile, or experience traditional Chilean meals, then you're in for a treat!
Use this Chile travel guide to plan your trip to the country and get the most out of your trip.
Language
The official language is Spanish. Mapudungun is spoken by the Mapuche, while Rapa Nui is spoken by Easter Islanders. A small minority also speak Aymara.
Currency
Chilean peso
Climate and Recommended Time to Visit
Summer months in Chile are December, January, and February. With landscapes ranging from deserts to tundras, the weather and temperatures can vary by astronomical amounts here. Patagonia is best (and most expensive) December to February. Beaches throng with crowds from late December through January.
You can expect daily highs around 28-30 °C (82-86 F) in Santiago, while the highs in Torres del Paine will be closer to 12 °C (54 F).
Winter is far from an ideal time to visit as the temperatures can drop below freezing, with snowfall common in certain regions making it rather unpleasant to be out and about during the day. Best time for ski resorts is June to August, which is also the best time to visit the North.
End of April / beginning of May you can expect perfect weather in most places (Santiago, Valparaiso, Atacama). Patagonia is much colder, between 0 and 10 C, but usually with little rain.
Chile is a big country and has a few climate zones so there is no universal time to visit. The vast majority of travelers visit during the summer as most Chile travel guides recommend, but you can find the best time depending on the type of trip you have planned.
Top Attractions and Must-See Sights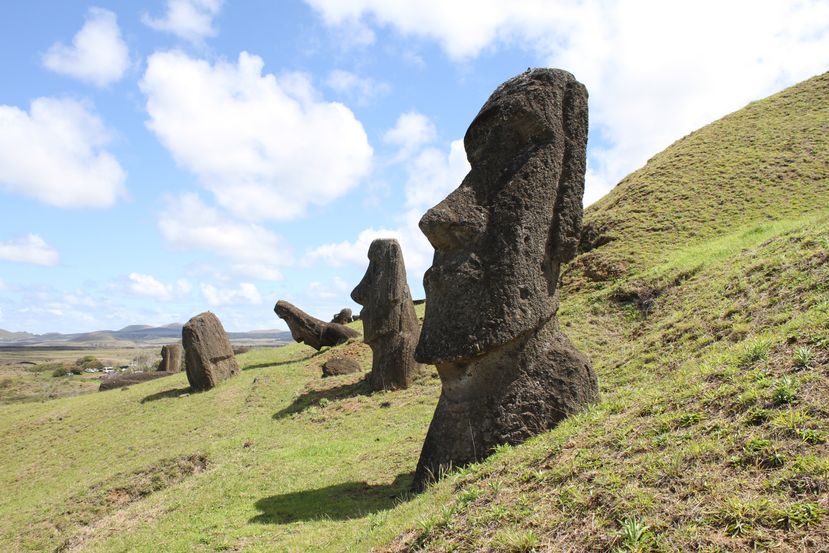 San Marcos Cathedral
The same architect who was responsible for the Eiffel Tower, Alexandre Gustav Eiffel, designed San Marcos Cathedral. The cathedral is in Arica, Chile's northernmost city, and was built to replace the original cathedral destroyed by an earthquake in 1868. The new cathedral was commissioned in 1876 and is a rare example of Gothic architecture in South America.
Valle de la Muerte
Located in the northeast of the country near San Pedro de Atacama and also known as "Death Valley", this is an astounding place to go on a hike, go horseback riding, or even go sandboarding. If you're looking to hike, check out the Corniza Trail. It's a 7-hour loop that's relatively easy (many families do it).
Moon Valley National Park
Also located near San Pedro de Atacama, this otherworldly landscape is home to stones and sand formations that have developed an extraordinary texture due to thousands of years of winds and flooding. The rock formations look like the surface of the moon, hence the park's name.
El Tatio geysers
A popular tourist attraction, these geysers are incredibly beautiful and well worth a visit as they make up the largest geyser field in the Southern Hemisphere. You have to get up around 4am as all the tour companies aim to get you there by sunrise and it's a 90-minute drive from San Pedro de Atacama. But it's worth the effort. You can visit without a tour but you'll need to rent your own vehicle to get there.
Museo de Bellas Artes
This museum is the second-best in all of Chile. Located in Santiago, it is home to a wide display of fine art, sculptures, photography, paintings, and digital media. Built in 1910, the building is somewhat small but the architecture is equally as impressive as the collection within. Admission is free.
Viña del Mar
Considered a Chilean Miami, this city next to Valparaiso serves as a hot spot for casinos, upscale cafes, and seaside restaurants. Even if you don't have money to burn, it's an interesting place to spend an afternoon people watching as you wander the beach promenade.
Swim in the world's largest pool
If you're looking for some luxury, head to the Crystal Lagoon, home to the world's largest swimming pool. It's located at the San Alfonso del Mar resort in Algarrobo, about 100 kilometers west of Santiago. The pool is the size of twenty Olympic swimming pools and is the biggest recreational swimming pool in the world, requiring 66 million gallons of water just to fill it! It's not cheap though, costing a whopping 430,000 CLP per night!
Backpacking Santiago
Santiago is a beautiful, exciting city with a sweet Latin atmosphere, great street food, and even better wine. It also has a bit of a boho vibe going on. Keep an eye out for what the students are up to. They're often handing out flyers, but a good hostel can also hook you up with what's happening that week.
The best ways to get around Santiago are by walking, biking and using public transport. There are some great walking and cycling tours, but you're probably just as well to pick a few places you want to see and explore yourself. If you like museums, don't miss the ever classic Museo Historia Nacional and the ever fun interactive geekfest that is Museo Interactivo Mirador.
Valparaíso
Valparaíso has a tangle of colorful houses, cobbled streets and bohemian hang-outs spread across a series of undulating hills overlooking the Pacific.
It is also known as an art capital depicted by stunning murals and some of the most creative and philosophical graffiti you will ever see. You must take time to see the iconic Cerro Alegre Dare.
As way of celebrating surviving this you could go hunt down some local gelato. The locals love it, so you can find this delicious ice cream all over Valparaíso. As you may expect in a place this hip, the hostels are some of the best you'll stay in and they're impressively cheap, make sure you have a quick look and pick one with a good vibe.
Torres Del Paine National Park
Chile is home to Torres Del Paine, one of the greatest national parks on the planet! This is where adventurous travelers' dreams come to life and one of this Chile travel guides' top spots.  
Easter Island
Gazing down into the giant crater of the extinct Rano Kau volcano and visiting the magical moai at Ahu Tongariki and Rano Raraku are once-in-a-lifetime experiences.
Throw in some giant mysterious heads, super friendly locals, beautiful beaches, and a really impressive volcano to trek around and you truly have one of the most kick ass places on the planet! There really is no place like it.
LAN airlines is the main airline to get you there. Brace yourself for the bad news though: on average you now pay around $600 for a return flight. Cost really is the only downside of visiting Easter Island. You can get flights cheaper if you book well in advance and are flexible with your days. It seems that once you stay for around a week plus, the prices drop down a little. This may however feel like catch 22 because Easter Island is not a cheap island to stay on.
When you get to the island there is loads to do, more than you might expect. As well as the iconic Moai heads that are spread out all over the island, there are some interesting underground tunnels and caves to check out. Make sure you take time to trek round Rano Kau, an impressive extinct volcano. Trek along the rugged coastlines, and soak in the unique feeling of being thousands of miles away from rest of the world.
Patagonian islands
Lose yourself in this veritable maze of fjords and tiny islets by taking to the water in a sea kayak, or take a boat trip in search of the elusive blue whale.
San Pedro de Atacama
The stunning little town gives you access the driest non-polar desert in the world, incredible stargazing, and some badass sand-boarding. San Pedro de Atacama is often the starting point for their trip overland through the salt flats into Bolivia.
You can book many cool trips from San Pedro De Atacama and this can be a great way to meet other adventurous backpackers as all the trips are pretty intrepid.
This place is an adventurous explorers Nirvana. The red roads, whitewash buildings and colorful stalls really do make this a pretty dreamy little travel town to wander around. You'll be spoilt for opportunities for great shots that get everyone on Instagram jealous!
Iquique
You can relax in the city and chill on the beach whilst sipping some great cocktails. If this is your scene, be sure to try the famous Terremoto cocktail, which translates as earthquake, so you can imagine the hangover. If you're more crazy and cosmo, you can paraglide, surf and sand board till you drop.
There are some great hostels around Iquique. If you are looking to meet people and get a good balance of party and peace, then Feel Iquique Hostel is definitely worth checking out.
Puerto Natales
Puerto Natales is a hub where trekkers prepare to trek and camp in Torres Del Paine National Park. It's an exciting place as everyone is either stoked about starting an intrepid personal challenge, or feeling pumped and triumphant as they have just finished one.
The thing many overlook, however, is that the town is actually quite nice within itself. It has a beautiful dock for enjoying sunsets and few great bars to hang out and meet other intrepid travelers.
There are quite a few places to stay in Puerto Natales, but make sure you decide on a good place you stay to make some travel buddies for the trek. Where you stay can really affect the kind of people you're going to meetץ
Air
International flights to Chile will almost always arrive in Santiago but there are several other international airports throughout the country into which you may arrive.
Chile has direct connections with Europe, Israel, New Zealand, Australia and North America. There are also plenty of flights from other South American countries.
As Chile occupies the southern half of the South American continent, flights into the country can be expensive if you are traveling from outside of South America.
You can expect a premium on fares during winter (June – August) as Chile boasts a wide array of winter sports and activities. Fares drop during the shoulder seasons of March to May and September – November.
Train
Chile has mountainous terrain thus their railway system isn't very well developed or used.
There are several trains connecting some Chilean cities but the travel time is longer than that of a bus. Train fares are also higher than those of busses.
Trains link Santiago with Curico, Talca, Linares, and Chillan with air-conditioned cars, but that's the extent of Chile's train infrastructure. You can visit trencentral.cl for the available routes and prices.
Bus
For intercity travel, buses are the cheapest way to get around. Reclining seats are common and many even recline almost all the way down. Additionally, some night buses even have a curtain between the seats so you can have a little privacy from your neighbor. The best companies to use are Turbus and Pullman.
If you plan to travel to Chile from Peru, Bolivia or Argentina there are many options to travel by bus. Most larger cities in these countries offer direct bus routes to Santiago or Valparaiso. But you can also find bus transport from many of the border towns.
A lot of the same numbered buses serve slightly altered routes so you always need to pay attention to its placards that indicate its last destination. When you board tell your driver the destination you're traveling to and he will inform you about the price of the ticket. Most drivers will also make sure that you do not miss your stop.
Typical bus ride is less than USD$0.50.
Metro
Chile's largest city, Santiago has an excellent metro system that is both modern and efficient. It's a great way to go around the city. But compared to bus ticket prices – it's a bit expensive.
Car
If you are visiting a neighboring country such as Bolivia, Argentina or Peru you can travel to Chile relatively easily in a personal vehicle.
In Argentina alone there are over 30 border crossings. The two most used crossings are the Paso International Los Libertadores (Cristo Redentor) and the Pajaritos crossing.
The Paso International Los Libertadores is a mountain pass in the Andes between Santiago, Chile and Mendoza, Argentina. The Pajaritos crossing is between Osorno, Chile and Villa La Angostura, Argentina.
Many of the crossings are paved highways but in the south of Chile some are gravel roads. Take into consideration that some crossings through the Andes Mountains be closed during the winter months. To be safe always check with a tourism organisation ahead of time to ensure that the crossing is open.
While we don't advise hitchhiking in any country, in Chile it's a common practice and it's one of the safest countries to do so in South America. If you want to try hitchhiking, never hitchhike alone – always in pairs.
While driving in Santiago can be a little chaotic, once you get out of the city things generally become much easier. Expect to pay around 88,000 CLP for a one-week rental.
Taxi & Ridesharing
Taxis are a safe way to travel, provided you use with caution and common sense.
There are plenty of taxis in major cities and catching a ride is quite easy. Note that they are not cheap and a standard rate is around USD$1/per kilometer. Double check that the meter is running and that the fare is reasonable. Taxi drivers may try to take advantage of a foreigner.
There are on-call taxi companies that you can call and request a pick up. Their rates are a bit higher compared to standard taxis but they are safe, fairly priced and reliable.
Collectivos are another type of taxi that drives on a fixed route. Most collectivos are minivans or shorter busses. And many are privately owned and operated. You will pay less for a collectivo than a taxi. But you will also be carpooling with strangers.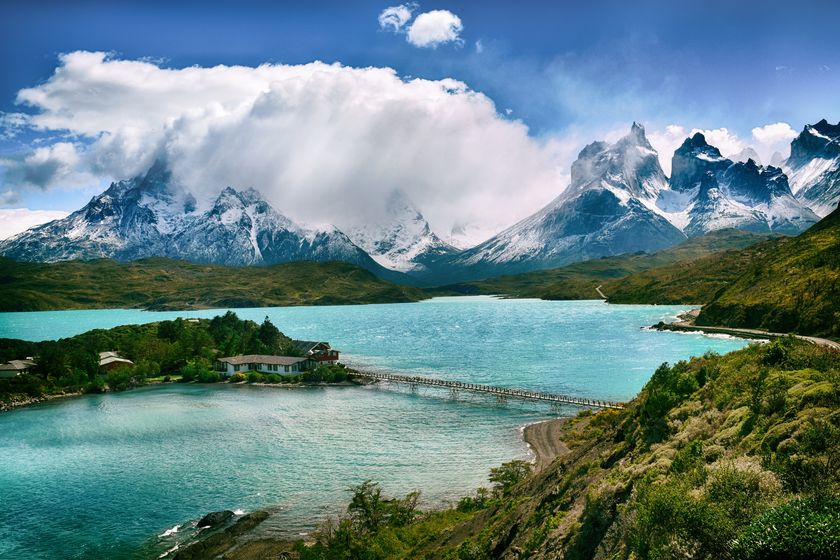 Anchored like a ship by Lake Pehoé, at the heart of Torres del Paine National Park, explora Patagonia has a privileged location from where to go out and explore the park. All programs include accommodation, transfers from and to the airport, meals and beverages, and a menu of more than 40 exploration routes designed by the outdoors team. 
Emerging beside craggy mountains and the glistening Lake Sarmiento in Torres del Paine National Park, Tierra Patagonia weaves itself into the landscape with subtle style, blending into the magnificence of the region. Here in this untamed part of the world, what you see at this adventure spa hotel is emerald lakes, fantastic mountain ranges and abundant wildlife. 
You feel at home is the motto of this beautiful hotel, which has 4 floors, elevator and 31 rooms with a view of the garden and the street – they can be with balcony, terrace and suites. 
Escape to a world of clear night skies, high altitude lagoons and moon-like valleys at Tierra Atacama. High in the northern desert of Chile, this boutique Atacama lodge encapsulates exquisite design, authentic experiences and an intimate, home-away-from-home atmosphere, where a sense of both adventure travel and pure relaxation lingers in the air. 
Best Restaurants In Chile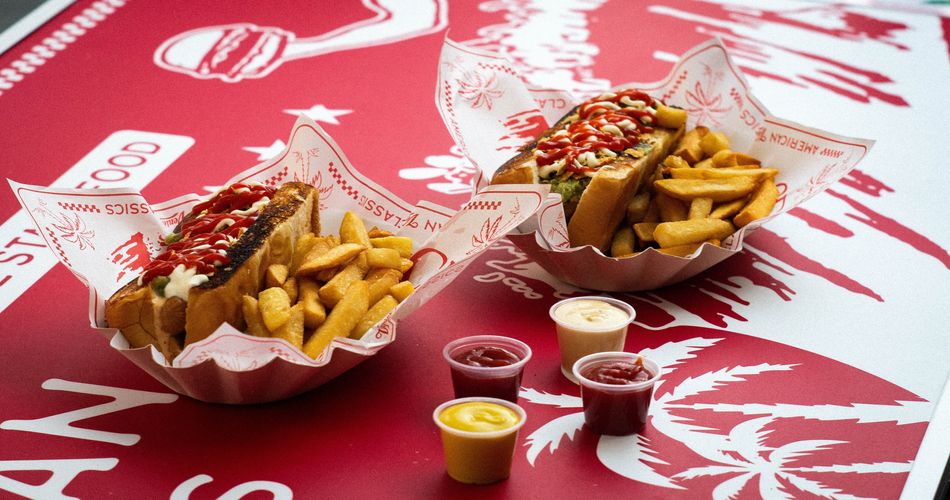 Restaurante 040
Spanish chef Sergio Barroso infuses European technique with the freshest local ingredients, creating a tasting menu with either 10 or 12 courses. You can expect to taste a variety of endemic seafood, such as sea urchin, locos (large sea snails) and picoroco (giant barnacles).
99 Restaurante
Kurt Schmidt has brought his bountiful experience to Chile, after working at Noma in Denmark and Azurmendi in Spain, he puts together dishes beautifully that really will sustain your palate, with intense flavors that are derived from Chilean ingredients.
Ambrosia
Chef Carolina Bazán combines the finest of Chilean produce with a French flair, after learning under the wing of Gregory Marchand at Frenchie restaurant in Paris. Reaching number 20 in Latin America's 50 Best Restaurants, the wagyu pot roast with creamy Gorgonzola purée is highly recommended.
The Restaurant is located in a 1880's house in Cerro Concepción, the heart of the Patrimonial district of Valparaíso.
How to Stay Safe in Chile
Chile is considered a safe destination and generally ranks as one of the safest on the continent. However, crimes still do occur so you'll want to take some precautions during your trip.
The most common crimes in Chile against tourists are petty theft and bag snatching. Since these are crimes of opportunity, you'll always want to make sure your possession are secure. Be extra vigilant when riding the bus and when you're in areas popular with tourists.
There is also a problem with stray dogs. Scabies are a common problem with these dogs so doesn't pet them – because it's highly contagious.
When taking the bus, make sure you don't have any valuables in your checked bag. Additionally, keep any valuables secure and out of reach from any would-be pickpockets.
Earthquakes are also common enough in Chile that you'll want to make sure you are prepared should one occur. Know where your emergency exits are in your accommodation as well as any local evacuation locations for major emergencies. If you have a map downloaded on your phone, save the location of the nearest hospital and airport as well, just in case.
Some Chilean beaches have strong offshore rip currents that are very dangerous even for experienced swimmers. Always make sure to find the post sign on the beach if it's okay for swimming or not.
If you're renting a car, don't leave it unattended or unlocked but make sure to have its seat and floors bare and all your possessions in the trunk.
Avoid political protests, especially in Santiago, as they have the tendency to sometimes escalate into violent clashes with police.
Our articles may contain affiliate links. We may get paid a small commission when you use our links with no additional cost of your part! See our Privacy Policy page for more details.