Poland is packed with incredible history, and too often overlooked as a travel destination. Visitors may imagine Poland as a backward, impoverished land of decaying factories, polluted cities, and gloomy locals. Those who do decide to travel here are left speechless when they step into Kraków's vibrant main square.
While traveling to parts of this country still put visitors in a time warp, the Poland we are coming to know today offers a vibrant urbanity, enticing food and design culture, and a dynamic history, all with welcoming natives.
Most travelers visit Krakow and spend a day or two in Warsaw before going somewhere else, which is a real shame. Poland has a lot to offer, from beautiful parks and old historic cities to cheap beer and empty coastlines.
The country is still recovering politically and economically, but luckily, it's a country on the up and up, which offers a new global and educated generation.
Trust us and give Poland the time it deserves. You will discover a country full of amazing people and wonderful experiences to enjoy during your travels.
Language
The official language is Polish, with English being spoken in the bigger cities and in tourist areas.
Currency
The official currency of Poland is the Zloty. In a few places, near the borders, the Euro is accepted but exchange rates will be poor. It's best to wait until you arrive and then to take local currency out at an ATM.
Climate and Recommended Time to Visit
The high season is May through September, where travelers can expect sunny skies but should be prepared for rain. Museums, national parks, and other attractions are open for business. During this time, you'll also find big crowds, especially over the holidays and most weekends.
The months of March, April & October are sometimes called shoulder season because there are some attractions closed and those that are open will have shorter operating hours during these months.
The low travel season in Poland is November to February, which is when the snow in the mountains brings winter sports lovers to the southern resorts. The week between Christmas and New Year is also known to be extremely busy and most museums and castles in smaller towns may be closed.
The continental climate in Poland is consistent with the rest of central Europe, featuring hot or wet summers, and cold, gray winters. Of course, neither is a bad time to visit, but late spring and early autumn are arguably the best times to travel here due to milder temperatures, more sunshine, and less chance of rain.
Top Attractions and Must-See Sights

Krakow
The former country's capital is one of the most well-known tourist attractions in Europe, where most travelers are captivated by its magical atmosphere and marvelous architecture. In Krakow, you can see medieval cathedrals, the Renaissance castle, Baroque churches, the Art Nouveau theatre, and many other monuments.
The main Market Square, which is located in the Old Town of Kraków, is the largest medieval town square in Europe, making it one of the main tourist attractions in Poland. Here, this square is surrounded by historical townhouses, old buildings, palaces, and grand churches.
This city also has a variety of bars, pubs, clubs, and restaurants, making life in Krakow sparkle, especially during warm seasons.
Wieliczka Salt Mine
The small Krakow suburb ranks as the most famous tourist destination in Eastern Europe. This attraction is sometimes described as a fairy tale kingdom made of salt, with a mysterious labyrinth of 300 kilometers worth of halls and corridors made in pure salt.
Salt has been mined from the site continuously since the 13th century, which now offers travelers the ability to view dozens of ancient sculptures hand carved.
Warsaw
Founded in the late 13th century, Warsaw was the heart of Polish culture for five centuries. Luckily it was rebuilt after World War II practically from scratch, making this city filled with vibrant business and large skyscrapers.
Warsaw is a large city sprinkled with an East European flavor. If you are traveling here, do not miss the beautiful Old Town, the Royal Route, the Chopin museum, several magnificent palaces, and the former Jewish ghetto.
Wroclaw
The capital of Lower Silesia is home to a huge historic town that was built on several islands and connected by over 100 bridges. Besides its unique location, Wroclaw amazes travelers with a plenitude of Gothic, Baroque, and Art Nouveau architecture.
This small city is beautiful, cheap, and free of crowds, so be sure to see the Raclawice Panorama, which depicts the Battle of Raclawice that took place during the Kosciuszko Uprising in the 1790s with no lines and without breaking the bank.
Gdansk Old Town
The cheerful coastal city is popular for both tourists' and locals' holiday destinations. Located right on the Baltic coast, this city's history includes a long rule by 14th century Teutonic Knights whose fortresses contrasted strongly with the existing town. Due to this, Gdansk's Old Town area includes many 17th century structures, including granaries, mills, and churches.
Masurian lakes
These lakes are located in an area that incorporates the lower Vistula River to the Lithuania border. Containing more than 3,000 lakes that are connected by an extensive system of canals and rivers, the Masurian Lake District is perfect for sailing fans, fishermen, hikers, cyclists, and anyone who seeks a tranquil holiday.
Apart from the water sports that are offered here, travelers can wander around to explore various historical places. Here you will find castles in Reszel, Nidzica, and Gizycko, with the amazing Baroque church in Swieta Lipka, and Hitler's wartime headquarters in the forests near Ketrzyn. This Lake district is known to be one of the most popular tourist destinations in Europe, and offers guests with various hotels, guest houses, and campsites. 
Malbork Castle
Malbork Castle was founded in 1274 by the Teutonic Knights, who ended up using it as their headquarters to help defeat Polish enemies and rule their own northern Baltic territories. This well-known castle has been expanded several times to host the growing number of Knights, and today it is the most popular tourist attraction in the city of Malbork.
Auschwitz-Birkenau
The humble provincial town of Oswiecim, which is better known today under its German name of"Auschwitz," was a witness to an enormous evil amount of history caused by certain individuals.
A visit to Auschwitz-Birkenau is a powerful experience that words can scarcely describe, and can take travlers around its infamous Nazi concentration camp. Devoted to the memory of the murders in the camps during World War II, Auschwitz-Birkenau has been visited by more than 25 million people and is one of the most well-known sights in the world.
Slowinski Sand Dunes
Situated in northern Poland, the Slowinski Sand Dunes are some of the best parts of the Slowinski National Park, which is located on the coast of the Baltic Sea. This park was named after the Slovincians, who once lived there, and now offers an open-air museum in the town of Kluki featuring artifacts of their culture. The dunes themselves are formed from waves and wind, that carry sand onshore, reaching as high as 30 meters. Their forms change with the season and are more commonly known as the "moving dunes."
Wawel Castle
This site in Krakow is known as one of the finest examples of a medieval castle, and perhaps the most historically important site in Poland. This castle was first built in the 14th century under the command of Polish monarch Casimir III the Great but is now known as the only maintained piece of the Polish Crown Jewels. The legendary Szczerbiec coronation sword is decorated with symbols and floral patterns, with its blade notched to hold a small shield, which gives the sword its nickname, the Jagged Sword.
Additionally, there is an art museum inside that holds medieval tapestries, the former Polish crown jewels, and Ottoman empire treasures. To go inside and view all that's offered, tickets can be purchased for 4 PLN, with extra costs for some of the exhibits.
Head to Lublin
Lublin is eastern Poland's main city, and back in the day, was an important trading and military center during the Middle Ages. Lublin has since developed its own architectural style which has become known as the Lublin renaissance. While visiting this town, you should be sure to visit the castle, its monastery, and the old city gates.
Air
Definitely the fastest and most comfortable way of traveling between the major Polish cities but also probably the most expensive. The major Polish air carrier is Polish Airlines, which is also known as Polskie Linie Lotnicze. As well as international flights around Europe, you can also take a quick domestic flight.
If you are looking to book a flight between cities in the country, simply go to the LOT website or the EUROLOT website.
Most international inbound flights will arrive at the Warsaw Chopin Airport. Warsaw also has a second, smaller airport called the Warsaw Modlin Airport, which is 39km north of the city.
Other international airports include the following.
Gdańsk Lech Wałęsa Airport
Katowice Airport
Kraków John Paul II International Airport
Łódź Airport
Wrocław Airport
Car & Motorcycle
Poland's highway network is still in the process of being upgraded, so with that being said, there are long stretches of construction works, detours, and delays while on the road. Driving in Poland is mostly trouble-free, and having a car makes exploring rural areas more possible.
Even though this country has shown signs of improvement in recent years, Poland still has one of the poorest road-safety records in Europe. So, be careful when you are on the road especially if you are a new driver.
If you wish to rent a car you will need a passport, valid driving license, and credit card. Along with the proper documents, drivers will need to be at least 21 or 23 years of age, depending on the company.
Bus
Poland offers travelers a comprehensive bus network that covers close to every town and village accessible by road. In many cases, these buses are more convenient than trains when traveling short distances, and occasionally over longer ones depending on the train you are looking to choose.
There are hundreds of regional and private operators, with most cities providing a main bus station. These stations will often be located close to the train station and will give travelers more information or posted timetables.
FlixBus/Polski Bus is the main nationwide coach operator, which runs services between major cities and towns using modern coaches with free wi-fi. To get a ticket for these buses, you can buy tickets online using the company's smartphone app.
Taxi
Taxis are widely available and not too expensive depending on the time and day you are riding. With many companies, prices are higher at night from 10 pm to 6 am, and on Sunday if traveling outside city limits.
The number of passengers, usually up to four, and the amount of luggage won't affect the fare, which is a huge bonus. It's best to avoid unmarked pirate taxis, called 'mafia' taxis by locals, which usually have a small 'taxi' sign on the roof, with no name or phone number.
To get a taxi, you can flag down one on the street or order them by phone. It's best to book by phone if possible because it lowers your chances of getting a fake driver.
Train
Poland's train network is extensive and reasonably priced, most likely being tourists' main means of transportation for covering long distances. The main railway operator in Poland is the Polish State Railways, but is not the only one.
The railway system is divided into various companies that dictate their own ticket prices. Another large difference between companies is the distance they travel, time of travel, and standards that they offer.
If you are looking for the fastest way to go from one large city to another, you will probably want to travel with Intercity. On the other hand, if your destination is a smaller city or you just want to save money, then it's recommended to travel with the PKP Przewozy Regionalne.
In many cases service to many smaller cities is poor or nonexistent, which means you may need to rely more on buses or a combination of buses and trains.
For more information on ticket prices and the routes offered, the website of that main railway operator is the best option.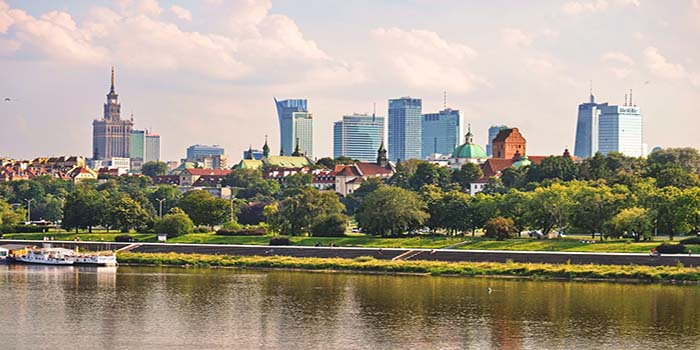 This 4-star hotel offers guests a 24-hour front desk, room service, and free WiFi throughout their whole stay. Typically, the restaurant on site serves Thai and European, as well as Asian cuisine. In the mornings, a buffet breakfast can be enjoyed at the property.
Piotrkowska Street is only 500 m from PURO Łódź Centrum, while Manufaktura is 200 m from the property. A larger airport called the Lodz Wladyslaw Reymont Airport is only 9 km away.
Situated in Kraków, this modern hotel features an on-site restaurant, free private parking, a bar, and even a garden space for all guests to enjoy. Offering family rooms as well as single rooms, this property provides guests with a sun terrace, 24-hour front desk, airport transfers, room service, and free WiFi throughout the property.
At this hotel, every room comes with a comfortable desk, a flat-screen TV and a private bathroom. Additionally, guests can enjoy a continental or a buffet breakfast.
Located in Poznań, the Park Inn by Radisson offers travelers air-conditioned rooms and even a state-of-the-art fitness center. All rooms at the property come with a seating area, private bathroom, and a terrace. While staying here, guests can enjoy a private restaurant serving European and local cuisine. Additionally, the staff at the accommodation are available to provide guidance and offer a 24-hour front desk.
This hotel is near to St. Stanislaus the Bishop Church, Royal Castle, and National Museum. The Park Inn is also 8 km away from the Poznań-Ławica Henryk Wieniawski Airport.
Set in the capital's business district is the 4-star hotel called Arche Hotel, and offers all staying with a 24-hour front desk, a restaurant, conference rooms, and a fitness center.
Hampton By Hilton Warsaw Mokotow is located in Warsaw, and features a room with a shared lounge and a private bathroom. While staying, guests can only find a gorgeous business center and on-site ATM machine at the hotel. Staff speaks English, French, Polish, and Russian, available 24/7 at its front desk.
Renaissance Warsaw Airport Hotel from Marriott's International chain provides lovely accommodation in Warsaw. With a swimming pool and sauna for guests, this is a great place to relax after a long day. 
Best Restaurants In Poland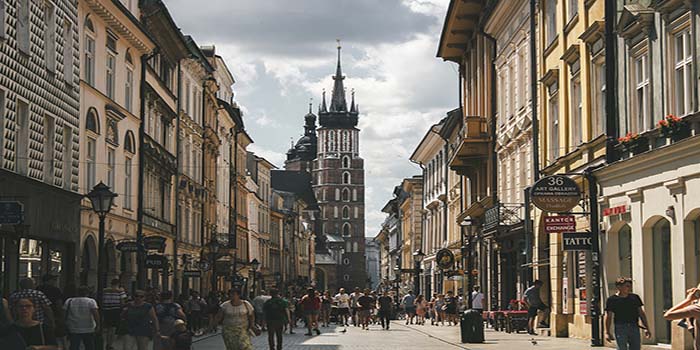 Tapas, which appeared in Spain hundreds of years ago, has since formed an important part of Spanish culture, which is brought to Poland in the form of this restaurant. Here, you will discover flavors inspired by Spanish cuisine amidst the company of wine.
Here, at this restaurant, you will find a selection of slow-roasted beef, pork, lamb ribs, dry-seasoned beef steaks, and meats prepared by the sous-vide method. There is also a large selection of wines offered and excellent cocktails made from scratch.
This restaurant is located in the very center of Krakow, just a few minutes from Market Square. It offers diners beautiful gardens where you can relax surrounded by the excellent flavors from the kitchen.
This is not an ordinary restaurant, but a phenomenon. It's a bit of a culinary spectacle mixed in with intimate and home cooking.
With a prime location opposite the Town Hall and a multi-level industrial interior with leather booths, mounted guitars and motorcycle parts on the walls, Whiskey in Jar offers yummy burgers, steaks, and ribs. Here, you can also enjoy mixed drinks made with Jack Daniels and served in juice jars. Many live bands play Pearl Jam and Pink Floyd covers from Tuesday to Saturday, around 20:00 and on.
Kanonicza Street is an extraordinary space found in one of the oldest corners of the city, making it a great place to stay. With its modern take of Polish cuisine, the top-quality products from local suppliers add to its vast menu.
This exquisite cuisine goes perfectly with the excellent wine, and in its basement, collected wines from almost all over the world are displayed for all to see.
How to Stay Safe in Poland
So, after all that you have read or heard online, is it safe to travel to Poland? Of course, it is. Actually, Poland is ranked the 17th safest country in the world.
Even with that being said, travelers should watch out for pickpockets, bag snatching, ATM scams, and being overcharged when in local areas.
Our articles may contain affiliate links. We may get paid a small commission when you use our links with no additional cost of your part! See our Privacy Policy page for more details.