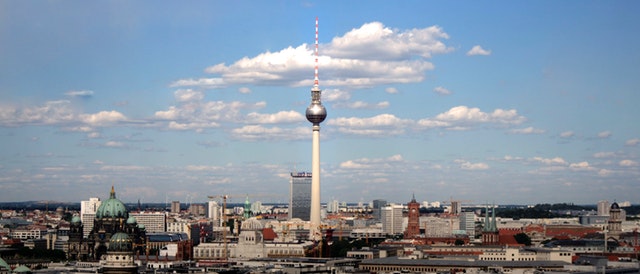 As Germany's capital and the largest city in the country, Berlin has become very popular with all types of travelers including students, writers, and creatives.
Berlin's combination of glamour and grit is bound to mesmerize all those who want to explore its vibrant culture, cutting-edge architecture, fabulous food, magnetic nightlife and history.
Berlin is an old city with a young beating heart and one of the most fun, coolest, diverse, and eclectic cities in Europe.
This is a city where "things are happening" and it is probably the most vibrant city in Europe.
After the fall of the Berlin Wall, people flooded into East. What did they end up finding there was abandoned buildings, and many of them. These cheap (and even at time free) houses and workspaces attracted artists, musicians, and other creative souls from all over the world as it was there where they could live for practically nothing and enjoy a creative freedom that they didn't have in their home countries.
This, in turn, injected a youthful, anything-goes spirit into the otherwise dull city, which made Berlin extremely popular.
This Berlin travel guide will provide you with tips on what to see, where to stay and where to eat while visiting Berlin.
Language
German
Currency
Euro (€)
Climate and Recommended Time to Visit
The city is filled with life in the summer months, which can start as early as May and continue into October.
July and August are warm but often rainy and with average temperatures of around 64°F (18°C) also the busiest months to visit.
May, June, September and October offer plenty of festivals, a more authentic experience and cooler, though often more stable, weather. Winters are cold and quiet with the exception of December which is when the city is filled with Christmas atmosphere going well into New Year's. This is when you can enjoy the famous Christmas markets and decorations around the city, hot wine sold by street vendors and fireworks.
Top Attractions and Must-See Sights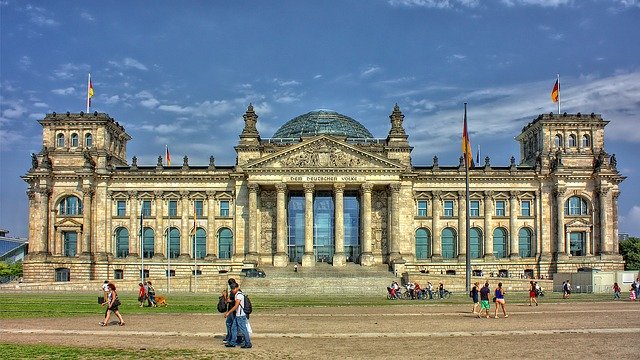 Brandenburg Gate
The Brandenburg Gate (Brandenburger Tor in German) is a former city gate to Berlin, as well as a major symbol of the capital city.   
Designed in 1791 close to the Pariser Platz, in the center of Berlin, it is one of the most renowned monuments of Berlin.
The neoclassical gate stands 26-meters high and was inspired by the Acropolis of Athens.
In 1795 the monument was crowned with a chariot drawn by four horses heading into the city, known as the Quadriga. The bronze statue represents the Goddess of Victory. The original sculpture was destroyed during World War II, so it was replaced by an exact replica made in West Germany in 1969.
The Gate is held up by twelve columns with five passageways. From its inauguration until 1918, the central access was exclusively for the members of the German Royal Family and members of the Bourgeoisie.
Berlin Wall
The Berlin Wall divided the capital of Germany in two for 28 years. Discover where the remains of the Wall still stand in Berlin.
The construction and fall of the Berlin Wall are two crucial twentieth century episodes.
Sachsenhausen Concentration Camp
Sachsenhausen is a death camp near Berlin and considered one of the most important in Nazi Germany. It is a must-see visit if you're in Berlin for a few days.
The Sachsenhausen Concentration Camp was designed by the SS architects and founded in 1936 by prisoners from the Emsland camps.
Berliner Unterwelten
Berliner Unterwelten is a museum that preserves Berlin's underground infrastructure. Learn about World War II and the Cold War while you tour the city's subterranean.
At the beginning of the Second World War, Hitler assured Berlin inhabitants that the German Air Force (Luftwaffe) would impede any country from bombarding the capital; however, when Nazi Germany began to lose its first conflicts, the authorities began to build bunkers in the principal cities, especially in Berlin.
During the Cold War, this underground system of tunnels and bunkers became essential for both sides and in some cases, were renovated, improved and prepared for a possible conflict between the Allies and the Soviet Union. For example, West Berlin spent millions to construct multi-use buildings like subway stations and underground car parks that would save the population from a nuclear war.
Pergamon Museum in Berlin
The Pergamon Museum is the most-visited gallery on Museum Island and the most imposing.
Opened to the public in 1930, Pergamon Museum is a large three-winged building. It features three areas: the antiquity collection, the Middle East museum and Islamic Art museum.
The Pergamon Museum, which houses an impressive collection of artifacts of the ancient world, is Berlin's most prominent cultural and tourist attraction. The museum will be in various states of renovation until 2025 but the Pergamon is still worth visiting as there is still plenty to see.
The DDR Museum provides a unique visitor experience, making it one of Berlin's most popular museums. The museum chronicles the daily lives of people living in communist-era East Berlin. It has many fun artifacts from that era, and it does a good job of comparing the lives of citizens in the West and East. It's also a very interactive museum, so it's a nice change of pace from Berlin's other "heady" museums. I highly enjoyed my visit.
Dating back to 1894, the Reichstag has had a tumultuous history – it's been burned, bombed, and abandoned but it's been rebuilt and now it serves as the home of Germany's parliament – German Bundestag.
Located on the border with East Berlin, the Reichstag was separated from the nearby Brandenburg Gate for nearly twenty-nine years by the Berlin Wall.
There is a large glass dome at the top that you can climb to get amazing 360-degree views of Berlin and down into where the parliament sits. Admission is free, but you must make reservations online.
Alexanderplatz
Alexanderplatz has been considered the heart of Berlin since the Middle Ages. Situated in the central district of Berlin, this public square has always been the hub of the capital.
During the Medieval period, a cattle market "Ochsenmarkt" was located in the plaza. In the 1920s, it became the place to go out at night. Nowadays, many Berliners call it "Alex", and it is one of the main meeting points in the city.
East Side Gallery
There are a lot of different places you can see the remnants of the Berlin Wall. For instance, there are some pieces at Potsdamer Platz, there are pieces in random places throughout Berlin. But the very best spot to see the Berlin wall, and the most famous art that has been painted on it, is at the East Side Gallery. This open-air art gallery features 105 paintings by artists from all over the world on a section of the Berlin Wall in Friedrichshain-Kreuzberg. Most of the paintings are political in nature.
You can grab an ice cream while you walk down the wall and reflect a bit on what it must've been like to live in a divided city.
Air
Tegel Airport is located in the northwestern suburbs of Tegel, about 8 km northwest of Zoologischer Garten and 13 km northwest of Alexanderplatz. The main ways of getting to and from Tegel Airport are by bus or taxi.
Bus tickets can be bought from vending machines at the bus stop outside Terminal A or directly from the bus driver. In most cases, change will be  given by the bus driver.
Schönefeld Airport, located about 22 km southeast of Alexanderplatz, is directly served by S-Bahn and regional trains. Travel to the city centre requires a transport ticket covering zones ABC, available from vending machines in the station tunnel and on platforms. Tickets must always be validated before boarding .
Train
Berlin is an incredibly well connected by its subway – the U-Bahn – and its above-ground train system – the S-Bahn.
S-Bahn trains don't run as frequently as the U-Bahn, but they make fewer stops and are thus useful for covering longer distances. The trains operate from 4 am to 12:30 am and  all night on Friday, Saturday and public holidays. Destinations further afield are served by RB and RE trains. You'll need an ABC or Deutsche Bahn ticket to use these trains.
The U-Bahn is the quickest way of getting around Berlin. The trains operate from 4am until about 12.30am and throughout the night on Friday, Saturday and public holidays (all lines except the U4 and U55). From Sunday to Thursday, night buses take over in the interim.
You can purchase tickets on the platform or via the BVG app. Always keep your ticket on you as random checks on the train are very common.
Tram
Trams (Strassenbahn) run mostly in the eastern districts. Those with the letter M to them, run 24/7. A useful line is the M1, which links Prenzlauer Berg with Museum Island via Hackescher Markt.
Ticket prices are the same for the train system, and you'll have to buy onboard.
Bus
Buses are slower but they provide great value when you need to get somewhere that has no Train or Tram that goes there.
Some buses operate on a 24/7 basis while others are more restricted to "normal" working hours. There is usually a schedule near the bus stop but in case there isn't you can check here: bvg.de/en or via the Fahrinfo BVG app.
There are over one hundred bus lines around Berlin that will get you anywhere you need to go, especially on weeknights after the trains shut down.
Ticket prices are the same as the trains and trams.
Bicycle
Berlin is incredibly easy to cycle around, with well-marked bicycle lanes.
Most bicycle rentals start at about €12 EUR per day.
Public bike sharing programs like nextbike and LIDL Bike offer rentals for about €1.50 EUR for every 30 minutes.
Bicycles are handy both for in-depth explorations of local neighborhoods and for getting across town.
Bicycles may be taken aboard designated U-Bahn and S-Bahn carriages as well as on night buses and trams. You need a separate bicycle ticket called a Fahrradkarte. Taking a bike on regional trains costs €3.30 per trip or €6 per day.
Taxi
Taxis in Berlin are not as cheap as in other parts of Europe but the need for them is very little when you look at all the other options available to you throughout the city.
In the rare case you do need a taxi, remember that:
A 5km drive shouldn't cost more than €14 EUR ($15.50 USD).
You can order a taxi by phone, flag one down or pick one up at a rank. At night, cars often wait outside theatres, clubs and other venues.
Avoid taking a taxi during daytime rush hour
And tip about 10%.
Car & Motorcycle
With expensive and limited parking around the city,  driving in Berlin is a hassle. If you need to bring your own car be aware that central Berlin is a restricted low-emission zone, meaning that all cars entering must display a special green sticker called an Umweltplakette available only for eligible, low-emission cars. Drivers caught without one will be fined €80.
If you prefer Ridesharing – Uber is available in Berlin.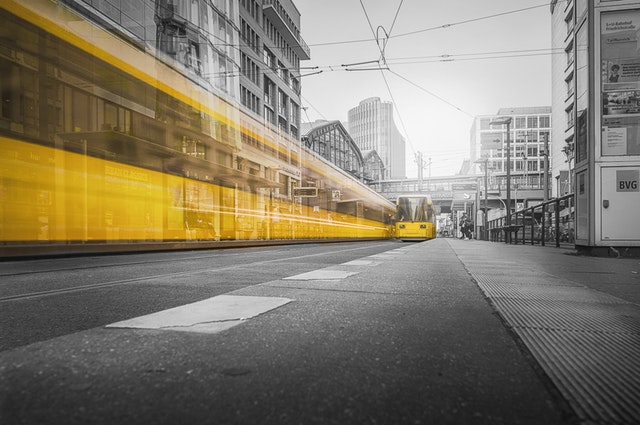 From an unforgettably unique look to one of the best brunches in town, The Circus Hotel is designed to give you an experience of Berlin you won't forget!
No matter how you choose to enjoy your stay, the hotels location in the heart of the city center makes The Circus Hotel a perfect starting point for your Berlin experience!
With a love for details and minimalistic design the 5-star Mandala hotel offers spectacular high-level service at the very heart of Berlin. The combination of luxury design and well-being paired with excellent service and extra spacious rooms and suites leaves a lasting impression.
The Hotel Adlon Kempinski is considered the crown jewel among Berlin's hotels. With its views over the Brandenburger Tor, inimitable Sra Bua restaurant by superstar chef Tim Raue, 9,000 sq ft spa and over 13 available styles of suites, the Adlon will exceed your expectations of what a hotel should be.
The Rocco Forte group has done it again. Hotel de Rome, set in Berlin's former Dresdner Bank and directly at the Berliner Dome and Museum Island is one of their finest creations to date.
The Ritz-Carlton, Berlin embodies the beauty born of combining different elements. The luxury hotel reflects Berlin's golden age with its Art Deco design and crisscross motifs, a nod to its location on Germany's famous Potsdamer Platz.
Best Restaurants In Berlin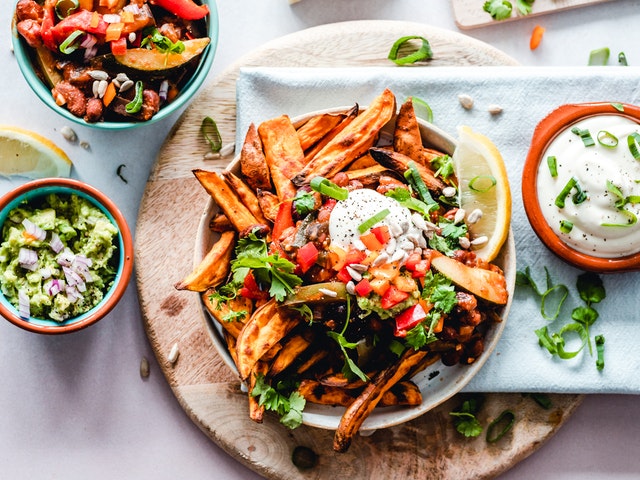 Brewery, Restaurant, Bar, Beergarden, and above all the home of BRLO and the Berlin craft beer movement. We have such an affinity with this city that our roots are apparent in our very name. BRLO is the old Slavic origin of the name Berlin.
Michelin-standard restaurant serving intensely flavoured fare paired with feel-good flair.
The dining room of the Bieberbau bears the signature of the sculptor and master plasterer Richard Bieber. Expressionist painters like Pechstein and Kirchner lived and worked here. The Bieberbau served as an inn for painters, neighbors and guests, and at the same time as a showcase for plastering sector work: An army of masters and apprentices created sculptures that Bieber's customers as a model and inspiration and at the same time the construction of the restaurant guests should serve. In war, the house burned and lost its once magnificent facade.
The restaurant has developed in the postwar period to a slide fail to fall into a deep sleep later. From the Bieberbau was awakened by the chef and owner Karl Kling until 1967, with a passion for the interior and the tradition of the restaurant.
Ristorante a Mano opened the doors in 2011. After a short time the restaurant became a highly recommended location with one of the best italian cuisine in Berlin. Some reasons are exquisite, daily changing dishes and a distinctive mediterranean flair. Ristorante a Mano is placed directly at Strausberger Platz in Berlin-Mitte, close to Alexanderplatz. With a wide selection of food and wines leaves nothing to be desired. 
Treat yourself to a Spanish flair in the immediate vicinity of the Kurfürstendamm and enjoy an authentic and honest cuisine, with its diverse food and desserts, accompanied by fine wines from selected regions of Spain. We take time for you and advise you on all dishes and wines.
A family business from Sicily and Lampedusa with Mario Monterosso, who opened the restaurant and has his father Angelo Monterosso for the kitchen and his father in law Francesco di Caro for the service.
The restaurant offers authentic Italian cuisine at reasonable prices. The name of the restaurant is no coincidence. Sapori means "flavors" and it brings the flavors from Italy to the customer. 
How to Stay Safe in Berlin
Berlin is pretty safe, but like all big cities, there is petty crime like pick-pocketing to be wary of. Be careful on public transit and around crowded tourist attractions, especially in Alexanderplatz.
ATM scams are unfortunately also a problem. Whenever possible, withdraw money from inside a bank where you know there are security cameras or guards.
Violent crime is rare but avoid certain areas of town like Kotbusser Tor, Görlitzer Park, and Volkspark Hasenheide after dark if you're traveling alone.
The area around Warschauer Straße station is a natural nightlife hub where drunk people always end up. Be mindful of your whereabouts and your belongings, as this place is a hotspot for pick-pocketing and sometimes even assault.
It's no secret that drugs are big in Berlin. Much of the drug exchange happens at Kotbusser Tor, avoid eye contact or conversation with people who approach you.
Watch your drink at busy clubs and bars.
Purchase good travel insurance. Travel insurance will protect you against illness, injury, theft, and cancellations. It's comprehensive protection in case anything goes wrong.
Our articles may contain affiliate links. We may get paid a small commission when you use our links with no additional cost of your part! See our Privacy Policy page for more details.